About this Event
We are all brought up in different families and living backgrounds. When you start to build a relationship with a friend or start seeing someone in your life, conflicts and quarrels always seem like they are part of the journey. Small arguments might still be considered healthy, as it helps one person to understand the perspective of the other better during the argument. However, if the arguments and disagreements become more frequent, it could become the bullet that causes an explosion in your relationship and might event end in a break up.
Michele is a certified relationship coach who has been helping many people in their relationship or friendship issues. Besides being well-known as a sound therapist and musician, since young she has also been doing a lot of study into relationships and body language, such as the different thinking and behaviors between men and women, body language and emotions etc.
She realized why there are so many disharmonious relationships or divorce problems in the world, because everyone thinks and behaves differently.
The evolution of society (e.g. society programming) has caused bigger gaps in between men and women and resulted in more misunderstanding and miscommunications. Based on her own experience, she feels that in order to change your partner into the person you hope they can become, we first have to change ourselves and be aware of the emotions that we are carrying in the relationship and in the conversation.
Sometimes, the start of the quarrels might originate from you without you noticing it at all but you start to put the blame on your partner or friend. Based on her understanding, we cannot fix the relationship without untangling personal emotions and your relationship will not be smooth and happy if you do not know how to free yourself and your mind.
If you have millions of WHY in your relationship with your partner, friends or colleagues, this will be the perfect workshop for you. Michele will share all her experiences and knowledge with you to give you a better understanding on how you can have a fresh start in your relationship journey.
Some daily life challenges which you can address through this workshop:
- why you always don't understand what I want?
- why don't you trust me fully?
- why dont you like to share your thoughts with me? Do you have any secrets that hiding from me?
- why did you betray or backstab me?
- why do you always think you are right?
Benefits:
• Understand the trigger points in your relationship, where and what causes the trigger and how to deactivate it
• Reorientate the messy map of your relationship and rebuild the trust within and towards your partner again
• Gain better clarity and understanding about yourself and your partner through some exercises that will give you great ideas on how to manage a happy and healthy relationship
Why Men love Football and Women love shopping?
Michele Chong
Sat, 16th Nov 2019
2.00pm- 5.00pm @SGD158
Early Bird Offer: SGD125 (pay by 2 Nov 2019)
+Energy Program: SGD110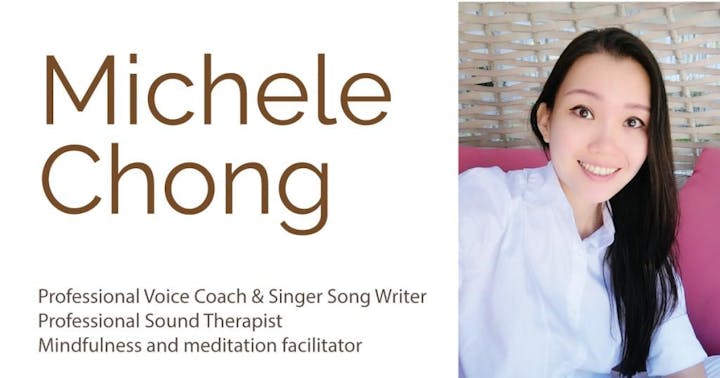 Michele comes from a family which has a long history in the business sector. Since young, she has a vision to make the world a better place through music instead of getting involved in her family business. She worked very hard to achieve all her music qualifications and started teaching singing and performing at a young age because she believes that music will bring happiness and positivity to people and help to positively influence their behavioural patterns.
Michele has been invited to run workshops and private sessions across the world, including in Indonesia, Malaysia, Dubai, Hong Kong, Shanghai etc. Her workshops and sessions have been extremely popular. Through her sound therapy work, she has transformed and healed many of her clients. She believes that sound is the most powerful medicine. Michele continues to enhance her knowledge and skills by pursuing courses related to health and wellness, human psychology and relationships, and self-improvement.
Her favourite quote is "Nothing is Impossible". Michele believes strongly in what she is doing and loves helping people to transform their lives. She hopes that everyone will discover their mission in life and work wholly towards it with positive energy and trust.
Find out more about Michele here.