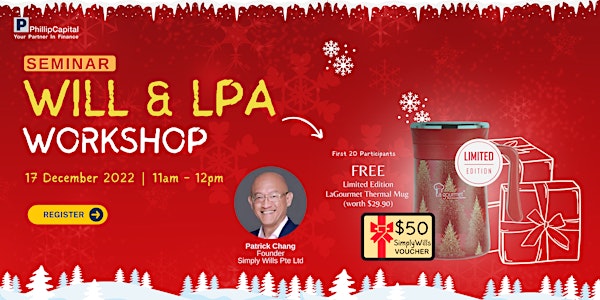 Will & LPA (Physical) Workshop
This Seminar will place the spotlight on the sensitive topic of Will & Estate Planning
When and where
Location
Phillip Investor Centre - Bukit Batok Bukit Batok Central #01-10 Singapore, 650636 Singapore
About this event
Topic: Will & LPA Workshop
Speaker:  Mr Patrick Chang, Founder, SimplyWills Pte Ltd
Date: 17 December 2022, Saturday
Time: 11.00am – 12.00pm
Synopsis
Writing a will is an important and yet neglected part of financial planning. Some of us are not aware of the adverse consequences of not having a valid Will when we pass on whereas the rest of us are simply procrastinating. Increasingly, people are more aware that it is important to have some arrangements made in case we are not able to make decisions on our own. Making a LPA (Lasting Power of Attorney) is absolutely important but still there are some confusion and concerns about this important document.
Topics Covered:
Common misconceptions about Will & LPA
To know how we can be affected if we don't have a Will or LPA
To understand how Will and LPA can alter potentially complicated situations
To learn some pointers when making a Will or LPA
Speaker Profile
Patrick Chang is the Founding Director of SimplyWills Pte Ltd and Advance Planning Pte Ltd, the organisations specialising in writing Wills, LPAs and Trusts.
He started to practise Will Writing in 2001, after realising the importance of having a valid Will and the complications of not having one. He now has 1500 Certified Will Planners and his team has written more than 25,000 wills and helped more than 3000 families in applying the grant of probate of administration.