Description
Have you ever thought about what would happen if Donald Trump scraps the idea of imposing tariffs on Chinese imports?

What if China and US agree to end the trade war? Will it be good for the China & Hong Kong stock market?

You can buy Chinese stocks directly from the Shanghai and Shenzhen stock exchanges since 2015, but do you know how to pick profitable Chinese stocks? What are the stocks you should avoid?

If you want to learn about how to win big and lose small in the Hong Kong & China stock market, come for our upcoming seminar by Mr Andy Yew, the author of the book "Win Big Lose Small".
This session is for you if:
You have zero or some experience in the Hong Kong & China Stock Market

You want to know WHY Hong Kong & China stock market can be the next bull market (after the US 10-year bull market ends)

You think this knowledge is a skill you can use for a life time
Looking forward to sharing more with you,
Andy Yew
---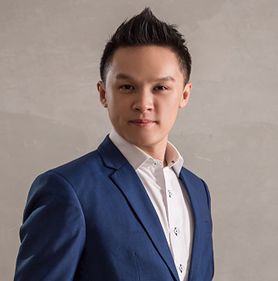 About Andy Yew

Andy Yew (游俊昌) is a top award-winning stock broker turned licensed portfolio manager with one of Singapore's largest privately owned global financial advisories. He is the founder of the ART Trading System—a systematic and simple trading system that helps him and many others to catch the trends and identify big players in the market without looking at complicated indicators and financial reports.
---
IMPORTANT NOTES FOR SEMINARS
Please note that under the Singapore Personal Data Protection Act (PDPA) 2012, CyberQuote Pte Ltd respect the privacy of all our customers and visitors, and are committed to safeguarding the personal information you provided to us.
For the event registrations, you will be requested to provide your personal particulars, which include but are not limited to the following:
a) Full Name
b) Contact details, including telephone number/s and/ or email addresses
Please note that CyberQuote Pte Ltd will send out "Email Confirmation", Short Message Service (SMS), events / seminars and marketing via email to all registrants for all CyberQuote Pte Ltd events.
Should you wish to withdraw your consent from receiving events information, please contact us at CQCourse@cyberquote.com.sg. All personal data held by CyberQuote Pte Ltd will be kept confidential, will not use and disclose to third parties.
---
Disclaimer
The contents of this document, including the terms and conditions, are subject to change and may be modified, deleted or replaced from time to time and at any time at the sole and absolute discretion of CyberQuote Pte Ltd ("CPL"). CPL accepts no responsibility for the results of any actions taken by students after attending our courses, nor for the accuracy or completeness of any material contained herein. Information on courses or any other arrangement for courses, including fees, staffing and class sizes are an expression of CPL's intentions only and do not constitute a firm offer or undertaking to you. CPL reserves the right to discontinue or vary courses without notice and to impose limitations on enrolment in any course. Opinions and projections reflect our opinion as of the date of the analysis and are subject to change without notice. Investors should make their own investment and trading decision based on their own final analysis. All forms of investments carry risks, including the risk of losing all of the invested amount. Such activities may not be suitable for everyone. Past performance is not indicative of future results.

Copyright © 2019 CyberQuote Pte Ltd. All rights reserved. No part of this publication may be reproduced, stored, transmitted in any form of by any means without CyberQuote Pte Ltd's prior written consent.