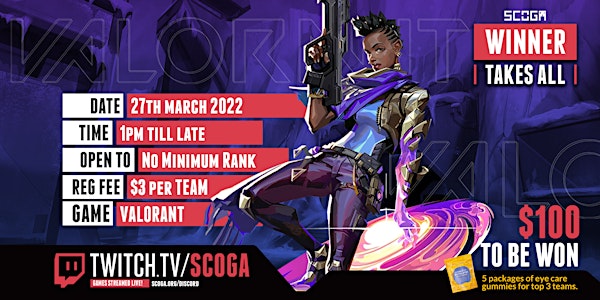 Winner Takes All - Valorant Community Tournament
Winner Takes All Valorant Community Tournament
About this event
Andddddddd we're back with our second rendition of:
Winner Takes All!
Happening on the 27th of March, 1pm till late, battle it out among 8 teams for the ultimate bragging rights, in a high stakes winner takes all, single elimination format.
There is no second winner, or first loser, or any runner ups, only one champion, one victor and one team taking home the full prize of $100 cash (Yes, not vouchers or products).
This tournament will take place purely online, and carried out on SCOGA's official Discord server. If you're down to show your skills on a Friday night, this is for you. Of course, terms & conditions apply.
Registration Fee: $3 per team
First place team - $100
Discord Link: https://discord.gg/Cn2an7V7Qb
Ruleset
Tournament Format:
Single Elimination Format with a Best of 3 (BO3)
Banned agents: Any new releases in March 2021.
Tournament Eligibility:
Open to Singapore Residents only (Singaporeans or Permanent Residents residing in Singapore during the time of the tournament).
The tournament organiser reserves the right to amend the rules and formats without prior notice. Prize pool will be distributed within 60 days after the event.
By signing up for this tournament, you agree that SCOGA may collect and use your personal data, as provided in this registration form, or (if applicable) obtained by our organisation as a result of your registration, for the purpose of tournament administration and communication. Please refer to our PDPA policy for more info.