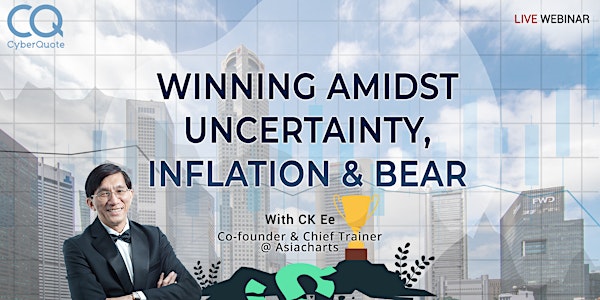 Winning Amidst Uncertainty, Inflation & Bears [LIVE WEBINAR]
Winning Amidst Uncertainty, Inflation & Bears [ LIVE WEBINAR]
About this event
You might have heard "experts" saying that the "worst is over" as tech stocks recovered from their record low recently. But we all know that the effects of inflation are just starting to hit us, and the overall sentiment is still rather bearish.
The energy crunch because of geopolitical conflicts, worsened by the drought and heatwave in two of the largest suppliers (China and Europe), and supply chain disruptions because of yet another wave of lockdowns in China, are just a few that will make things turn ugly, very fast, very soon.
With the exception of a few stocks, even the strongest growth stocks are stagnating. The inconvenient truth is that the market will only get worse before it gets better.
But what if I told you our trading system picked up stocks that "defy market pressures" - specifically Sembcorp Industries, Jardine C&C, Chip Eng Seng to name a few - right before a price reversal or rally?
PLUS, we even made gains by short selling Nanofilm in the recent months, a growth stock that faced a sell down. Another classic example was iFast, right when it made its painful decline after the 10x gains late-2020 to mid-2021.
The best part is we knew EXACTLY when to get in, days or sometimes even WEEKS ahead. Everyone knows "bottom picking" but how many actually know the tell-tale signs of a stock "bottoming out"?
Only by successfully "bottom picking", would retail traders like us be able to stand a chance to inflate our portfolio against inflationary pressures and survive the worst that has yet to come.
Learn more about this proven trading system and how to spot tell-tale signs of "bottoming" in CK Ee's FREE 2-hour live webinar:
How to spot tell-tale signs that a stock is "bottoming out" and poised for potential EXPLOSIVE recovery gains beforehand (likewise for stocks about to plunge)
How to get PRECISE entry and exit points to maximise profits and minimise losses (extremely effective in a bear market and chaotic situations)
How to EXPLOIT strong market sentiments created by the "Big Fishes" A.K.A. fund managers and institutional investors
How to REPEAT this process to make CONSISTENT profits regardless of market conditions
Register on zoom: https://us02web.zoom.us/webinar/register/7316635751484/WN_KHSC6_yiQ7CHQDOQx7u4Zg