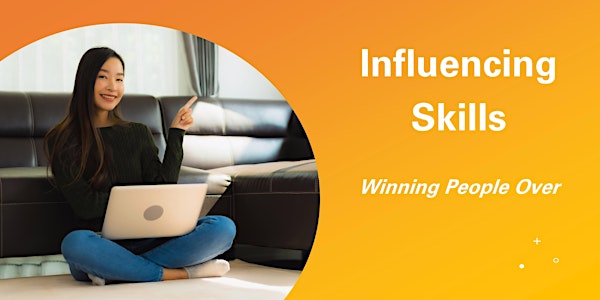 Winning People Over: Influencing Skills (Online - Run 14)
If you need to persuade others to see your point view, you need Influencing Skills!
When and where
Location
Menara Keck Seng 203 Jalan Bukit Bintang Kuala Lumpur, Wilayah Persekutuan Kuala Lumpur 55100 Malaysia
About this event
Synopsis of this Online Training Session
Influencing is both an art and a science. It is also a skill that all of us need. Whether at home or at work, we often need to convince others to do something or see our point of view.
In this one-hour training session, we will discuss:
Sources of Influence Power
Influencing Strategies
This complimentary one-hour online session (conducted using Zoom) is led by our consultant Lim Poh Guan.
The training session is designed to be interactive and participants are expected to be active learners, e.g. asking and answering questions just like in a regular training session.
Please visit our website at www.leaders.com.my to learn more about what we do.
Our Online Learning Bites Series
Emerging Leaders' Roadmap to Success (Online) Program
This session is part of LPG Leadership's Online Learning Bites Series - our contribution to continuous learning and development in the face of challenges presented by Covid-19. The series consists of 8 one-hour modules delivered online via Zoom:
Module 1: Building Leadership Influence
Module 2: Leadership Styles - The Right Style @ the Right Time
Module 3: Building Trust & Collaboration
Module 4: Winning People Over - Influencing Skills
Module 5: Leading Change
Module 6: Effective Goal Setting
Module 7: Critical Thinking - Clear Thinking in Unclear Situations
Module 8: Turn Your Talents into Strengths
These online training modules are free-of-charge and open to anyone keen to learn about leadership. More than 1,500 people from Malaysia, Singapore, Indonesia, the Philippines, Thailand, Vietnam and Hong Kong have benefited from the more than 70 sessions that we have run so far. Each module is run approximately once a month and you can keep a look out on Eventbrite for the next run.
Participants who complete all 8 online modules (since the program's start in April 2020) can request the LPG Leadership for an e-Certificate of Participation for our Emerging Leaders' Roadmap to Success Program (8 hours Online). Please let us know the dates of the 8 sessions that you have attended. You can complete all 8 modules at your own pace.
Please make your requests for e-certificates here at http://bit.ly/lpg-certs.