Spirituality in your Career and Business
About this event
To make payment via Bank Transfer, do WhatsApp 8402 4273.
We know that Allah is Al-Razzaq, The Provider. Yet this knowledge alone can be insufficient if we do not understand its reality. We need to have tawakkul or "trust and reliance on Allah" in accepting the outcomes that He decreed regardless of how things turn out to be. At work or when doing business, reliance on Allah is a key factor in attaining success. How do we cultivate this tawakkul when we are faced with failures in our career or business?
For some, the more they earn, the more they are in need. For others, even though they earn little, it is always sufficient. Many say that this is called 'baraqah'. What is 'baraqah' and how do we attain it?
In this panel discussion, Ustaz Amin will expound on concepts such as baraqah and tawakkul, and the importance of spirituality in managing our wealth. Mdm Beevi Ayoob, owner of Saffrons Restaurant, will be sharing her experience in doing business, and how spirituality plays a key role in the success of her business.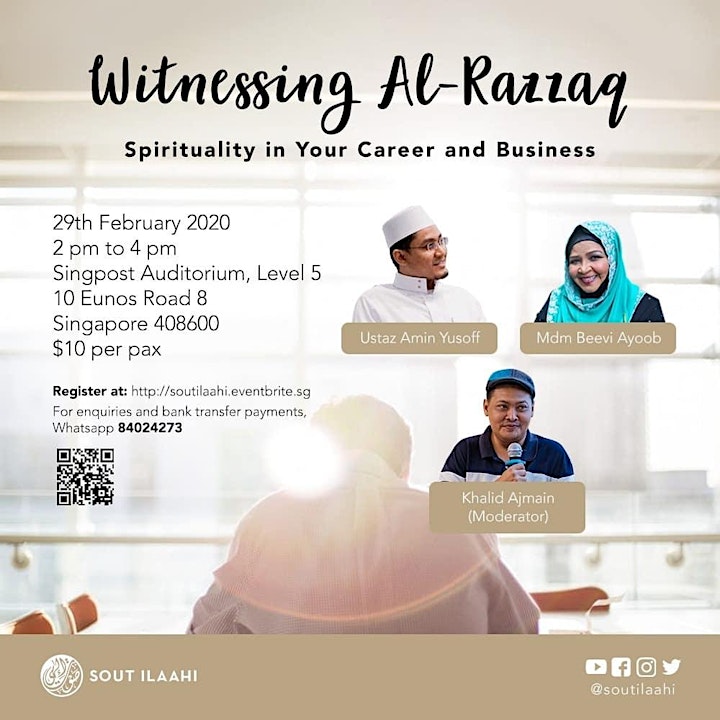 Organiser of Witnessing Al-Razzaq: Spirituality in your Career and Business