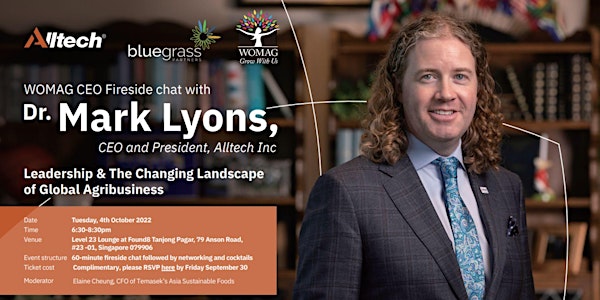 WOMAG CEO Fireside chat with Dr. Mark Lyons, CEO and President, Alltech Inc
WOMAG CEO Fireside Chat with Dr. Mark Lyons. CEO and President, Alltech Inc. Leadership & The Changing Landscape of Global Agribusiness
When and where
Location
Level 23 Lounge at Found8 79 Anson Road, #23 -01 Tanjong Pagar, 079906 Singapore
About this event
Join Elaine Cheung, CFO of Temasek's Asia Sustainable Foods, in a fireside chat with Dr. Mark Lyons, President and CEO of Alltech Inc, to discuss the emerging opportunities in the global agri-food system, the implications they have for planetary well-being and the responsibility this requires of today's leaders.
Dr. Mark Lyons grew up in the Alltech business, having traveled with his father and Alltech's founder, Dr. Pearse Lyons, from a young age to visit customers. With experience working in all regions and nearly all departments — before even officially joining Alltech — he has a deep and uniquely personal knowledge of the company. Based on Alltech's belief that agriculture has the greatest potential to positively shape our world's future, he launched the Planet of Plenty™ vision in 2019. He has called for collaboration to provide nutrition for all, revitalize local economies and replenish the planet's natural resources.
Dr. Lyons began his career at Alltech focused on the development of the company's core nutritional technologies. He spearheaded many critical projects, including simultaneously managing the establishment of a plant in Serbia and the creation of Alltech's flagship yeast production facility in São Pedro, Brazil. He also spent nearly four years in Mexico rebuilding the company's solid state fermentation plant in Serdán, which is one of the largest of its kind in the world. Under his leadership as director of North America from 2009 to 2011, Alltech expanded its presence with the opening of new offices and a growing involvement in all agricultural sectors. In 2012, Dr. Lyons relocated to China, the world's largest feed market, as part of Alltech's focus on the Asia-Pacific region. Living in Beijing and traveling throughout the country, he led the Alltech China office and focused on building bridges between China and the wider industry through research, education and strategic initiatives.
Today, Dr. Lyons is based at Alltech's headquarters in Kentucky, USA. He serves on the CLEAR Center Advisory Council and is active in many industry groups. Dr. Lyons has published papers and patents in areas ranging from enzyme production to global economics and and is interested in the assurance of food safety and quality throughout the entire food chain.
Elaine J Cheung is a purpose-driven CFO and Board Director, helping companies fulfil their commitments to environmental and social sustainability through profitable strategies. Her corporate experience across multiple industries along with board roles at the UN and WWF give her deep insights into moving beyond shareholder to stakeholder capitalism.
She is the CFO at Temasek's Asia Sustainable Foods, providing solutions and support to aspiring food-tech companies at every stage of their growth cycle; a purpose-led mission to use catalytic capital to address Asia's food challenge.
Elaine is the Treasurer and Board Trustee at World Wide Fund for Nature (WWF), the governing body for the entire WWF network operating in more than 100 countries. She is an independent non-executive director and Audit Committee Chair for Novotech Health, a clinical research organization majority-owned by TPG Capital Asia fund.
At the UN World Food Programme, 2020 Nobel Peace Laureate, Elaine advised the Executive Board and was a member of the Independent Oversight Committee. Her other past board experiences include INED and the Audit Committee Chair for Pacific Legend Group, the holding company of Indigo Living, a furniture & lifestyle retailer listed on the Hong Kong Stock Exchange; Asian Development Bank.
Nominated Director at Mountain Hazelnut Group in Bhutan, a triple bottom line company; Board of Governors of the American Chamber of Commerce in Hong Kong and NED for Guangzhou Pharmaceutical Corporation. She holds the Financial Times Non-Executive Director diploma and is a member of 30% Club Women to Watch and Global Board Ready Women. Elaine strongly believes in harnessing individual actions as a catalyst for global change and the world must not only aim for net zero but also nature positive.
https://www.linkedin.com/in/elainejcheung/