Women's Qigong & Yoga for COVID Lung Health
Learn immunity-boosting women's Qigong & Yoga to support your students to stay strong against COVID.
About this event
Learn an immunity-boosting Women's Qigong 气功 & Yoga Metal sequence for the lungs to support your students to breathe freely, stay strong and healthy against COVID through Autumn and Winter.
Sep 12 Sunday, 1530 CET (Rome) | 930 ET (New York)
90 min, on Zoom
Includes entry to the live masterclass & 2 weeks recording access (you'll receive the link to watch via email)
This accounts for 1.5 CEUs with Yoga Alliance USA
You will learn:
THEORY: The underlying principles & benefits of the practice
PRACTICAL: How to do the practice
APPLICATION: How to sequence the practice within your Yoga classes
Q&A: Common mistakes, questions & how to address them
QIGONG CAN HELP WITH COVID-19
Qigong has been demonstrated to be useful in the prevention, treatment, or rehabilitation of COVID-19 or respiratory infections (See Feng F, Tuchman S, Denninger JW, Fricchione GL, Yeung A. Qigong for the Prevention, Treatment, and Rehabilitation of COVID-19 Infection in Older Adults. Am J Geriatr Psychiatry. 2020;28(8):812-819. doi:10.1016/j.jagp.2020.05.012)
For an idea of Wenlin's teaching style & how the movements are like, refer below: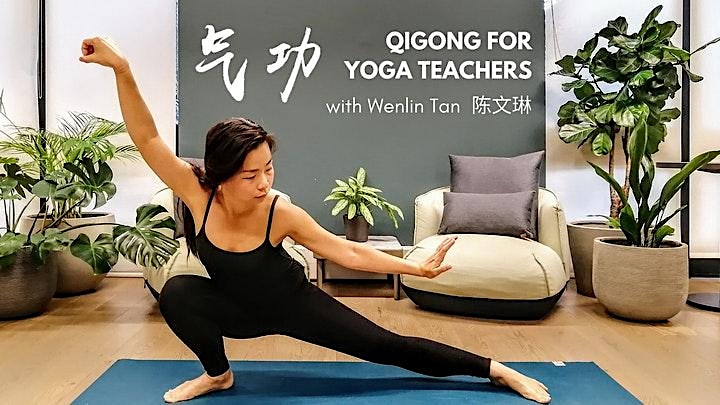 Your guide:
Wenlin Tan 陈文琳E-RYT 200, RYT 500, YACEP Yoga Alliance USA.
Wenlin has been studying movement and mindfulness since she was 9, and teaching since 2016. She is known for her unique style, Qigong Flow, that integrates eastern philosophy, Qigong, Taichi and Yoga. A native Chinese speaker born and bred in Singapore, Wenlin's trainings and classes are informed by her continued training with various teachers, including Dr. Eleanor Criswell Hanna (Novato Institute), Dr. Gayl Hubatch (Blue Heron Centre), Dr Becky Chen (Mahota Clinic), Dr Wang Xun (Singapore College of Traditional Chinese Medicine), Master Zhongxian Wu, Master Chungliang Al Huang, Master Shi Yi-Heng, Mimi Kuo-Deemer and Daisy Lee.