Craft Workshop: Lilliput preserved flower bouquet card
About this Event
In this fun and light hearted 1.5 hours workshop, you will learn how to make you r own customised handmade card! In the world of digital era, handmade cards are a treasured art and nostalgic comebacks for a personal touch because handmade things comes from the heart!
Our studio workshops are designed and catered for individuals to small groups. Expect to have a therapeutic time working with a variety of preserved and dried flowers in different colours.
You will receive direct, step-by-step instructions from our Floral Artist in a cozy home studio environment.
Fees include all materials. Tools such as scissors will be provided to you. Ideal for bridal/hen's parties/girls' day out or simply a meaningful and quality time spend with loved ones.
Workshop Outcomes
Learn about various flowers and foliages and how to handle them
Making stencil patterns on the card
Scoring the card correctly
Learn the techniques of arranging preserved and dried flower bouquet
Learn how to wrap the bouquet
Take home new found skills and your creation!
Level
No art or floral experience needed!
Dimensions
14cm x 12cm x 5cm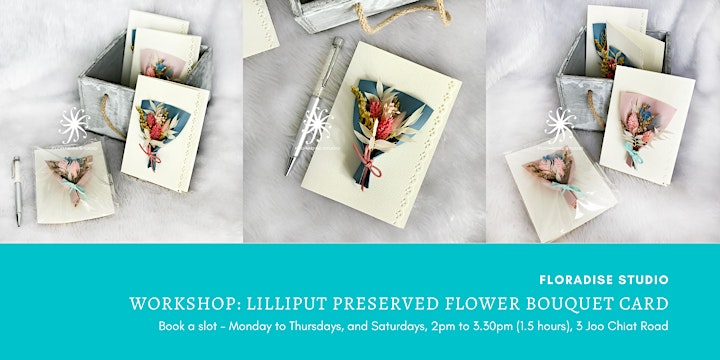 Connect witih us on Social Media
Follow us on Instagram
https://www.instagram.com/floradise.studio/
Like us on Facebook
https://www.facebook.com/floradisestudio
Floradise Studio
Floradise (pronouced as floral dice)
The studio deals with preserved flowers, real botanicals and natural materials derived from nature that may be used for flower art and arrangements.

Paradise
/ˈparədʌɪs/
an ideal or idyllic place or state.
the abode of Adam and Eve before the Fall in the biblical account of the Creation; the Garden of Eden.
Believes that nature is greatest gift and brings a lot of joy to one's soul. Preserved flowers last eternally.
Mission

To conduct therapeutic workshops to help participants to make their own beautiful and artistic arrangements.

Vision

To bring workshop participants and recipients of our flower products a sense of heaven (spa like experience - love, joy, fulfilment)
Our Story
https://www.floradise.studio/our-story
https://www.instagram.com/p/CANS3FqlRUZ/?utm_source=ig_web_copy_link
Hi! My name is Fyon! I am the Floral Artist and Founder of a home-based floral design studio — Floradise Studio, based in Singapore. I graduated from ...
The workshop will be held at our home studio at 3 Joo Chiat Road
Flowers provided will be dependent on the availability
Payment must be completed at least 1 week before the scheduled workshop
Please note that we do not accept cancellation less than one week before the workshop
The schedule will be arranged by Floradise Studio and participant(s)