About this Event
For the 1st Time EVER we will be showing you the business platform that has the POWER of doing An Network Marketing Business with E-Commerce for this 1.5 hours (Live) preview where you will discover:
Here's what Tony Robbins said about Network marketing: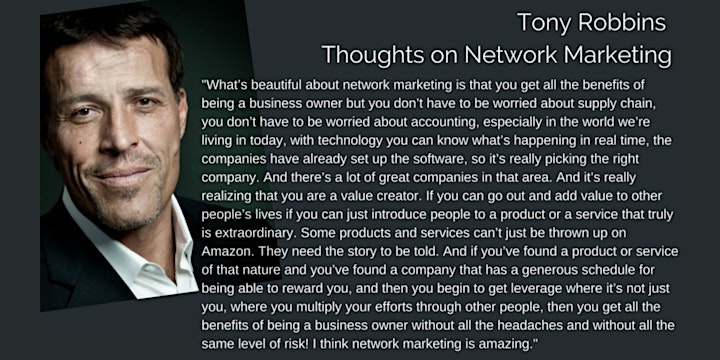 With business + (unlimited) Training + (Lifetime) Mentorship
How not to succeed in business?
Attend this 1.5 Hrs (Live) session to learn how you can leverage on the business platform + (Unlimited) Training + (Lifetime) Mentorship to build the Future of business.
The Speaker:
At the end of the session,
you will also walk away with a *FREE ebook on "How Can You Close A Deal Every Single Time?"Worth $29.90 USD!!!**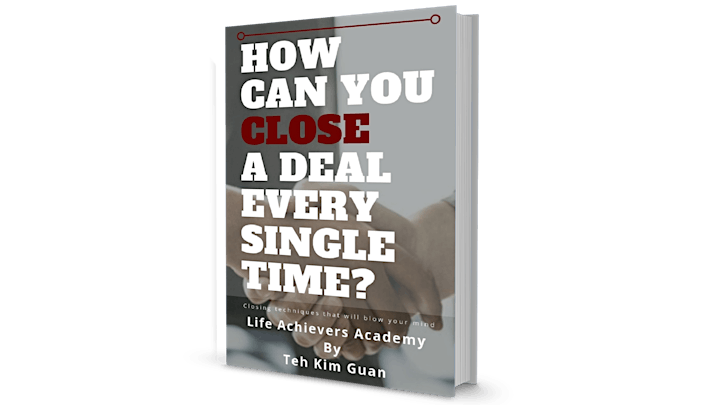 Please approach with the person who contacted you for the above ebook.
Seats are limited so RSVP NOW!
If you want to learn how to automate your business sales with sale funnel automation, get your ebook now!!!
Worth $49.90 USD!!!
Event promotional offer only!!!
RSVP NOW as seats are limited!
#futureofbusiness #onlinebusiness #online #ecommerce #ecommercebusiness #parttimeincome #global #globalbusiness #entrepreneur #homepreneur #socialmedia #financialfreedom #additionalincome #extraincome #job #trend #active #recurring #networkmarketing #networking #Business #NetworkMarketers #Introverts #LinkedIn #SocialMediaSkillset #NetworkMarketing #OnlineBusiness #DirectSellingBusiness #MultiLevelMarketing #MLM #Ecommerce #BusinessOpportunity #Contacts #futureofbusiness #onlinebusiness #online #ecommerce #ecommercebusiness #parttimeincome #Affiliatemarketing #global #globalbusiness #entrepreneur #homepreneur #socialmedia #financialfreedom #additionalincome #extraincome #job #trend #active #recurring #networkmarketing #networkmarketingbusiness #networking #Business #WorldBusiness #NewNetworkMarketingBusiness #AffiliateMarketing