Workshops with Shaykh Ahmad Saad - August 2014
When and where
Location
SimplyIslam.sg 152 Still Road Singapore, Singapore 423991 Singapore
Description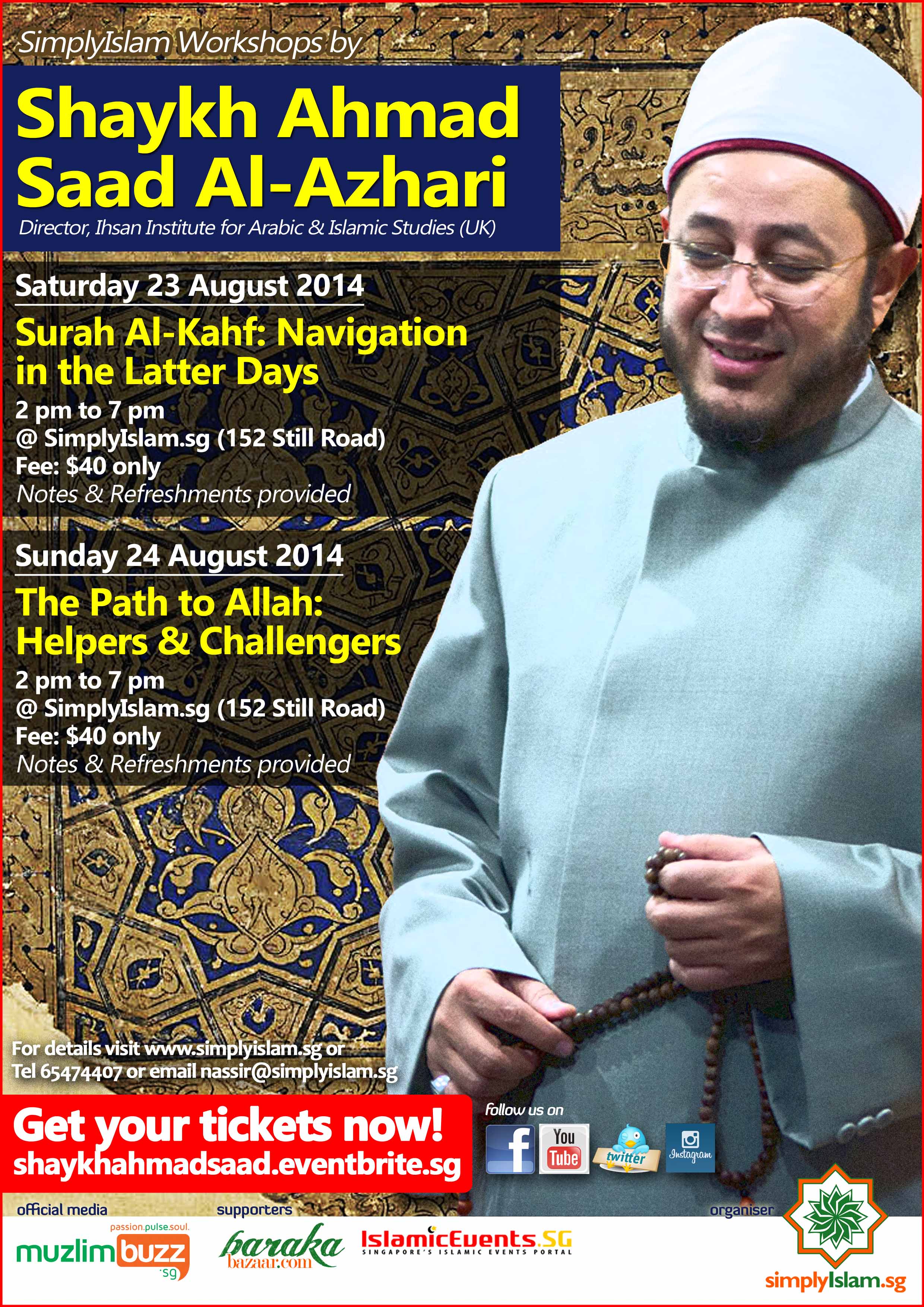 SimplyIslam.sg is organising another series of workshops with the eminent and dynamic Islamic scholar, Shaykh Ahmad Saad A-Azhari. He is the Founder & Director of the Ihsan Institute of Arabic & Islamic Studies (UK) [link] [biodata].
EVENTS DETAILS
Workshop 1
SURAH AL-KAHF: NAVIGATION IN THE LATTER DAYS
Date: Saturday 23 August 2014
Time: 2 to 7 pm
Fee: $40 only (inclusive of notes & refreshments)
Venue: SimplyIslam (152 Still Road) [map]
Workshop 2
THE PATH TO ALLAH: HELPERS & CHALLENGERS
Date: Sunday 24 August 2014
Time: 2 pm to 7 pm
Fee: $40 only (inclusive of notes & refreshments)
Venue: SimplyIslam (152 Still Road) [map]
Shaykh Ahmad Saad will also be delivering the following lecture:
From Gaza to Syria: Managing Spirituality Amidst Tribulations
Date/Time: Friday 22 August 2014, 7.45 pm
Venue: UE Convention Centre
Details & Registration: http://fromgaza-tosyria.eventbrite.sg

---
ABOUT SHAYKH AHMAD SAAD
Shaykh Ahmad Muhammad Saad Ash-Shafi'ie Al-Azhari Al-Hasani was born into a family of scholars whose lineage goes back to the Prophet Muhammad (salla Allahu alayh wa sallam) in the northern Egyptian governorate of Monofiyyah. He completed the memorisation of the Holy Qur'an at the age of ten and studied basic Arabic and Islamic sciences before enrolling into Al-Azhar system of schools where he spent almost 17 years of his life graduating with a B.A. Honours in Islamic Studies in English. He toured the world as an Imam, speaker and lecturer; he visited Canada, USA, Germany, Malaysia, Sweden and is currently settled in the UK. He is the Founder and Director of the Ihsan Institute for Arabic & Islamic Studies, and was the former Imam of North London Central Mosque.
Alongside with his academic studies, Shaykh Saad studied traditional Islamic sciences at the hands of senior scholars and specialists in Egypt, including Egypt's Grand Mufti, Sheikh Ali Gom'ah. He memorised Riyad As-Saliheen of Imam An-Nawawi at the age of 15 and Al-alfiyyah of Ibn Malik at the age of 13 and committed to memory thousands of lines of poetry. He also focused on Qira'aat and received Ijazah various narrations of Hafs and Shubah from Asim, Warsh and Qaloon from Nafi' and Khalaf and Khallad from Hamzah, in addition to many other Tajweed texts. Amongst his teachers in Qira'at are: Shaykh Dr. Ayman Suwaid of Damascus, Shaykh Mu'adh Safwat, Shaykh Ali An-Nahhas, Shaykh Shibl Matar, Shaykh Abdel-Basit Hashim, Shaykh Abdel-Fattah Madkour.
Shaykh Saad has also attained Ijazahs in the books of hadith, the musalsalat, Shafi'ie Fiqh and all books of Tafsir, Tasawwuf, Shama'il and biographies from various Shuyukh. Among his teachers are the Grand Mufti of Egypt Imam Shaykh Ali Gom'ah, Shaykh Ahmed Ali As-Surti of India, Shaykh Usamah As-Sayyid Al-Azhari of Egypt, Shaykh Muhammad Abdel-Ba'ith Al-Kittani, Habib Ali Al-Jifri, Shaykh Muhammad Sadiq Al-Alawi, As-Sayyid Yusuf Ar-Rifa'ie, Habib Muhammad Sa'ied Al-Beidh, Shaykh Muhammad Qasim Al-Washali of Yemen, Shaykh Salman An-Nadawi of India, Shaykh Subhi As-Samurra'ie of Iraq and many others.
Shaykh Saad loves poetry and writes it frequently mainly in Arabic and sometimes in English. He teaches Shafi'ie Fiqh, Tasawwuf, Usul Al-Fiqh, `Aqeedah, `Ulum Al-Quran, Tajweed in North London Central Mosque. He is a father of three boys.
http://www.ihsaninstitute.co.uk
---
SYNOPSIS
Topic: Surat Al-Kahf: Navigation in the Latter Days
A Muslim is recommended to read Surah Al-Kahf every Friday. In Sahih Muslim, Surat Al-Kahf is described as light from Friday to Friday. In the latter days i.e. the days preceding the Day of Judgment, many tribulations happen and people's faith is put to a real test. What tools can Muslims derive from Surah Al-Kahf to navigate these troubling days with absolute safety? Why did the Prophet, peace be upon him, advised Muslims to read it to be saved from the tribulation of Ad-Dajjal? Is it the power of the words or the power of the Message?
This workshop aims at exploring the messages of Surat Al-Kahf, internalizing these messages and activating the themes of the Surah in a Muslim's daily life in order to be saved from the tribulations of the modern times.
Topic: The Path to Allah: Helpers and Challengers
Every Muslim should seek a path that delivers him or her to Allah. This is a life long journey full of challenges, traps and events. Can one travel this path alone? What is the nature of this path? What are the traps on this path and how can one travel safely? What have the masters who have travelled this path said about their own journeys? What rules have they put for safety? How can a seeker avoid falling into frustration and relaxation?
This workshop is a discussion of the book "The Path to Allah: Helpers and Challengers' written by the former Grand Mufti of Egypt, Shaykh Dr. Ali Gomaa. This workshop is aimed at exploring the spiritual path and its challenges, setting out the rules of safety and empowering seekers to move on with surety and hope.