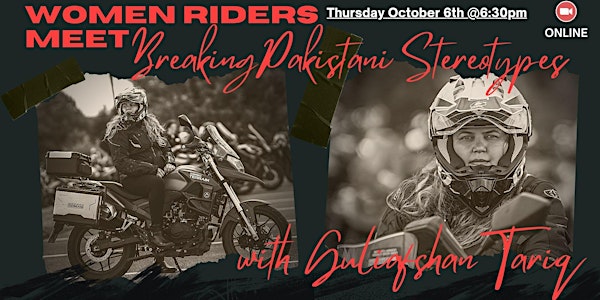 WRM: Breaking Pakistani Stereotypes with Guliafshan Tariq
Meet Guliafshan: The Pakistani rebel who created a riding school for women
About this event
Women who ride motorcycles in Pakistan often face harassment, bullying, or family/friend objections/resistance. Guliafshan made it a mission to not only promote women in general, but also to promote a positive image of Pakistan internationally. She was the first woman to ride Khyber Pakhtunkhwa (KPK), the northernmost province of Pakistan, on a motorbike, and has broken several national records.
Join us on October 6th at 6:30pm (GMT+8) to learn about the way she pushed her own boundaries and found love on the way, hear about her battles and how she is now encouraging other women to do so with her riding school project.
You will also have the opportunity to connect with fellow women riders and aspiring riders from all over the world :-)
Any donation made through this event will be used to sponsor women's motorcycling training.
About the speaker:
Born and raised in Pakistan, Guliafshan used to ride bicycles in the military compound where she lived with her parents, 2 sisters and 2 brothers. That's when she first experienced that sense of freedom and never turned back. She talked one of her girlfriends into taking a bicycle trip to the Chinese border. They were only 22 years old, and off they went for 9 days despite strong societal barriers (her mum learnt about this escape on the news!).
Her passion for travel brought her to motorcycling, as a faster, cheaper and safer means to travel throughout her country. Two years later, she went on a month-long motorcycle road trip and chose to explore KPK, a region of Pakistan that is reputedly dangerous particularly for women, and discovered a completely different picture from what was portrayed in the mainstream media.
After completing her engineering degree and receiving the Commandant's Gold Medal from the University of Pakistan, she got a job in one of the top multinational companies in the country. Adventurous, ambitious, and progressive, she loves challenging social norms and getting out of her comfort zone. She represented Pakistan in the National Women Wall Climbing Championships in 2013, took her paragliding certification while in the army, is a trained MMA fighter, Member of National Youth assembly and a social activist.
She has broken 3 national records: First Pakistani woman to cycle the highest border of the world, the Khunjerab Pass /Pakistan-China (1000km in 9 days), First Pakistani female to paraglide jump solo, in Boni Chitral, Khyber Pakhtunkhwa, Pakistan, at 7800 ft, and First woman to ride Khyber Pakhtunkhwa (KPK), the northernmost province of Pakistan, in 20 days, on a motorbike.
She currently lives and works in the UK, but still encourages Pakistani women to take up motorcycling as a self-empowerment vehicle and has engaged a team of 6 women to train others to ride. Pakistani women riders can sometimes be perceived as too strong, bold, or too independent, and often the subject of controversy among the population. The number of female bikers increases every year worldwide, and South Asian women are no exception. While they still struggle to find their place in the motorcycle world, there are more and more motorcycle groups and events that focus on the motorcycle culture among women riders, thus allowing women to be a stronger part of the industry, thanks to fearless and determined people like Guliafshan.
Agenda (GMT+8)
6:30pm-6:35pm: Welcome and intros
6:35pm-6:45pm: Breakout rooms- Let's get to know each other
6:45pm-7:45pm: Guliafshan's story
Being a woman in Pakistan
How motorcycling changed her life
How she supports women break free in Pakistan
7:45pm-7:55pm: Q&A
7:55pm-8pm: Wrap up