WSQ Communicate and Relate Effectively At The Workplace

Wednesday, 14 March 2018 at 09:00

-

Friday, 16 March 2018 at 18:00 (Singapore Standard Time Singapore Time)
Event Details
This course is supported by SkillsFuture Singapore (up to 95% funding)
and SkillsFuture Credit
Good communication skills are key to personal and organisational success. 
A good communicator is someone with effective communication and relationship skills to interact, to negotiate and manage conflicts, that enable them to be successful in work place communications and achieve "win-win" outcomes.
A team of good communicators promotes productivity and enhances workplace harmony. 
Upon completion of this competency- and assessment-based programme awards, participants will be certified competent and will be awarded with a Statement of Attainment (SoA) by the Skillsfuture Singapore (SSG).
Key Benefits
Apply effective communication techniques to maintain open communication, resolve issues and concerns

Provide support to team members to achieve individual and team goals while taking diversity issues into consideration
Course Highlights
Interpret and analyse information received

Plan response to information received, taking into account the social and cultural background of recipient of information

Use appropriate communication techniques that consider social and cultural differences to clarify and respond to information received

Identify signs, stages and causes of conflict with individuals or groups of people

Define the conflict and highlight points of differences/ contention objectively, taking into consideration social and cultural differences of parties involved

Negotiate for mutually acceptable solutions by all parties using effective communication and negotiation skills

Communicate outcome of negotiation and propose relevant recommendations with justifications to supervisor
Methodology
This course will be conducted through mini lectures and active and facilitated learning, with interactive activities, role plays, group discussions, case studies, revision quizzes and assessments/tests.
Who Should Attend
This course is suitable for front-line employees, staff in supervisory roles, or individuals who are self-employed or independent professionals.  It is suited for people who interact frequently with others on a daily basis, provide excellent customer service and maintain relationships for workplace efficiency.
Course Details
Dates : 14th and 16th March 2018
Duration : 2 days (16 hrs)
Time : 9:00am – 6:00pm
Full Course Fee : $300.00* (before fundings; no GST)
Training Grant is subject to SSG's approval and terms:
Eligibility                 

       Funding (%)                  
     Self Sponsored                    
    Company Sponsored         

Foreigners - No Subsidy

0%

$300.00

$300.00

SkillsFuture Mid Career Enhanced Subsidy -

Singaporean Citizens, aged 40 years and above

90%

MCES: $30.00

$30.00

Workfare Training Scheme -

Singapore citizens, aged 35 years
and above and earning $S2000 or less / month

95%

WTS: $15.00

$15.00

Normal Funding - Singapore Citizens/Permanent Residents aged 24 and above

80%

Normal: $60

Normal: $60

Skills Development Fund -

Singapore citizens / PR, 21 years and above

 

90% - SME




80% - Non-SME

 

N/A

 SDF(SME): $30.00

SDF (Non-SME):$60

 

Employers sponsoring their staff

 

Entitled to


Payroll Absentee funding
 NA
 

Entitled to


Payroll Absentee funding
Terms and Conditions: Training Grant Eligibility Criteria
Trainees must be employees who are either Singapore Citizens or Singapore Permanent Residents (SPR).

Trainees must have achieved at least 75% attendance, have sat for all examinations and gain certification.

For company-sponsored trainees, companies must be registered or incorporated in Singapore.

Training grant is subject to SSG's approval as well as terms and conditions.
When & Where
Venue will be revealed upon confirmation

Singapore

Wednesday, 14 March 2018 at 09:00

-

Friday, 16 March 2018 at 18:00 (Singapore Standard Time Singapore Time)
Add to my calendar
Organiser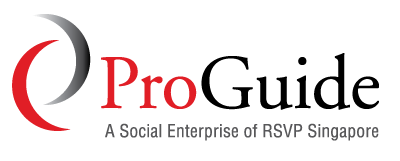 The Training Agency is RSVP PROGUIDE Pte Ltd. ProGuide offers professional training and consultancy services to corporations, government agencies, ministries, SMEs, VWOs and statutory bodies. We are well supported by PMETs, each with over 25 years of professional experience with training experience spanning ASEAN. ProGuide is also a SSG Approved Training Organisation (ATO), authorised to develop curricula and train SSG certified courses according to the Workforce Skills Qualifications and Skills Frameworks.
ProGuide is a social enterprise created in 2004 by the RSVP Singapore, a charitable organisation.  We advocate and provide opportunities for senior and retired/retiring PMETs to serve the community through part-volunteerism and continuing active professional contributions.  The profits of ProGuide are channelled to support the charitable outreach programmes of our parent charity, RSVP Singapore.