About this Event
Overview
A WSQ Video Planning & Production programme consisting of 3 modules specially designed to
equip you with essential video production knowledge which will value add to your marketing
efforts. Time and efforts will be well spent as these are practical sessions where you will be
trained to produce your own social media videos.
Learning Outcome
Upon completing the 3 modules, you will be equipped with the needed skills (i.e. from
pre-production, production to post-production) to produce marketing videos for your social
media marketing programme, to increase your sales and branding.
Modules & Schedule
Module 1. : WSQ Production Planning for Filming (2.0 days)
This unit covers the script breakdown, planning, preparation and compiling of a
production schedule for both the cast and crew to meet production needs.
Module 2. : WSQ Camera Operations for Filming (2.0 days)
This unit covers the knowledge and application skills of the testing and setup of the
appropriate video camera equipment as well as operating cameras to frame and
compose images according to technical specifications and production styles to
meet production needs. Types of cameras used for filming includes production
cameras, camcorders, DSLR and mobile phone cameras.
Module 3. : WSQ Post-Production for Filming (2.0 days)
This unit covers the importing of audio and video material into a nonlinear editing
environment, executing video edits to organise video footage in a sequence that
matches the narratives in the script.
Who Should Attend?
This course is ideal for trainers, speakers, coaches, network marketers, tutors, lawyers, property and insurance agents in highly competitive industries.
It is important to distinguish yourself from the rest in the market and this course provides just the right channel for you to do so.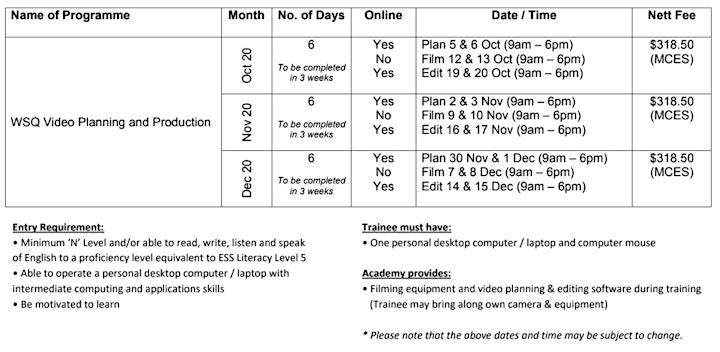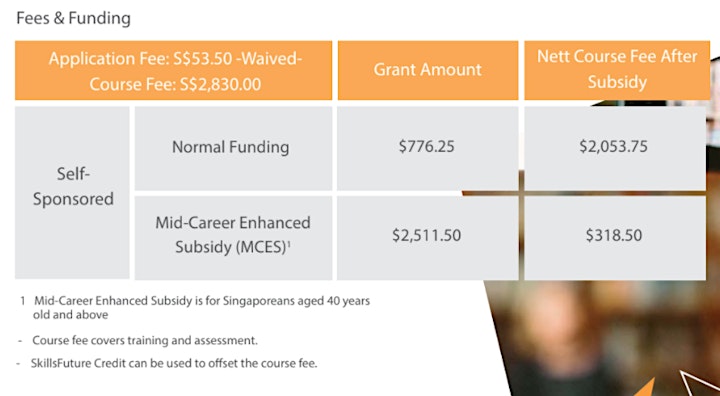 Consent To Use Your Personal Data
The Personal Data Protection Act (PDPA) establishes a data protection law that comprises various rules governing the collection, use, disclosure and care of personal data. It recognises both the rights of individuals to protect their personal data, including rights of access and correction, and the needs of organisations to collect, use or disclose personal data for legitimate and reasonable purposes.
Effective from 2 January 2014, organisations have to check the Do Not call (DNC) Registry before conducting telemarketing activities.
Under the PDPA's DNC provisions, circle4mummy does not need to check the DNC Registry before sending telemarketing messages (such as promotions and updates on new product offerings and services) if circle4mummy has received your clear and unambiguous consent to be contacted for telemarketing.
You would like circle4mummy to contact you for such marketing, advertising and promotional purposes via the voice call, SMS and Fax, overriding any DNC registration.
You understand that you are entitled to withdraw your consent for the collection, use and disclosure of your personal data at any point of time by notifying circle4mummy at circle4mummy@gmail.com in writing.