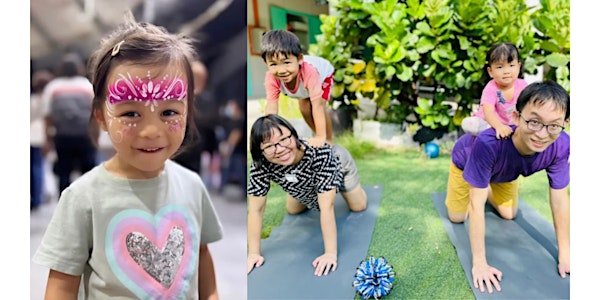 X'mas Family Carnival by the Sea
X'mas Family Carnival by the Sea
When and where
Location
Civil Service Club @ Changi 2 Netheravon Road Singapore, 508503 Singapore
About this event
Entry
Free entry open to the public
Activities
Morning
10:00 -11:00am Spreading X'mas Love with Family Yoga (age 4 and above)
10:30 – 11:15am, Construct X'mas ornaments with wood (age 5 and above)
10:30 – 11:15am, Cozy X'mas Terrarium (age 5 and above)
Afternoon
1:15 – 2:00pm, Construct X'mas ornaments with wood (age 5 and above)
1:30 – 2:15pm, Cozy X'mas Terrarium (age 5 and above)
2:15 – 3:00pm, Construct X'mas ornaments with wood (age 5 and above)
3:00 – 4:00pm Creativity with X'mas Wreath (age 5 and above)
3:15 – 4:00pm, Construct X'mas ornaments with wood (age 5 and above)
Late afternoon
4:15 – 5:00pm, Cozy X'mas Terrarium (age 5 and above)
4:15 – 5:00pm, Construct X'mas ornaments with wood (age 5 and above)
4:30 – 5:30pm Creativity with X'mas Wreath (age 5 and above)
4:30 – 6pm X'mas Foam Party! Sensory & Messy Play (age 1 and above)
5:00 – 6:30pm X'mas coastal walk by the beach (age 5 and above)
5:15 – 6:00pm, Construct X'mas ornaments with wood (age 5 and above)
Activities throughout the day
1. Construct X'mas ornaments with wood by Salttworkshop
Age 5 and above
45mins, $28 per session
1030am to 1115am
1130am to 1215pm
115pm to 2pm
215pm to 3pm
315pm to 4pm
415pm to 5pm
515pm to 6pm
2. Creativity with X'mas Wreath by Tiger Lily Studio
Age 5 and above
Let your child experience first-hand creating his/her very own wreath in the lead-up to Christmas! Every child will be able to take home the handmade wreath (20cm) which would be perfect as a decorative piece to bring some Christmas cheer to the household, or for gifting to someone dear this special festive season!
60mins workshop, $45 per child (age 7 and above)
3pm to 4pm
4.30pm to 5.30pm
3. Cozy with Xmas Terrarium
Age 5 and above
Bring home your terrarium and watch it grow and build a self-sustainable ecosystem!
45mins, $20 per pax
10:30 – 11:15am
1:30 – 2:15pm
4:15 – 5pm
4. Face Painting (First come first serve at the booth)
5. X'mas Tattoos (First come first serve at the booth)
Age Groups
Spreading X'mas Love with Family Yoga (age 4 and above)
Construct X'mas ornaments with wood (age 5 and above)
Cozy X'mas Terrarium (age 5 and above)
Creativity with X'mas Wreath (age 5 and above)
X'mas Foam Party! Sensory & Messy Play (age 1 and above)
X'mas coastal walk by the beach (age 5 and above)
Assemble butterfly / dragonfly bouncer (age 4 and above)
Build hungry caterpillar keychains (age 4 and above)
Face painting and tattoos (any age!)
Booths
Wooden Toys by Left and Right @leftandright.sg
Small Human Big Feeling – Emotion Detective by @themindstudio.sg
Chinese Art & Craft by @beila_mandarin
Woodmaking by @salttworkshop.jr
Robotics by @whyte.labs
Bamboo pillows by @cheekie.panda
Candles by @ellyinthewoods
Picnic Mats and Kids Yoga Towels by @chalkandchakras
X'mas Wreath by @tiger.lily.studio
Kombucha drink by @getyocha
Cakes and cookies by @Snzjbakes
Croissants and viennoiserie by @Newdelibakes
Sensory & reflex information by Neural Connections
Note
Entry is free. Activities are paid events. Children above 12 months old require a ticket for the activities.
Tickets for all activities are non-refundable. Tickets are transferable to others for the same date. If you can no longer attend, you can find family or friends to replace you.
By signing up for this programme, you agreed to be contacted for future events via WhatsApp
WhatsApp +65 9783 7313 to be on the waiting list
Stay updated with the latest events and workshops at:
FB: @MindfulSpaceSg
Insta: #mindful_space_
Mindful Space
97837313
https://www.mindfulspace.com.sg/