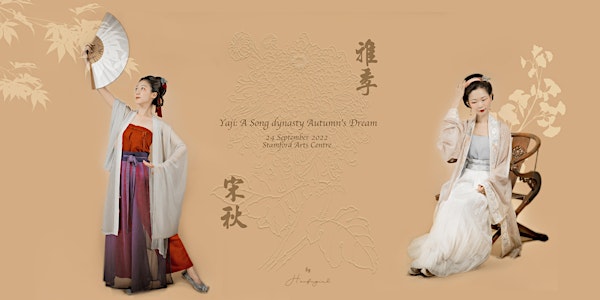 Yaji: Seasons| Exposure to Yaji: A Dream of Song's Splendour
Experience a world of ancient Chinese culture that you never knew existed
When and where
Location
Stamford Arts Centre 155 Waterloo Street Singapore, 187962 Singapore
Refund Policy
Contact the organiser to request a refund.
Eventbrite's fee is nonrefundable.
About this event
Yaji: Seasons is the first in a series of Elegant Gatherings by the Hanfugirls Collective paying homage to gatherings where ancient literati would enjoy great poetry and exchange thoughts through the finest sensorial experiences. Like the ancients who curated their lives around nature's offerings, we commence our quarterly Yaji series, themed around the blooms and glooms of seasons – much akin to the rise and fall of ancient Chinese dynasties.
In the inaugural Yaji: Seasons gathering, experiences are tailored to different interest levels and preferences. There's bound to be one that is made for you!
Yaji: A Song dynasty Autumn's Dream
A dynasty of oxymorons, the Song dynasty pioneered Chinese capitalism and consumerism while remaining devoted to the practice of Minimalism in its artistic expressions. While the modern Japanese whisked tea ceremony known as chanoyu traces its roots to the whisked tea customs of the Song, and the former's wagashi from similar periods, the two remain distinctly different in essence. Come into the realm of the Song literati and discover an ancient Chinese world that blends high art with popular culture, kitsch with minimalism, and the understated luxury of the Chinese that you've never seen.
Date: Sat, 24 September 2022
Venue: Stamford Arts Centre, #02-03
Recommended Dresscode: Natural fibre or Autumn's colours
Language: English
2pm | Exposure to Yaji: A Dream of Song's Splendour | 45mins | from $30 by Hanfugirl
The Song dynasty is one of the most understated periods in ancient Chinese history. It was the beginning of democratisation and commercialisation in the Chinese society and Chinese women were at the peak of their empowerment. With a tagline of "girls help girls", the latest Chinese period drama "A Dream of Splendour" explored the Song culture, female identity and social hierarchies from a female-centric perspective while engaging in fanciful pastimes such as Tea art, music and dance, and dessert-making. Ever wondered about its historical accuracies? This introductory lecture session will explore aspects such as fashion, tea, art featured in the show, and you will walk away with a refreshing take on a period that laid the cornerstone to our modern Minimalist aesthetics. You will also see a demonstration of the Song style tea making process which was to influence the Japanese tea ceremony today.
This is highly recommended as the prelude to the rest of the Yaji experience as it gives you the grand context with which you would need to appreciate the rest of the afternoon's offerings.
For Full Programme, please refer to: https://www.eventbrite.sg/e/392631470297
Yaji: Seasons consists of four quarterly gatherings:
Yaji: A Song dynasty Autumn Dream (Q3 2022)
Yaji: The Qing dynasty's Ode to Winter (Q4 2022)
Yaji: Spring blooms in Ming (Q1 2023)
Yaji: The Cooling Summers of Tang (Q2 2023)
ABOUT HANFUGIRL
Pan Pan (Hanfugirl) was first introduced to the term "Hanfu" in late 2015 when she chanced upon a beautifully made garment that looked nothing like the ubiquitous cheongsam yet was referred to as the traditional dress of the Han Chinese. She first created #hanfugirl in 2016 when she started dressing up in traditional Han Chinese dresses to work and it subsequently developed into a full-blown research and education endeavour to make historical knowledge relatable and accessible to the general public.
Trained as a visual artist in her formative years with knowledge of the western art history, Panpan combines her visual photo-artworks with editorials that often challenge pre-existing assumptions or stereotypes about the Chinese culture, and draws parallels between the past and the present, the East and the West.
She has been featured on major local and international news platforms such as Channel News Asia, The Straits Times, Lian He Zao Bao, South China Morning Post, Vox and CGTN.
She formally established the Hanfugirls Collective with like-minded people in 2019 and 2020 and received a residency opportunity at the Stamford Arts Centre under the National Arts Council where the collective conducted lectures, workshops and immersive performances related to ancient Chinese women and their art.
Hanfugirl regularly writes articles on Chinese cultural heritage, fashion and arts on her blog http://www.hanfugirl.io and maintains a Facebook page (Hanfugirl) and Instagram (@hanfugirl) which are sites for on-going exploration and discussions of topics related to culture and society.
ABOUT HANFUGIRLS COLLECTIVE
Hanfugirls Collective is an all-female arts collective focusing on research, education and outreach of ancient Chinese artforms with a strong emphasis on female empowerment and multiculturalism. The collective has completed an arts residency at the Stamford Arts Centre in 2019 where the collective conducted sold-out lectures, workshops and immersive performances related to ancient Chinese courtesans and their artistic legacies as well as the interconnectedness of ancient civilisations and cultures since thousands of years ago as manifested in their fashion and arts.
In the Traditional Arts Residency under the National Arts Council that followed in 2021, the Collective completed the first interactive historical dance film that combined traditional film medium with choose-your-own-path online interactives with a 360-degree dance video as part of the residency. With a strong focus on research, the collective seeks to challenge stereotypes and misunderstandings about women identity in ancient Chinese narratives, and to emphasise the confidence and independence displayed by Chinese women throughout history contrary to the usual assumptions of them being submissive and weak.
The Collective regularly conducts workshops and activities that brings the ancient worlds, their art and philosophies to modern audiences.
Key visual image Courtesy of Hanfugirl, photographed by Tang Enoch.
Refund Policy:
Tickets once sold are not refundable but they are transferrable to another person.