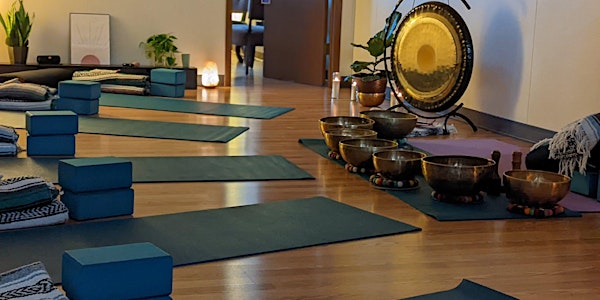 Yin Sounds
Experience a1-hour of YIN SOUNDS, a unique practice that combines the benefits of Yin Yoga and Sound Bath
When and where
Location
180B Bencoolen St 180B Bencoolen Street Singapore, 189648 Singapore
About this event
YIN SOUNDS is a combination of Yin Yoga and Sound Bath.
People have been using sound to promote healing for thousands of years. For example, ancient Greek physicians used musical instruments as therapy believing that the instruments' vibrations could aid in digestion, teat mental disturbance, and induce sleep.
While a modern sound bath won't cure you of the common cold, studies suggest it does come with certain physical and mental health benefits.
Yin Yoga is a slow-paced yoga practice that comes from the Taoist tradition and focuses on passive, seated postures that target the connective tissues in the hips, pelvis and lower spine. Yin Yoga teaches you the art of stillness, as you hold poses for anywhere between one and five minutes, allowing you to stretch your primary connective tissues. The aim is to increase flexibility and encourage a feeling of release and letting go.
Both practice seeks to balance our physical, emotional and mental systems, restoring a sense of harmony with the following combined benefits:
- Using breathing to achieve a state of relaxation to manage your stress levels
- Relaxes and decompresses your body as you feel the deep stretch to your connective tissues, releasing tensions
- Gaining greater mobility and flexibility with regular practice
- Help you to go deeper in your meditation practice
- Allowing you to have a better sleep with relaxed mind and body
- Lowering our stress and anxiety levels
- Heightening focus and energy
- A feeling of rejuvenation.
So come and be energised in this 1-hour Yin Sound session.
Suitable for all levels.
Do come dressed comfortably. Bring your own mat, water bottle and a smile.
See you there !
Raymond and Robin
Raymond is an experience corporate trainer, executive coach, mentor and sound master, while Robin is an experienced yoga instructor, meditation teacher, life coach and corporate trainer.