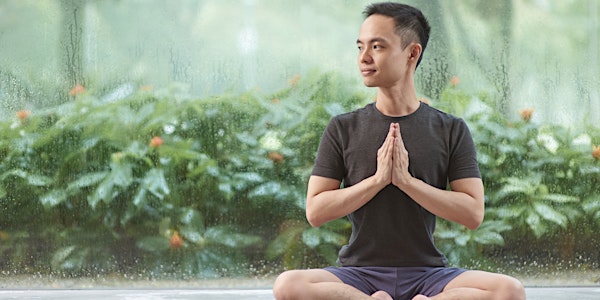 Yoga Circle Fundraiser: Yin Yoga – Inner Balance with Bryan
Let's support a good cause by joining Bryan for a calming and balancing Yin yoga session! All proceeds will be donated to Yoga Circle SG
About this event
Let's support a good cause by joining Bryan for a calming and balancing Yin yoga online session!
All proceeds will be donated to Yoga Circle (yogacircle.sg)
----------------------------
Unwind with Bryan in this well-balanced Yin yoga online class that targets hip and spinal flexibility, while calming the mind!
From the comfort of your own home, settle into a beautiful Yin yoga practice where we get to reduce tension in the spine with a hip-opening sequence that promotes symmetry and balance within the body, releasing emotional stress and anxiety.
The quiet and meditative quality of Yin Yoga gives us the perfect opportunity to soothe our moods, facilitating our journey inward for deep relaxation and inner balance.
Sign up now at https://bit.ly/yinyogawithbryan to chill out with us on this beautiful Friday evening!
[Online] Zoom Class Tickets – S$25.00 per ticket (Meeting link will be sent to registered participants. Within 6 hours after the class, we will send each participant a recording of the live-stream class so that you can practise at your own convenient timing anytime within 3 days, even if you have missed the class.)
[Monthly event, held every last Friday of the month]
#YogaSeeds #YogaSeedsShala #YogaCircleSG
For enquiries, email recharge@yogaseeds.com.sg or WhatsApp/SMS (65) 8322 1251.
--------------------------
About Bryan Ng (Singapore)
Bryan is an Osteopathic physician who currently runs his own private practice, The PainFree Clinic, at the Novena Medical Center. (https://www.thepainfreeclinic.com.sg/)
On top of his vast experience in the treatment and prevention of musculoskeletal pain and injuries, he is also a certified yoga instructor after having gone through rigorous yoga teacher training with several highly respected yoga and meditation teachers, who strongly inspired him on his yoga journey.
His passion to delve into the study of osteopathic medicine, after completing his first two yoga teacher training programs, was in fact propelled by his desire to cultivate mental steadiness in his students through the integration of healthy body alignment and breath awareness.
With his practical understanding of human anatomy and movement, combined with his nurturing love for yoga, he hopes to ride on this lifetime interest to help people integrate their body and mind.
CERTIFICATIONS: RYT500, YACEP (Yoga Alliance, US), Bachelor of Science (Clinical Science), Master of Health Science (Osteopathy), Advanced Yoga Diploma from Eka Yoga Institute under Valerie Fimat-Faneco, Yoga Diploma from Svastha Yoga Organisation under A.G. Mohan, Insight Yoga Teacher Training with Sarah Powers, Yin Yoga: A Functional Approach with Paul Grilley, Teacher Development Program (Vinyasa Flow) with Jason Crandell
-----------------------------
About Yoga Circle
Yoga Circle is a non-profit organization based in Singapore, dedicated to promoting inclusivity in yoga. The yoga community is brimming with love and compassion, and we hope to expand this circle of love and compassion to persons who find it otherwise challenging to gain access to yoga.
We believe that everyone deserves access to the practice and benefits of yoga. We aim to reach out and share the benefits of yoga in a holistic manner, promoting wellness in physical, emotional, mental, social and spiritual aspects.
Yoga can be and should be unique to each individual. Making yoga accessible requires yoga teachers to rethink how they guide their students, especially to differently-abled students or from certain social demographics. Adaptive chair yoga, trauma-informed yoga, yoga therapy as well as pay-what-you-wish yoga classes are but a few excellent examples of how yoga can be customized and adapted, using a variety of props and set up, making it inclusive and accessible to all.
Let's have an open mind and open heart to the many different paths of yoga, with or without a yoga mat, and make the light of yoga inclusive and accessible to all. Find out more about our cause and drop us a message for volunteer and partnership opportunities.
Website: yogacircle.sg
Email: hello@yogacircle.sg
Instagram: @yogacirclesg
Facebook: Yoga Circle SG
----------------------------------------------------------------
IMPORTANT NOTES:
The programme and event arrangements are subjected to change. Click here to view full terms & conditions.
# LIKE US & stay updated to all event updates via Facebook at https://www.facebook.com/YogaSeeds/
* This is an ONLINE class using Zoom platform.
To receive more event updates from Yoga Seeds, sign up on our mailing list at http://eepurl.com/bws-1P