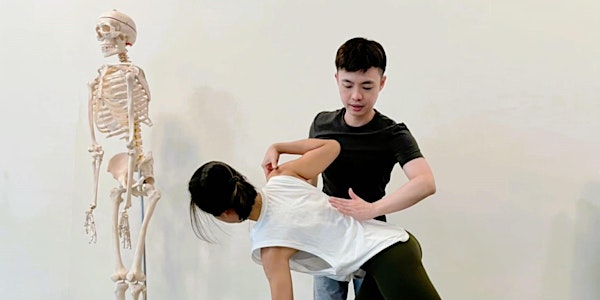 Yoga for Injury & Pain Rehabilitation Workshop (YACEP Eligible)
Proper rehabilitation of injury is vital to recovery. Learn how to manage pain and injury by adapting yoga to specific conditions.
Date and time
Sat, 27 May 2023 10:30 - Sun, 28 May 2023 17:30 +08
Location
Yoga Seeds 1384 Ang Mo Kio Ave 1 Bishan Park 2 Singapore, Singapore 569932 Singapore
Refund Policy
Contact the organiser to request a refund.
About this event
1 day 7 hours

Mobile eTicket
This training workshop is suitable for yoga teachers, physical therapists, caregivers, or even family members and friends, who would like to incorporate yoga as a complementary and holistic approach to enhance, if not restore, functional ability and quality of life in the face of pain and injury.
This workshop is YACEP (Yoga Alliance Continuing Education Provider) eligible for Registered Yoga Teachers.
--------------------------------
OVERVIEW
Yoga can be an excellent tool for pain and injury rehabilitation, as it can help increase flexibility, strength, balance, and range of motion, reducing stress and promoting relaxation.
With a proper understanding of the rehabilitation framework and principles and some basic anatomical & physiological functions of our body, we can safely and effectively adapt yoga to help us manage specific pain and injury.
In this 4-session workshop over the weekend, Osteopath & Yoga teacher Bryan Ng distils years of experience helping people with musculoskeletal pain into accessible and practical strategies to optimise bodily function and healing through adapted yoga practice for injury and pain.
The first session lays the foundation of our pain and injury management approach by introducing some basic concepts and frameworks of pain and injury rehabilitation.
In each subsequent session, we will apply these guiding concepts to a few commonly seen pain conditions, focusing on one functional region of the body at a time.
--------------------------------
WORKSHOP DETAILS
Session 1: Basic Concepts of Pain & Injury Rehabilitation (27 May, Sat, 10.30 am – 1.30 pm)
Topics Covered:
• Know your scope of practice and when to refer
• The stages of tissue healing and the healing rates of different tissues
• Rest vs Movement: when and how much?
• Basics of pain science: why pain does not always mean tissue damage
• Stress factors that affect the body budget & pain perception
• Principles of rehabilitation: Calm inflammation -> Release tension -> Mobilise gradually
Session 2: Pain & Injury Rehabilitation through Yoga for the Knee, Ankle & Foot (27 May, Sat, 2.30 pm – 5.30 pm)
Session 3: Pain & Injury Rehabilitation through Yoga for the Low Back and Hips (28 May, Sun, 10.30 am – 1.30 pm)
Session 4: Pain & Injury Rehabilitation through Yoga for the Neck and Shoulders (28 May Sun, 2.30 pm – 5.30 pm)
Topics Covered:
• Anatomy of typical joint and soft tissue injuries for each area
• Case study discussions:
 Stage the recovery timeline
 Identify aggravating vs relieving movements
 Identify poses to avoid (temporarily)
 Ways to modify selected poses
 Other considerations to help the healing
--------------------------------
ABOUT BRYAN NG
Bryan is an Osteopathic physician who runs his private practice, The PainFree Clinic, at the Novena Medical Center. (https://www.thepainfreeclinic.com.sg/)
On top of his vast experience in treating and preventing musculoskeletal pain and injuries, he is also strongly inspired by several highly respected yoga and meditation teachers he met during his yoga training.
After completing his first two yoga teacher training programs, his desire to cultivate mental steadiness in his students through the integration of healthy body alignment and breath awareness propelled his passion for delving into the study of osteopathic medicine.
With his practical understanding of human anatomy and movement and his nurturing love for yoga, he hopes to ride on this lifetime interest to help people integrate their bodies and mind.
Certifications: E-RYT500 (Yoga Alliance, US); Bachelor of Science (Clinical Science); Master of Health Science (Osteopathy); Advanced Yoga Diploma from Eka Yoga Institute under Valerie Fimat-Faneco; Yoga Diploma from Svastha Yoga Organisation under A.G. Mohan; Insight Yoga Teacher Training with Sarah Powers; Yin Yoga: A Functional Approach with Paul Grilley; Teacher Development Program (Vinyasa Flow) with Jason Crandell
--------------------------------
PRICING DETAILS
4 SESSIONS (12 hours)
Early Bird Rate: $480 (Ends 15 Apr 2020)
Standard Rate: $580
Limited slots are available.
Book your slot now at https://bit.ly/yogaforinjurypainrehab
IMPORTANT NOTICE: This workshop offers strategies for common aches and pains and is not meant to treat acute or severe pain, nor is this a substitute for a professional diagnosis.
----------------------------------------------------------------
IMPORTANT NOTES:
* The programme and event arrangements are subject to change.
* All tickets are not refundable, but they are transferable.
* Please come at least 10 to15 minutes before class for registration.
* Mats are provided.
* For full event booking terms and conditions, visit here.
# LIKE US & stay updated on all event updates via Facebook (https://www.facebook.com/YogaSeeds/) or IG @yogaseeds
# To receive more event updates from Yoga Seeds, sign up on our mailing list at https://eepurl.com/bws-1P
For enquiries, email recharge@yogaseeds.com.sg or WhatsApp/SMS (65) 8322 1251.
About the organiser
Yoga Seeds specialises in yoga classes, events, workshops and retreats that embrace core yogic concepts and techniques that help you live better daily. Harnessing the wisdom of this ancient science called Yoga, we seek to enhance the quality of life physically and mentally. We believe nothing beats being in touch with nature to restore your mind and body. Located right amidst lush greenery, Yoga Seeds Shala is a sanctuary where one can reconnect with oneself by indulging in yoga practice to reset one's pace and restore your body & mind.