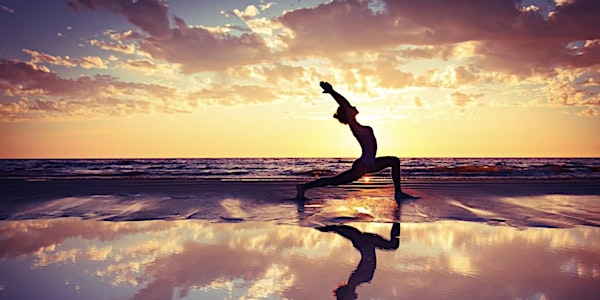 Yoga Gives Back Fundraiser: Ashtanga Vinyasa Yoga with Wendy
"FOR THE COST OF ONE YOGA CLASS, YOU CAN CHANGE A LIFE." Let's support a good cause to give back to the motherland of Yoga.
When and where
Location
Yoga Seeds 1384 Ang Mo Kio Avenue 1 Bishan Park 2 Singapore, 569932 Singapore
About this event
"FOR THE COST OF ONE YOGA CLASS, YOU CAN CHANGE A LIFE."
Let's support a good cause to give back to the motherland of Yoga by joining Wendy, Yoga Gives Back Ambassador, for a dynamic and energising Ashtanga Vinyasa yoga session!
All proceeds will be donated to Yoga Gives Back (www.yogagivesback.org)
This 90-minute class follows the sequence of the Ashtanga Full Primary Series (Yoga Chikitsa). The session will focus on the "Tristhana Method", where the breath, the gaze and postures are woven tightly together, transforming the physical asana practice into a moving meditation with heightened awareness and increased focus.
Suitable for yoga enthusiasts with some basic exposure to ashtanga vinyasa style of yoga. (Beginners are welcome but do be prepared for a challenging practice!)
#YogaSeedsShala #YogaGivesBack
For enquiries, email recharge@yogaseeds.com.sg or WhatsApp/SMS (65) 8322 1251.
About Yoga Gives Back
Our mission is to mobilize the global yoga community to empower women and children in India to build sustainable livelihoods.
Yoga Gives Back is a 501(c)3 non-profit organization dedicated to raising awareness and funds in order to alleviate poverty in India. We started in Los Angeles in 2007, determined to find a way for the global yoga community to help the poorest people in the country that gave birth to YOGA. In 2014, the US yoga industry is reported to generate an astonishing 27 billion dollars and yoga's popularity continues to grow worldwide. If a fraction of this resource can be redirected to help the poorest people in India, we can make a lifetime difference!! Many charitable organizations have emerged from within the yoga community, but Yoga Gives Back is a very unique campaign which shows our gratitude by supporting impoverished mothers and children in India.
 In 2007, inspired by Nobel Peace Prize Recipient Dr. Muhammad Yunus' revolutionary micro financing breakthrough, Yoga Gives Back began supporting micro credit programs. Through the Grameen Foundation, we funded programs who lend small loans to women who are otherwise excluded from the conventional banking and financial systems. Today, YGB  partnes with local NGOs NISHTHA in West Bengal and Deenbandhu Trust in Karnataka, funding nearly 900 mothers and children with micro loan programs, education funds and scholarships for higher education with a minimum of five-year commitment to each person.
About YGB Ambassador Wendy Chan (Singapore)
Wendy is the Founder and Director of Yoga Seeds, a yoga shala nestled in the beautiful greenery of Bishan Park in Singapore. Other than leading the teaching team at Yoga Seeds Shala, as well as the faculty of Yoga Seeds Teacher Training Program, Wendy curates and designs yoga program and activites for Yoga Seeds yoga retreats and corporate yoga classes and workshops within Asia. She is also very passionate about giving back to the community and the underprivileged. In fact, she teaches anywhere that she can unroll her mat! Wendy's background and interest in eastern and western philosophy led her to explore and study the workings of the mind, body and subtle energies of the universe through meditation and yoga. Her style of yoga is a unique blend of Hatha, Vinyasa and Yin Yoga, with emphasis on the breath in both movement and stillness.
"Yoga has given me so much in my life, and it's only natural for me to want to be part of an initiative that gives back, especially to India, the birthplace of Yoga. Yoga Gives Back helps our sisters in India through education and opportunities for financial independence, which I believe will have a huge impact in the future of women in India. I'm very blessed and privileged to be an ambassador for YGB and I'm proud to be part of the efforts to support this cause." - Wendy
----------------------------------------------------------------
IMPORTANT NOTES:
The programme and event arrangements are subjected to change. Click here to view full terms & conditions.
# LIKE US & stay updated to all event updates via Facebook at https://www.facebook.com/YogaSeeds/
* Please come at least 15 minutes before class for registration.* Please be dressed comfortably in attire that allows for stretching and movement.*
For all other enquiries, email recharge@yogaseeds.com.sg or SMS/Whatsapp (65) 8322 1251.
To receive more event updates from Yoga Seeds, sign up on our mailing list at http://eepurl.com/bws-1P