YOGA - RAMAYANA WORKSHOP (A Practical Guide to Inner transformation)
Description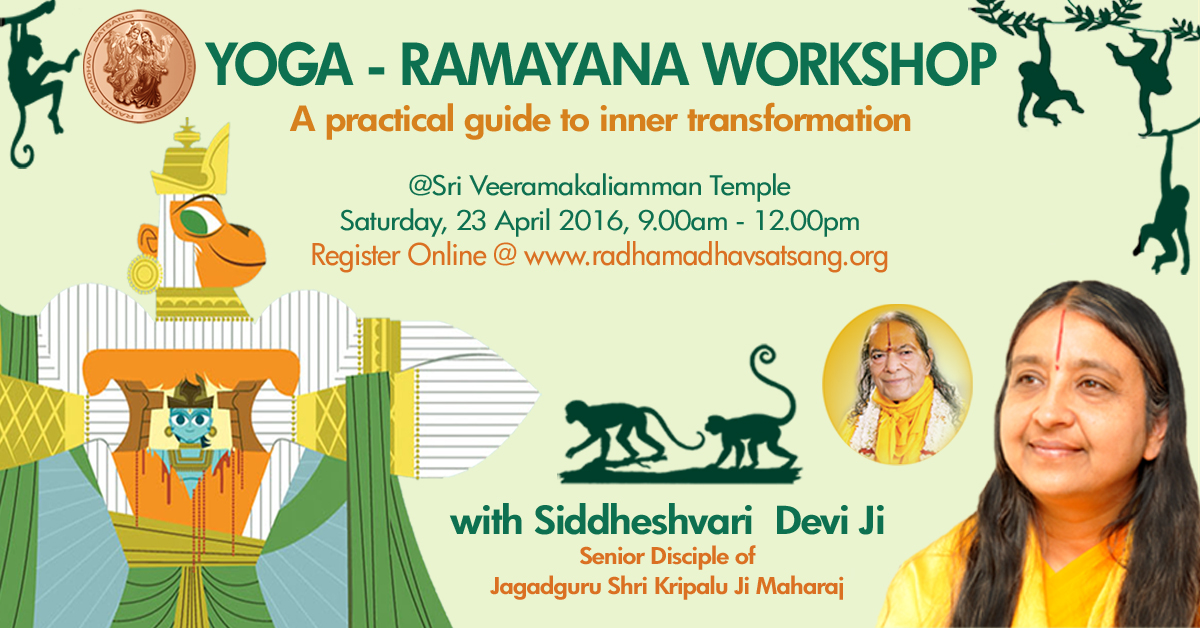 YOGA - RAMAYANA Workshop (A practical guide to inner transformation)
RMS, a registered charity organization in Singapore, is honoured to host the "Yoga - Ramayana Workshop" at Sri Veeramakaliamman Temple by Swamini Siddheshvari Devi Ji, a world-renowned teacher of Spirituality, Yoga and Meditation, on 23 April 2016.
The workshop aims to share with the participants the profound lessons of yoga, devotion and meditation offered in the Ramayana and practical application of this knowledge.
The teachings of the Ramayana through its stories and characters, are a practical guide for paving the way to a more holistic and joyful life based on yogic and spiritual principles.
WHY JOIN?
Learn how to practically apply the teachings of the Ramayana which will be presented in a simple and effective manner.

Start an inward journey of spiritual transformation through acquiring valuable Vedic techniques to enrich your body, mind and soul.
---
PROGRAM: 9am to 12pm, 23 April 2016 (Saturday)
1. Tune Your Body
a) Yoga
b) Pranayama
2. Mindfulness - Taming the monkey within
a) Guided Meditation
b) Keertan Meditation
3. Connect with your Soul
a) Roopdhyan (Divine form) Meditation
4. Questions & Answers Session
---
Address: Sri Veeramakaliamman Temple Hall (Level 3),
141 Serangoon Road, Singapore 218042
Near Little India MRT (Exit E)
Contact: 9617 5567 (Pramod), 9721 3663 (Rajesh)
---
Workshop Fee: $50 (includes a welcome pack,snacks and drinks)
---

Call: 93831162 (Vageesh), 96175567 (Pramod)
Email: event@radhamadhavsatsang.org
Website: www.radhamadhavsatsang.org