Multiple Dates
Yoga Sequencing with Qigong: 5 Day Challenge for Yoga Teachers
Learn 5 fundamental Qigong practices to sequence into your Yoga classes for better balance, vitality and health.
About this event
In this 5 Day challenge for Yoga teachers you will learn 5 fundamental Qigong practices to sequence into your Yoga classes so your students can enjoy better balance, vitality and health. You will come out of this 5 Day challenge feeling confident and ready to incorporate these practices within your personal practice and the yoga classes you teach.
17/5 Day 1: Meridian Tapping
18/5 Day 2: Joint Releases
19/5 Day 3: Wuji stance form: Microcosmic Orbit
20/5 Day 4: Warrior stance form I : Drawing the bow
21/5 Day 5: Warrior stance form II : Diagonal flying
24/5: Q&A on Sequencing Qigong with Yoga (Optional)
Join live or watch the replay at your own time. Livestream timings are: 6AM PDT | 8AM EST | 9AM CDT | 3PM CET | 9PM Asia (SG, MY, TW)
For each practice you will learn:
THEORY: The underlying principles & benefits of the practice
PRACTICAL: How to do the practice
APPLICATION: How to sequence the practice within your Yoga classes
Q&A: Common mistakes, questions & how to address them
This 5 Day challenge includes:
Livestream Zoom access to 5 Days worth of classes and a Q&A
1 week recording access afterwards
2 CEU credits with Yoga Alliance USA
Certificate of completion
NOTE: To qualify for certification & CEU credits teachers have to complete and pass a short exam
For an idea of some of the movement styles, you can refer to the video below: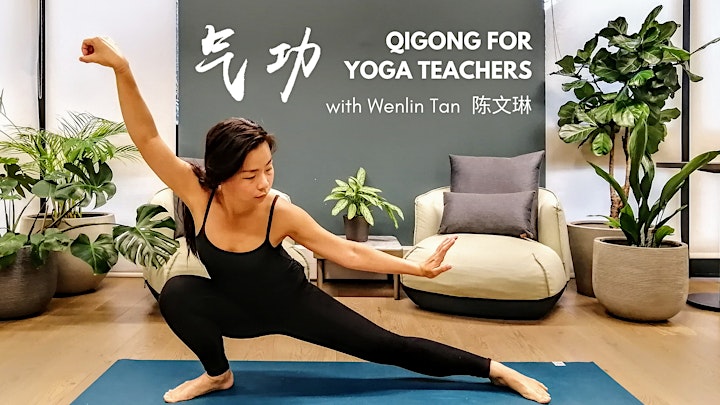 Your guide:
Wenlin Tan 陈文琳E-RYT 200, RYT 500, YACEP Yoga Alliance USA.
Wenlin has been studying movement since she was 9, and teaching since 2016. She is known for her unique style, Qigong Flow, that integrates eastern philosophy, Qigong and Yoga. A native Chinese speaker born and bred in Singapore, this training is informed by Wenlin's continued training with various teachers, including Dr Becky Chen of Mahota Clinic, Dr Wang Xun of the Singapore College of Traditional Chinese Medicine in Singapore, Master Chungliang Al Huang, Master Shi Yi-Heng, Mimi Kuo-Deemer and Daisy Lee.