Yoga Teacher Training with Ayurveda Singapore 2016

Saturday, 8 October 2016 at 10:00

-

Sunday, 13 November 2016 at 18:00 (Singapore Standard Time Singapore Time)
Event Details
Yoga Teacher Training (YTT) with Ayurveda 200hrs - Oct-Nov 2016
Yoga Teacher Training course (YTT) with fundamental principles of Ayurveda is a unique Certificate program specially designed by the M.S.Ramaiah Indic Centre for Ayurveda and Integrative Medicine (MSR ICAIM) located in Bangalore, unit of Gokula Education Foundation (Medical). It is the leading hospital in India that has integrated Ayurveda and yoga into the allopathic system of medicine and is truly regarded as an integrative medicine. Prof.G. G. Gangadharan, Ayurvedacharya, FAIP (USA), PhD, MoM (McGill, Canada) will be the chief signatory for the certificate.
Both Ayurveda and Yoga are sister sciences and both these sciences advocate the balance of body, senses, mind and soul for true happiness and health. According to Ayurveda, in order to understand the body (Sharira), one must understand the senses (Indriyas) and how it protects and nourishes the body. In order to understand the senses, one must understand the functions and qualities of the mind (Manas). Finally to understand the mind, one must understand the individual soul (jivatma) and universal soul (paramatma) and the union of all aspects of an individual with the Universe.
Innergy YTT is an extraordinary course that expounds both the scientific and therapeutic aspects of Yoga and Ayurveda and equips the teachers with the fundamental understanding of these two ancient sciences. The course is designed such that teachers will be able to understand and apply impart the acquired knowledge in an effective and systematic way.
The Innergy YTT Course systematically integrates the fundamental principles of yogic philosophy and Ayurvedic philosophy, the various aspects of Yoga-Asanas (postures), Pranayama (breath expansion techniques), Kriyas (cleansing techniques), into a holistic manner, thus enabling the participant to understand and impart the knowledge of Yoga in its entirety. Teachers will also learn the fundamental principles of Ayurveda in relation to Yoga with a specific focus on stress and how it affects the inner the doshas (Vata, Pitta and Kapha) and how to apply yoga asana and pranayama and Ayurveda principles to bring the dosha back to balance.
Venue, Dates and Instructor
This course will run over five weekends from Saturday 8th of October and ending on the 13th November at Body Mind on Niven: www.bodymindonniven.com from 10am-1pm and 2pm-6pm each day with a one-hour lunch break. It will be conducted by Vasanthi Pillay, head of the Singapore Ayurvedic Association: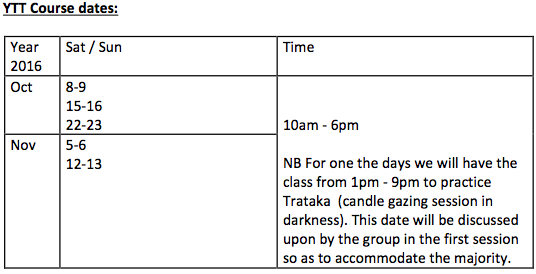 Body mind on Niven is a private boutique gym and studio with in house physiotherapist and personal fitness trainers who specialize in injury rehabilitation, pain relief and posture correction. Light refreshments and healthy snacks will be provided by the studio, which also houses a wealth of resources and literature on related subjects for students use.
Course Fees:
Include 80 Hours of theory and practical instruction at Body Mind On Niven, light refreshments, examination fee and certification upon completetion of requisite 120 hours teaching practice. 
Total SGD: $2650
Registration Fee to Reserve Place: $500
Early bird registration available before 1st Sept: SGD$385
Ayurveda Weekend Only Fee: SGD$450 (dates to be confirmed and please contact organiser for more information).
Early registration advisable. Classes limited to 8 participants in order to ensure best learning environment.
$500 registration fee secures place.
For further information and a full course breakdown which can also be viewd on the 'Courses' page of our website please contact Catherine Rose-Yates at Body Mind on Niven:
Email: catherine@scwellnessgroup.com
HP: 9649 1773
NB This course is strictly limited to 8 participants in order to ensure the best possible learning environment. Early registration is advised.
View pictures from the last course on our facebook
page: https://www.facebook.com/pages/Body-Mind-on-Niven/303132139861267
When & Where

Body Mind on Niven - Singapore
Body Mind on Niven
59 Niven Road
Singapore, Rochor 228408
Singapore

Saturday, 8 October 2016 at 10:00

-

Sunday, 13 November 2016 at 18:00 (Singapore Standard Time Singapore Time)
Add to my calendar
Organiser
Catherine Rose-Yates
Catherine Rose-Yates is an ex-dancer, professional ballet teacher, personal trainer, actress and model from the UK. She trained at England's Northern Ballet School as a dancer and subsequently as a teacher after sustaining an injury which prevented her from performing further. Whilst pursuing a career as an actress she became increasingly interested in gym training for injury rehabilitation, general fitness and posture correction and decided to study for her numerous professional fitness qualifications. She was a level 3 registered Personal Trainer on the UK REPS register (the highest rank at the time) when she left in 2007 and has since furthered her knowledge by working alongside a chartered physiotherapist here in Singapore.
She also set up a support group here three years ago for expats facing family issues, separation and/or divorce in Singapore and now works closely with lawyers and counselling professionals to raise awareness of international issues and keep up to date with changes in the Singapore Family Justice Courts, Ministry of Manpower, Ministry of Social and Family Development and the Immigration & Checkpoints Authority.
Yoga Teacher Training with Ayurveda Singapore 2016