About this Event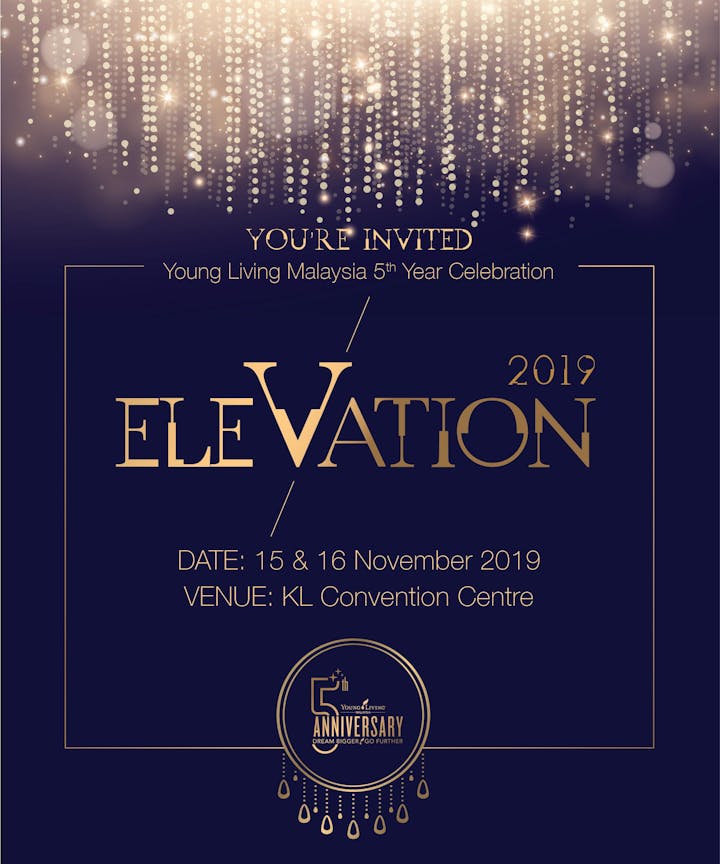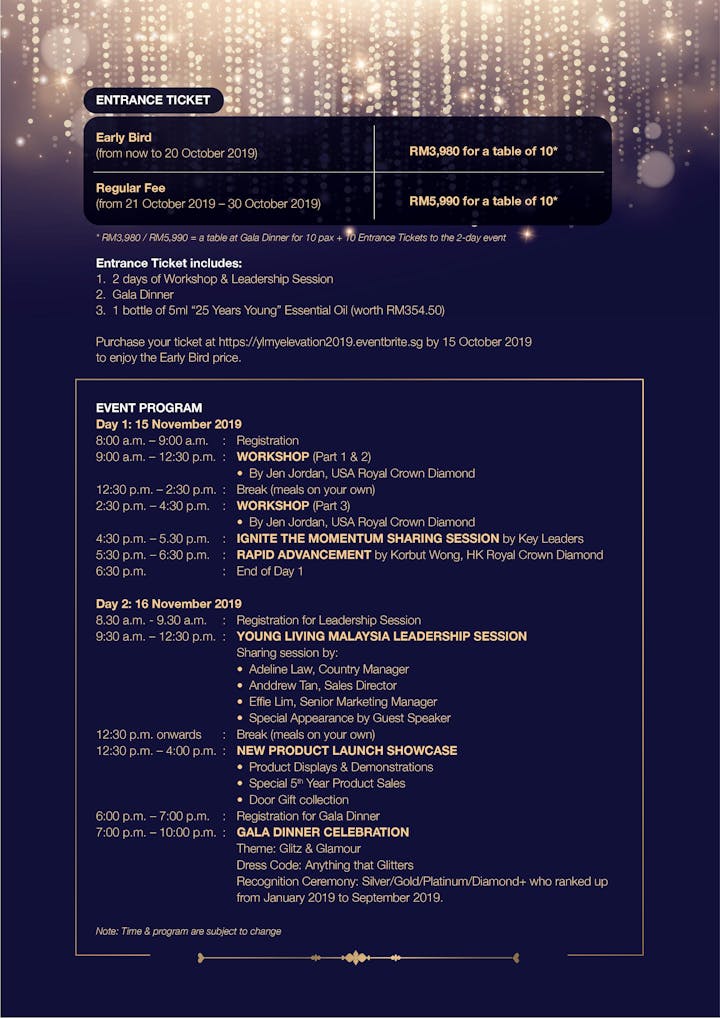 General FAQ
1. Can I purchase the ticket by seats instead of by table?
A: No, tickets are sold by tables i.e. 1 ticket is equivalent to 1 table. Each table seats 10 persons.
2. Where can I purchase the ticket?
A: You can purchase the ticket from Eventbrite, using this link https://ylmyelevation2019.eventbrite.sg
3. How many tickets can I purchase? And when is the last date to purchase ?
A: There is no limit to how many you can purchase, as long as tickets have not sold out. You have until 30 October 2019 to purchase.
4. Is the ticket transferable?
A: Yes, the ticket is transferable to any YL member.
5. Is this event open to business builders only?
A: This event is open to all ranks, but it is especially beneficial for business builders to attend.
6. Is it a must to attend all the programs in both days?
A: You are encouraged to attend all sessions. Door gifts will only be given out after the conference.
7. How do you verify the participation of each attendee?
A: A different wristband for each day will be provided to every attendee to serve as identification.
8. Are children allowed in?
A: We highly recommend that you refrain from bringing along your children to avoid any disruption to your learning experience. If alternative arrangements cannot be made and you have to bring along your children, please note that any child 12 years old and above will require a ticket for admission.
9. Is there a nursing area for mothers or a designated area for kids?
A: No, there is no area designated for kids. However, you can use the KL Convention Centre nursing room.
10. Who will be recognized at the Gala Dinner's recognition ceremony?
A: Silver/Gold/Platinum/Diamond+ who ranked up from January 2019 to September 2019 will be recognized at the ceremony.
11. Is there a dress code or theme for the Gala Dinner?
A: Yes, the theme is Glitz & Glamour and we encourage all attendees to come dressed in their glitzy and glamourous best.
12. Can we select our own seats at the Gala Dinner?
A: No, you will not be able to select your seats.
13. What is the parking rate at KL Convention Centre?
A: The KL Convention Centre parking rate is as stated at https://parking.klcc.com.my/kuala-lumpur-convention-centre/.