Young NTUC-NTU IIC Future Ready Series 2017
Description
---
About Young NTUC-NTU IIC Future Ready Series
Young NTUC-NTU IIC Future Ready Series is a brand-new initiative starting from 2017. This series gives industry leaders a platform to discuss about current and future trends and how to seize opportunities while moving forward in a brave new world. This event seeks to empower youths to chart their own future through the sharing of invaluable life experiences and knowledge.
"Education is the passport to the future, for tomorrow belongs to those who prepare for it today."
By Malcolm X
Event Poster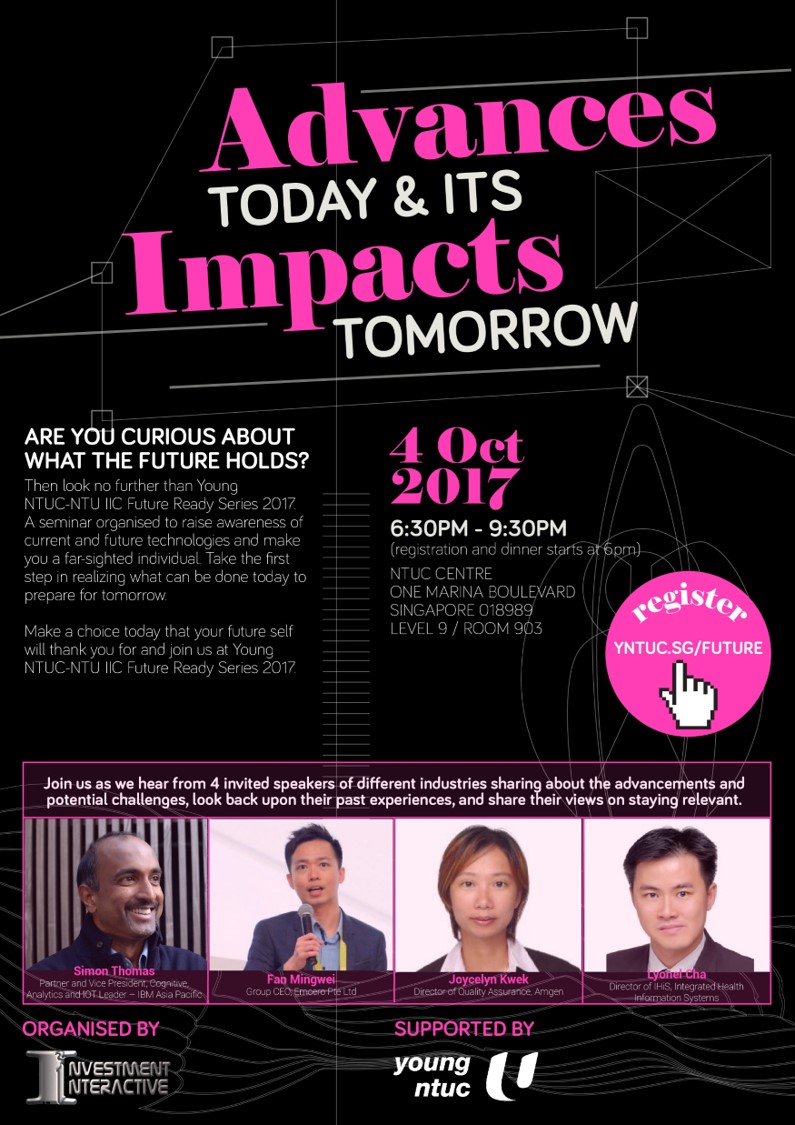 About The Event
The theme for this year is 'Advances Today & Its Impact Tomorrow' which focuses on the following
three questions:

What are the advances today and their current impact?
What are the advances tomorrow and their future impact?
How can I stay relevant and adapt to changing times?
The fields covered during this seminar are science, healthcare, pharmaceutical and technology.


Speakers
Mr Simon Thomas, Partner and Vice President Cognitive, Analytics and IOT Leader, IBM Asia Pacific (AI Technology)
Simon is a Partner and Vice President at IBM. He is a Senior Executive, Subject Matter Expert and Thought Leader who has built, from ground up, and led, multiple independent consulting practices for IBM including Strategy, Artificial Intelligence, Internet of Things, Data Platforms, Business Analytics and Optimization, CRM and eBusiness. With a core team of more than 200+ consultants who have been with him for 12 years, Simon focuses on using cutting edge process and technology to create business solutions that address his clients' most complex problems. He assists firms from multiple industries identify opportunities to apply Business and Technology solutions, helping them increase their top-line revenue, reduce costs through efficiencies and optimization, develop the right products, and ultimately innovate and grow their business. Simon has extensive consulting experience, from Artificial Intelligence, Internet of Things, Data Platforms and Analytics Transformation to Application Maintenance and Run, including Hardware, Software, Research, Process Services and Project Financing, with a core strength in Artificial Intelligence and Business Analytics. In Singapore, Simon founded and serves as the President of the Singapore Business Analytics Community (Business Analytics Chapter) operated by the Singapore Computer Society. Always interested in further developing himself, Simon develops iOS applications for demos, POCs and for his own personal needs and is a registered Apple iOS Application Developer.
Mr Fan Mingwei, Group CEO, Emcero Pte Ltd (Synthetic Biology)
For the last 17 years, Mingwei has been a serial entrepreneur, with 9 years of experience in bio-entrepreneurship. Currently, he is the Group CEO of Emcero Pte Ltd. Through his keen interest in biology, Mingwei was the first to launch the world's modular true bioprinter in August 2014. Honoured as one of fifty SG50 Entrepreneurs in 2015, Mingwei has filed for 5 patents by his youthful age of 30. He is an inspirational figure for the start-up scene in Singapore, and acts as a guest lecturer in National University of Singapore and Nanyang Technological University on innovations and bio-entrepreneurship. Currently, Mingwei sits on the Advisory Board of NTU College of Science. He is also a Committee Member of Biomedical Standards Committee (BMSC) of SPRING Singapore, the National ISO Mirror Working Group and several other national committees, continuing to contribute to the entrepreneur scene locally. On the global platform, Mingwei is equally accomplished, serving as a start-up mentor and advisor to both Silicon Valley and Singapore as a member of the American Society for Testing and Materials International.
Ms Joycelyn Kwek, Director of

Quality

Assurance, Amgen

(Biologics & Pharmaceuticals)
Joycelyn has more than 15 years of experience in Quality Assurance (QA) and Quality Control (QC) in pharmaceutical and biotechnology companies. She is currently the Quality Assurance Director at the Amgen Singapore Manufacturing Biologics Plant. Self-driven and deeply experienced in her work, she played a major role in the qualification and licensure of Amgen's new state-of-the-art next-generation biomanufacturing facility in Singapore. Prior to joining Amgen, Joycelyn held QC and QA positions of increasing responsibilities in Schering-Plough, Genentech and Baxter BioScience. She was responsible for QC method transfer, laboratory qualification, Quality Management Systems and Training deployments in these companies during the start-up phase and provided routine QA & QC support after their licensure. In terms of education, Jocelyn has a Bachelor of Science in Biological Science from National University of Singapore, a MBA from Nanyang Business School and a Master of Science in Pharmaceutical Manufacturing Technology from Trinity College, Dublin. She is also an associate member or the European Qualified Person (QP) Association, a prestigious and established organisation which seeks to allow the exchange and verification of information regarding pharmaceutical regulatory compliance.
Mr Lyonel Cha, Director of IHiS, Integrated Health Information Systems (IT Healthcare)
With more than 20 years of IT experience under his belt, Lyonel started off as a mainframe programmer before going on to lead many large, complex, multi-million national-scale projects successfully. His expertise lies in both the government sector and in commercial companies. One of the largest projects he had worked on was to set up a 70,000 users strong Human Resource system for the Prime Minister's Office. The multi-million project spanned over 2 years, and Lyonel's efficiency and professionalism in bringing the project to fruition as a NCS System Integrator received much positive commendations from both the customer and the CEO of NCS. Lyonel joined IHiS in 2015 to head its H-Cloud department. Since he took on this role, he has been intensively building the team, refining the operation processes, and enhancing processes automation. His efforts have successfully helped IHiS achieve the IS0 20000 certification, an award which recognises the firm's practice of excellency in IT operation standards. Academically, Lyonel graduated with honours in Computer Science. He holds 2 more additional master's degrees separately: an MBA and Master of Computing from National University of Singapore. He is a Certified Project Manager and a certified DBA, Network specialist and SAP applications. He is a firm believer in perpetual learning, especially in the IT industry.
FAQs
How can I contact the organiser with any questions?
Drop an email to muhammed003@e.ntu.edu.sg or alternatively message us in our Facebook page.