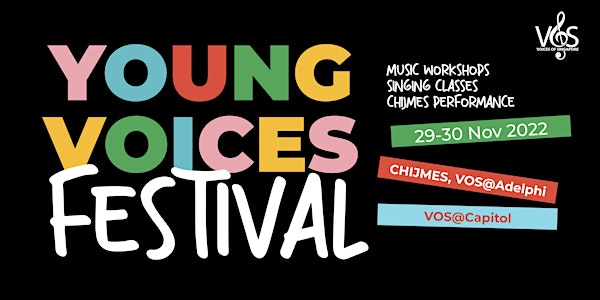 Young Voices Festival
A holiday choral day camp for children aged 5-17, with fun workshops on choral singing, and a performance opportunity at CHIJMES Hall
Location
CHIJMES Hall 30 Victoria Street ##01-28 Singapore, 187996 Singapore
About this event
Voices of Singapore launches its very first Young Voices Festival this November! This is a two-day holiday programme aimed at bringing together children from all across Singapore to experience choral music in a different way.
The festival features workshops by 7 of VOS's established pedagogues and conductors. Each workshop will explore different facets of what it means to be a chorister, developing aural skills, music reading, ensemble techniques, singing technique and musicality. For targetted and best learning, participants will be grouped according to their ages.
The festival culminates with a combined showcase at the CHIJMES Hall, where participants get to experience performing in a historic venue for an audience of 200, with their peers and to their loved ones.
Through the festival, we hope to give children the platform to meet others from different backgrounds and share their passion for singing and music. This is part of our mission to foster a love for music in the next generation, and build a Singing Singapore.
Details:
Day 1 Workshops
29 Nov 22, 12.45-4.30pm (at VOS Studios, the Adelphi & Capitol)
Day 2 Workshops
30 Nov 22, 9.30am-6pm (at VOS Studios, the Adelphi & Capitol)
Performance
30 Nov 22, 6pm-7pm (at Chijmes Hall)
Food and snacks will be provided throughout the day. Each participant will receive 2 complimentary tickets for the evening performance at Chijmes Hall.
Conductors & Facilitators:
Dr. Darius Lim
Singaporean Conductor-Composer Darius Lim (Dr.) is the Founder and Artistic Director of the Voices of Singapore. An internationally published composer (Edition Peters, Walton Music, Cypress Publishing, Pana Musica, Muziksea) and award-winning conductor, he is one of the most sought-after Singaporean choral composer-conductors working today, and is most known for his unique infusion of lyrical, dramatic, instrumental, and theatrical elements in both the choirs he directs as well as his choral music. With a strong belief in instilling a lifelong appreciation for choral music and promoting Singaporean music, Darius has carved a reputation as an advocate of choral music whose choirs and works inspire, engage, educate and entertain audiences around the world.
Choirs under Dr. Lim's direction have shared the stage with some of the world's most celebrated groups that include the Vienna Boys' Choir, Philomela (Finland), the Hong Kong Children's Choir, Berlin State Opera Children's Choir, Vox Nativa Children's Choir, and the University of London Chamber Choir. Youth and children's choirs under Lim's baton have been presented in numerous national events such as the Singapore Youth Festival Opening & Closing concerts, Singapore Youth Festival Presentations, Singapore Youth Festival Celebrations, Aseanapol in Harmony Celebrations and Singapore Youth Festival International Night.
He has held former posts as President of the Choral Directors' Association of Singapore, Associate Choirmaster of the Singapore Symphony Children's Choir and Music Director of the National University of Singapore Society Choir.
Dr. Lim received his Doctor of Musical Arts degree in 2022 under the Queensland Conservatorium of Music. A former conducting student of BBC Choral Director Neil Ferris and Dr. Sarah Tenant-Flowers, he graduated from the Royal Welsh College of Music & Drama (UK) with a Masters in Choral Conducting (with Distinction). In 2019, Dr. Lim was nominated to represent Singapore on the Asia Pacific Choir Council.
Justin Goh
Justin Goh is a choral conductor, music educator, and choral music arranger. He holds a Master of Music in Music Education from Longy School of Music of Bard College, and an Associate Diploma (ATCL) in Singing from Trinity College London.
Recipient of the 'Most Promising Conductor' award at A Voyage of Songs - International Choral Festival (2013), Justin has conducted choirs for numerous international events and competitions. These include the Youth Olympic Games Opening Ceremony (2010) and Manado Cantat Choral Competition (2017).
Justin is an advocate for holistic music education and believes all singers should learn to listen, read and write. Apart from his choral conducting work at Voices of Singapore and in school choirs, he also teaches music at an autism-focused school. He presently serves as Vice President of the Choral Directors' Association (Singapore).
Gerald Tan
Gerald is a choral director working with several primary and secondary schools in Singapore. An experienced choral arranger, he also founded Muziksea – a publishing company that champions Southeast Asian composers and is in the Executive Committee of the Choral Directors' Association (Singapore).
A proponent of social-emotional learning through ensemble music making, Gerald strives for a choral music education that is culturally responsive, inclusive, and equitable. He believes a holistic programme of musical learning, appreciation and growth involves the opportunity to participate, both as a performer and as a member of the audience, in choral exchanges, concerts, masterclasses, conventions, festivals, and competitions.
A prolific chorister himself, Gerald has performed all over the world in places such as The Istana in Singapore, Saint Patrick's Cathedral and Lincoln Center for the Performing Arts in New York City, Suntory Hall in Tokyo, High Commission of Singapore in Pretoria and the Embassy of Singapore in Washington DC. He believes that a choral director should never forget the challenges of being a chorister.
With a Master of Music in Music Education from the Longy School of Music of Bard College, Gerald also holds certificates in conducting, piano, voice and music theory from the London College of Music, Trinity College of Music and Associated Board of the Royal Schools of Music.
Rebecca Reavley
Rebecca Reavley is a classical soprano, choral conductor and accompanist. She is both an active educator and performer in the Singapore music scene.
She attained her Bachelors in Music (Hons) at the Royal Northern College of Music, specialising in Classical Voice, and graduating with a First in 2020. She studied classical singing with tenor Peter Wilson (2017-2020), and critically acclaimed soprano Barbara Bonney (2020-2022). She has also worked with other established artists like Benjamin Luxon, Michael Chance, Lynne Dawson, and Dame Eiddwen Harrhy.
In 2019-2020, she worked as an accompanist and singing coach for the COE School of the Resurrection Primary Choir, alongside her studies at the RNCM. In 2021, she joined VOS as a conductor for their Junior Choirs. She also worked with conductor Francis Liew as an accompanist and assistant conductor for CHIJ St Joseph's Convent Choir, Christ Church Secondary School Choir, and Boon Lay Gardens Primary School. She also joined the Kodaly Academy of Music as an assistant conductor, teaching the P3 choir elective for Palm View Primary School. She is now the Artistic Coordinator in VOS, working as a conductor and accompanist with their community and corporate choirs, like the NUHS Nurse's Choir, and children's choirs. Alongside her work as a conductor, she has given individual voice lessons since 2019, and is now working with the Voice Company as a teacher, specializing in solo classical singing.
As a performer, she is part of a duo with Pamela Krakauer, specializing in Lieder and Art Song. Notable projects include a virtual recital for the National Gallery Singapore, a music video project Home Songs, supported by the National Arts Council, and a lecture recital series on Austrian Music supported by the Austrian Embassy Singapore.
Tham Pei Wen
Tham Pei Wen graduated from the Liszt Ferenc Academy of Music (Hungary) with a Master of Arts degree in Kodaly Music Pedagogy. Her culminating thesis examined adapting the Kodaly approach for children with special needs, focusing on children with autism. She holds a Masters in Education (Gifted Education) from the National Institute of Education (Singapore), and was a Geography teacher in MOE classrooms for 7 years before following her passion towards the world of music.
Pei Wen's heart for special needs education led her to start the Junior and Youth Choirs at Pathlight in 2012, and as a music curriculum specialist, she started the Kodaly based Music Signature Programme at Pathlight School (Primary) in 2018. She is currently a conductor of the Intermediate and Junior choirs in VOS, and the creator and facilitator for the Early Childhood Programme in VOS.
Rayhan Tee
Rayhan Tee is a pop singer and vocal pedagogue based in Singapore.
He is a Certified Voice Instructor with the Institute of Vocal Advancement (IVA) and a practitioner of Dr. Gordon's Music Learning Theory. He graduated with a Diploma in Music (with Distinction) for Voice from LASALLE College of the Arts. He is experienced teacher, and notably was the vocal coach for local artist Owen Li. He has a passion for guiding new singers to explore their voices in a healthy way, and to empower people with the confidence to sing.
He is also a versatile performer in the contemporary scene in Singapore, having performed in multiple genres and venues. He was featured as a soloist on Red Dot Radio with the band Coming Back Home, in Sing! Men's Chorus Concert, and in the band B#. He has also performed as part of an acapella group, the Jingles, for the Universal Studios Singapore. He was featured in the Theatre Production "Furthest North, Deepest South" as a sound effects artist, musician and vocalist.
He currently teaches at the Voice Company as a vocal specialist in Contemporary singing.
Josephine Sim
Josephine Sim grew up in a musical family. Her experience in the music scene spans four decades.
She received her music training in America where she became the recipient of the Dean's Distinguished Achievement Award and the Chancellor's award at the University of Wisconsin-Stevens point where she graduated with a Bachelor of Music with high honours. During her time in America, she was a member of Delta Omicron International Music Fraternity.
Josephine's extensive performance experience can be attributed to her tenure as one of the pioneering singers of the Singapore Symphony Chorus since 1990. On a national level, her choirs have garnered certificates of Distinctions for the Singapore Youth Choir Festivals. She is currently a conductor in the Voices of Singapore Children's Choir. She also conducts Methodist Girls School (Primary) Choir, and Singapore Chinese Girls School (Primary) Choir.
She is an experienced teacher in voice and piano, and holds certificates with distinction for singing and piano under the Associated Board of the Royal Schools of Music. She has developed a customized music curriculum for the Bukit Panjang Methodist Church Kindergarten as well as specially catered music and choral curriculums for the different choirs she leads.
About Voices of Singapore
Founded in 2019, Voices of Singapore (VOS) is the nation's largest singing organisation with over 20 programmes ranging from award-winning choirs to community programmes. As an arts charity, VOS's vision is to "Inspire a Singing Singapore". It conducts both local and global community impact programmes that aim to empower and inspire everyone to sing, create, learn, and experience music through choral participation. Based in the Capitol, VOS is one of the largest choral societies in Singapore.
Choirs in VOS have performed as the main feature ensembles on a national level that include the President's Star Charity, ChildAid, and the grand opening of the Singapore State Courts. VOS have also organised nationwide projects that include the Singapore Virtual Choir Project (Home), A World to Remember, and numerous other music collaborative projects with international musical bodies as well as national government agencies. VOS' Singapore Virtual Choir's rendition of HOME by Dick Lee sparked a nationwide singalong during the circuit breaker in 2020. The work was also exhibited at the Singapore National Museum from 2020 to 2021.
In addition, VOS aims to make choral singing accessible to people from all walks of life. Currently, VOS plans to achieve its vision and goals through two main pillars, namely, VOS Communities and our State Choirs.
For more information about our programmes, visit this link: https://www.voicesofsingapore.com/