A safe place for leaders to explore gaps in leadership competencies and to plan their leadership development blueprints.
About this event
In this workshop, we help participants to have a glimpse of where they are in their leadership development journeys. Participants will complete their Leadership Circle Profle (LCP) self-assessment tests (registration required) before the first session. To complement self-assessment reports, participants will ask their evaluators to provide anonymous feedback. In the first session, the certified consultant will give a debrief on LCP reports and anonymous feedback. After debrief, participants will work on their leadership development blueprints in the second session.
Outcomes of workshop :
(1) Clarity on your leadership journey.
(2) Small steps to help you to shift into the new leadership development blueprint.
(3) Commitment to your leadership development blueprint
Structure of each workshop:
Part A -
Session #1 : Debrief of self-assessment reports and anonymous feedback
Session #2 : Drafting of leadership development blueprint
Part B -
One 45-min dialogue session to follow up on commitment decided in Part A. Date will be determined in Session #2
Dates :
Workshop 2 : 8pm to 9:30pm GMT+8 Oct 5, Oct 12 2021 (Singapore)
Workshop 3 : 8pm to 9:30pm GMT+8 Nov 9, Nov 16 2021 (Singapore)
Venue : URL for Zoom Meeting will be provided later. If you do not receive Zoom info one day before the first session, please send an email to askone2019-at-gmail.com
Total investment : SGD 18
Language : English only
Prerequisites for participants
Stable Internet connection.
Have access to a tablet or desktop. Using other devices are not recommended.
Your webcam and mic is working with Zoom.
Able to commit for three sessions.
The facilitator is Wan, certified Leadership Circle Consultant and certified transformational coach.
References :
1) "Leadership Circle Model" video by Betsy Leatherman
2) Leadership Circle Profile Brochure
3) "The Leadership Dilemma of Adaptive Challenge" video by Bob Anderson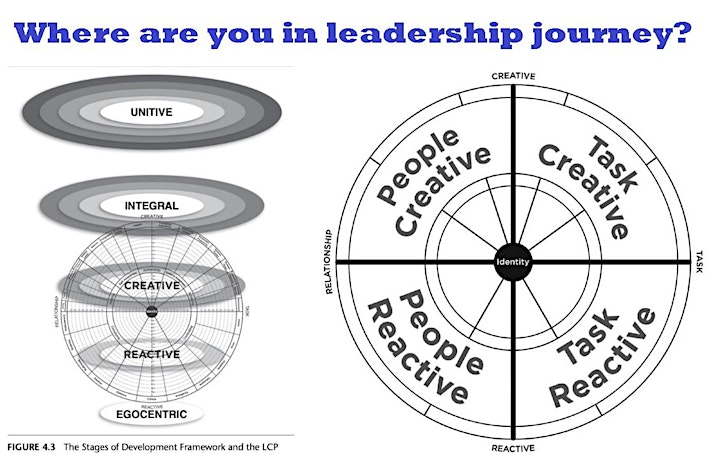 Recommendation :
1) What have you experienced in the two sessions?
"My general experience was very positive. It was very structured and the different aspects well linked. I liked how interactive you made it"
2) Any surprises or pleasant experiences?
"I was surprised with how easily I could share things, but that was probably because you us feel like we were in a safe & comfortable environment, and the group size was small. I was also surprised that I was able to do self-analysis and reflection."
3) Major take-aways
"I have to be more proactive & take more responsibility for my personal growth & development"
Craig, cohort March 2021
Short explanation of agenda for workshop Your Leadership Development Blueprint
Organiser of Your Leadership Development Blueprint