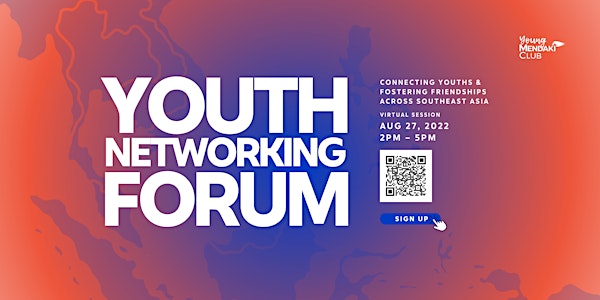 Youth Networking Forum
This event is a platform in bringing together youth in the region to form meaningful friendships and understand about issues in the region.
About this event
Make new friends now with other youths in the region!
Register yourself / your child for our YMC Youth Networking Forum today!
YMC Youth Networking Forum
is an event aimed at providing a platform for Singaporean Malay/Muslim (MM) secondary school youth to interact and form meaningful friendships with other similar-aged youths in the region. The participants would be engaged over a series of interactive activities and engaging discussions over the course of the event that would facilitate forming of personal connections with each other through gaining a better understanding of each others' personal interests and ideologies.
The participants would also be given the opportunity for an exchange of experiences where they could share with each other some examples of social and community issues that their respective countries are currently faced with. This would allow the participants to gain greater awareness of the various issues that are prevalent in the region. At the same time, it could the youth participants to reflect on some parallels and commonalities in issues faced between the different sets of communities in the regions; despite being separated along national border lines.
This event would provide a good opportunity for these youth participants to expand their individual social capital where they would have formed friendships with the other youth participants in the region. The experience of sharing their personal interests, social and community issues that they are passionate about; as well as their personal hopes and dreams for a brighter future of their countries and the region.
Details about Youth Networking Forum
Date: 27 August 2022
Time: 2pm - 5pm (Singapore Time, GMT +8)
The event will take place via Zoom. Meeting details will be emailed to you shortly prior to the date of the event.
Some topics of conversation that participants could be discussing about are as follows:
Overcoming Poverty & Social Inequality:
Having a population of youth that have a strong drive and desire to serve the needs of its community, could prove to be a beacon of hope for the nation. Getting our local participants to be mindful over the societal issues that our community has been grappling with, would go a long way towards inculcating a group of youth that has empathy and mindfulness over the marginalised demographics of the community. This forum would be a good platform for both sets of participating youths to be aware of the different support structure that have already been set up within the respective communities in Singapore and the region in a bid to alleviate the situation.
Positive Mental Health Awareness:
As the Covid problem slowly exits our lives, we slowly pick ourselves up after its rampage, more often than not, finding common problems with added magnitude.
The youths have no doubt become one of the more vulnerable groups in society, striving to grow in a very difficult time. However, with challenges comes opportunities, many if not all, who have made it this far not only came to this moment to become even more resilient, they even learned to conquer their lives with a burning passion with their peers.
This forum can be a medium for the exchange of fierce strategies to overcome all odds, tackling mental stigmas, issues; as well as how meaningful friendships could develop them to become positive members of the community as they aspire to be.
Digital Games and its impact on youths of the region:
A staple in the lives of youths, they eat, drink and breathe digital games. No longer just a form of entertainment, digital games are now a fusion of different media, they are a way for them to get news, education and much much more.
(Reference from Playstation 5 which has now not only become a game console, but a more sophisticated entertainment unit built to include work than just play. )
The forum can be a platform for these young minds to dive deeper into digital games' real impact in the real world, how it evolves and where it comes from and why it has become a huge opportunity for some and at the same time, a bigger challenge for others.
Tech & Digital Champion:
In this highly digitised and connected world, tech has moved to the forefront of society. Our dependence on technology have never been more prevalent in our daily lives.
This forum would then provide an opportunity for our local participants, and the regional youths, to share their experiences of being in the tech world. There could also be an exchange of ideas between our local participants with their regional youth counterparts during the breakout sessions and beyond on how they have leveraged on technology to champion various causes in alleviating the different social issues for their communities.
Environmental Protection:
The world is currently in a rather precarious state. With our oceans and rivers suffering from population and severe overfishing; our tropical rainforests constantly being burned down for housing and agricultural use; global warming causing rising sea levels from the melting of ice caps in the North & South Pole; these revelations have caught the attention and interests of youth.
Participants of this Youth Networking Forum could share their sentiments regarding this issue. They could also use this forum as a platform to broadcast of the initiatives that they have done within their respective communities. This would also be a good platform for the youths to see that the sentiments towards the need for greater environmental protection is a shared one that transcends borders and boundaries. The forum could be a springboard towards achieving greater collaboration between the different demographics of youth.
Online Inclusivity:
Instagram, TikTok and Snapchat have become one of the many platforms youths rely on to stay relevant and connected. It has even grown to be a place where youths attempt to find their identity.
While some are able to find good and inspiring models to help them go through hard times, others may find just the opposite in their quest to grow.
The cyberspace may not be a kind place for those who, in the eyes of some, conduct themselves in an unsatisfactory manner. Cancelling are one of the many ways netizens have found to enact 'justice'.
This forum can invoke a discussion on how a space that's built to connect and enhance can also become a place that is dark and toxic, its opportunities and challenges and ultimately its future.
Stay tune for the profiles of the presenters! Meantime, stay safe and healthy!