Zentangle Inspired Art ~My Fair Lady
About this Event
Courses can be conducted bilingual 课程可双语授课
She is more than just a lady. She is also an inspiration and a tribute to creativity.
In this class, we will recreate this young lady, an art piece from Zodiac, by Alphonse Mucha done during the Art Nouveau period, with Zentangle method. Join me to explore Mucha's art style and motifs.
⭐️ In this session, you will
get to revisit Mooka, a tangle pattern which was inspired by this art piece
get to admire, appreciate and get inspired by the painting style between 1890 – 1910
recreate the art piece with your creativity
make the impossible become possible
enjoy the process of tangling
⭐️Who is this workshop for?
Participants must have attended a Basic Zentangle class (or equivalent) conducted by any Certified Zentangle Teacher.
(For Beginners' Course , please check here)
⭐️ Instructor: Samantha Lee
+ Certified Zentangle Teacher
+ Japanese Pastel Hope Art Association Instructor
⭐️ Date & Time
24 October 2020, 2pm - 4.30pm
(online via zoom)
⭐️ Course Fee: $60
⭐️ Payment options:
1) Payment through Eventbrite, there will be processing and service fees incurred, to be paid by participants
2) Register through Centre of Joy website and made payment by bank transfer (no other fees for local participants)
⭐️This is an online course conducted via Zoom. You will be given details on how to access the Zoom classroom once you have registered and paid. You need to sign up for an account with Zoom. For security reasons, we only allow registered participants to enter the course site.
⭐️ Materials
Please prepare your own materials before the class.
Sakura Micron pen 01 black
Sakura Micron pen 05 black or pigma 05
Tortillon
2B pencil
15cm x 15cm square white drawing paper
15cm x 15cm tracing paper
ANYTHING IS POSSIBLE, ONE STROKE AT A TIME!
For more details or information on other Zentangle courses, please visit : Centre of Joy Website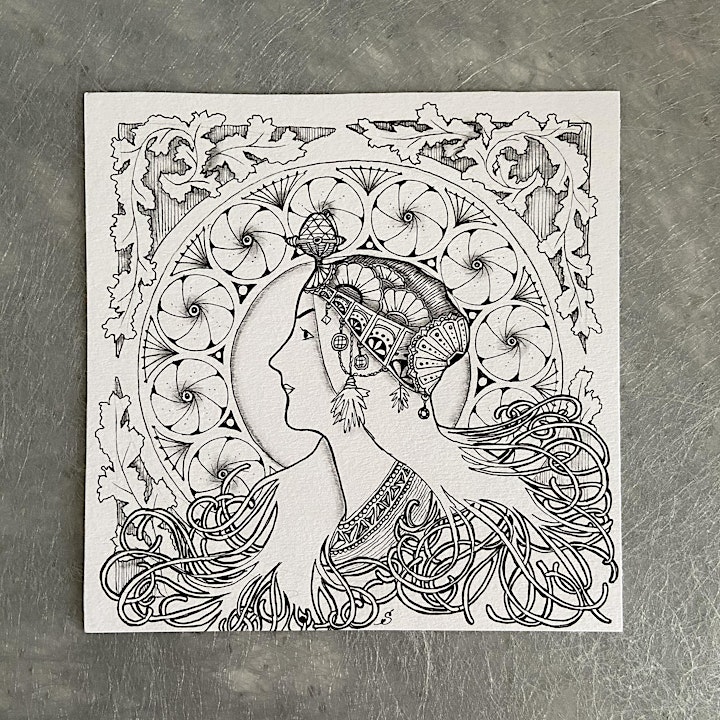 她不僅僅是個淑女!
在這一節課中,我們將以Zentangle方法重製这位日历女士,她是阿尔丰斯 · 穆夏在新艺术风格当时所創作的作品之一。
让我们一起回顾穆夏式的风格。。。
⭐️ 在这个课程中,我们将一起
重新体验启发于这幅艺术作品的 Mooka 图样
欣赏在 1890 年至 1910 年之间的艺术风格
用您的创造力将此画赋予新生命
将不可能变为可能
享受禅绕的过程与乐趣
⭐️这个课程适合什么人参加?
学员必须曾经参加由任何禅绕画认证老师带领的基础(或类似)课程。
(请查看这里了解禅绕画初阶课程详情)
⭐️ 导师:李慧深
+ 认证禅绕画导师
+ 日本和谐粉彩导师
⭐️上课日期和时间: 10月24日(周五)2pm – 4.30 pm (线上 Zoom 课程)
⭐️课程费用: $60
⭐️ 付费途径:
1)通过 eventbrite 报名并缴费,报名者须缴付手续和服务费
2)通过喜乐生活空间网站报名,以及银行转账付费(本地学员无需缴付额外费用)
⭐️ 这是个线上课程,将通过 Zoom 进行。我们将在您完成报名与完款后通知您上课详情。您需要先在 Zoom注册一个户口。为了确保网路安全,我们只允许注册户口进入网上课室。
⭐️ 材料
请自备以下材料来上课:
1支 Sakura 01黑色带针笔
1支 Sakura 05黑色带针笔 或 学习笔(Pigma 05)
1支 2B铅笔
1支 推影笔
1 张 15cm x 15cm 白色画纸
1 张 15cm x 15cm 描图纸(tracing paper)
一笔一呼吸,万事皆可能
想了解更多禅绕画详情或课程,可查询 喜乐生活空间 网站
--------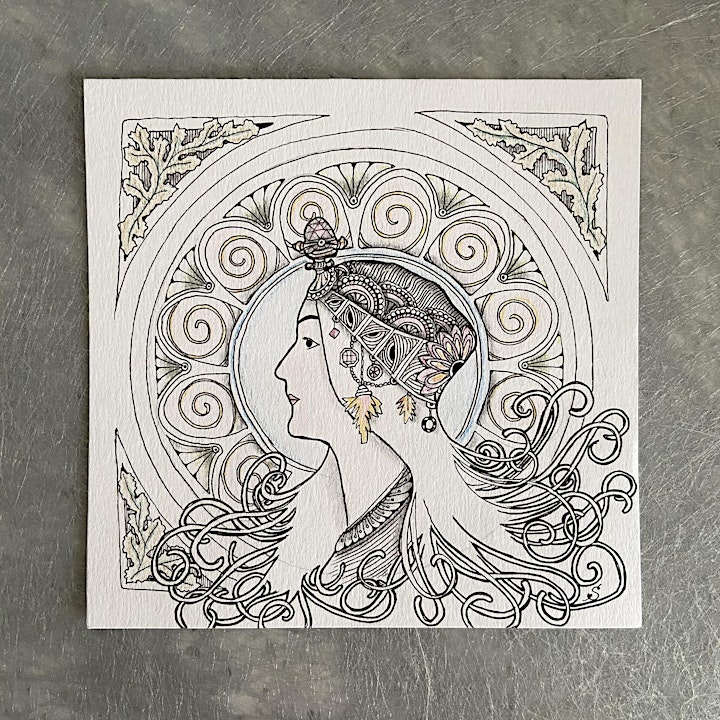 Cancellation Policy
1) There will be no refund for no-show or late arrival to class
2) In the event that the class is cancelled or postponed, a full refund will be returned to the participant