About this Event
Course taught by a Certified Zentangle® Teacher
All are welcome, no artistic background or skill is required. After the completion of this course, you will be eligible to sign up for Intermediate courses.
Date : 25/11/2019(Monday)
Time: 7.30PM - 9.00PM
Venue: 540 Sims Avenue, #02-06 Sims Avenue Centre, Singapore 387603 (6-minute walk from Paya Lebar MRT Station Exit D, follow covered walkway, cross Geylang Lor 41 and 39, you will see the blue-white building after Lor 37.)
Fee: $30
Payment options:
1) Payment through Eventbrite, there will be processing and service fees incurred, to be paid by participants
2) Register through Centre of Joy website (www.centre-of-joy.com/zentanglecourses) and made payment by bank transfer (no other fees)
Zentangle® Introductory Course
This course aims to introduce the Zentangle method to participants. With simple tangling, you will be able to apply this technique in your daily life to de-stress and stay connected with your inner-self.
Course contents include :
Brief background of the Zentangle Method
Basic tangling techniques
Hands on experience and learn at least 4 tangles
Check here for our other Zentangle® classes.
--------
What is Zentangle® ?
Zentangle® is a self-help art therapy practice to facilitate and enhance relaxation, focus and self-discovery.
Using just four basic strokes of dot, line, curve and ring, you can create unlimited designs and patterns. There is no need for erasers or sketching or pre-planning, let the lines and shapes organically evolve, guided by your inner self, and reflecting your true spirit.
Just like everyone is an artist of his or her own life, every Zentangle art piece is unique, breath-taking and awesome. There is no art backgorund needed, if you can hold a pen, you can do Zentangle.
--------
Benefits of Zentangle®:
it's a mindfulness meditative art, it soothes your nerves
it's simple, it teaches you to appreciate repetitiveness--there's no mistakes in Zentangle, anything and everything is possible and accepted
it reinforces aimlessness, nothing is everything
every creation is unique, learn to appreciate everything that happens
--------
Zentangle® at Centre of Joy?
At Centre of Joy, we offer Zentangle courses ranging from the traditional technique training classes to integrating the Zentangle method to different therapeutic art forms, like nortan and escher. Our aims are to bring out the Zentangle philosophy in our workshops and classes, so that participants are able to discover their inner wisdom and use it in their daily lives, to feel joyful, empowered and balanced.
We welcome you to join us in the safe and supportive space at Centre of Joy to begin an intimate conversation with your inner self through the process of tangling.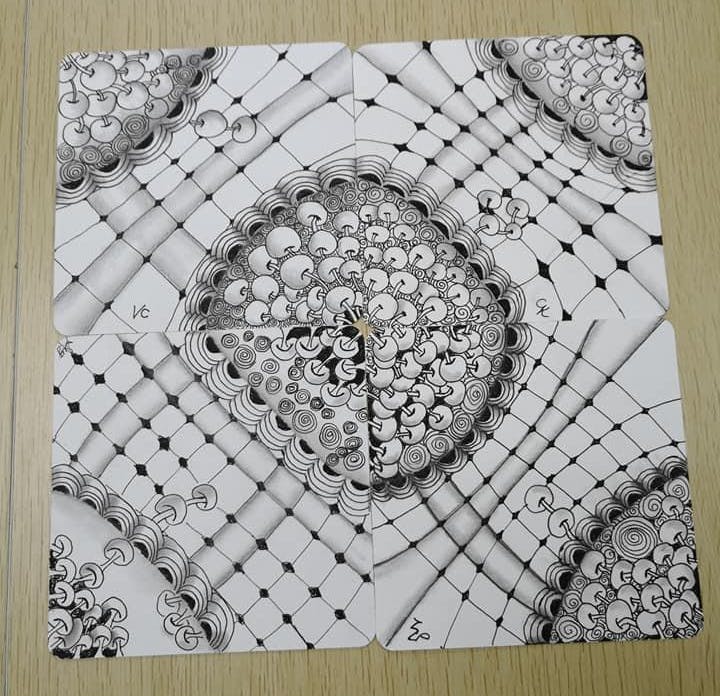 Cancellation Policy
1) There will be no refund for no-show or late arrival to class
2) Cancellation of registration must be made no later than 7 days before the course start date, by sending a SMS or WhatsApp message to 8126 6803.
3) In the event that the class is cancelled or postponed, a full refund will be returned to the participant