Zine Design: Creating Educational Comics (Workshop) | library@orchard
library@orchard presents a Zine Design workshop on Creating Educational Comics by Kow Wei Man.
About this Event
Important Notice
This programme/event is open to members of the National Library Board, Singapore. Please ensure you have your myLibrary ID on hand before proceeding with the registration. If you do not have a myLibrary ID, you can create one here: https://account.nlb.gov.sg/.

Important Registration Info
1.       Please submit your portfolio by emailing libraryorchard@gmail.com by 5 Jan 2021.
Email Subject Heading: Registration for Zine Design: Creating Educational Comics
Your Name
Your myLibrary ID (a valid myLibrary ID is required)
Date of Zine workshop you are attending
Your Portfolio/sample(s) of past experience in illustration or zine-making work
2.       Please note that only successful registrants will be notified via email 3 days before the workshop date
3.       Please note that this workshop is for participants aged 16 years and above
4.       Please note that your zines may be selected for library@orchard's showcase
About the Programme
Learn to create a short 8-page comic in a zine format on an educational topic of your choice! Come prepared with a few facts on a specific topic that you want to convey, and we will explore ways to turn them into engaging images or narratives for your intended audience. Paper and pens will be provided, but feel free to bring your own drawing equipment. Please note that this workshop is for participants aged 16 years and above.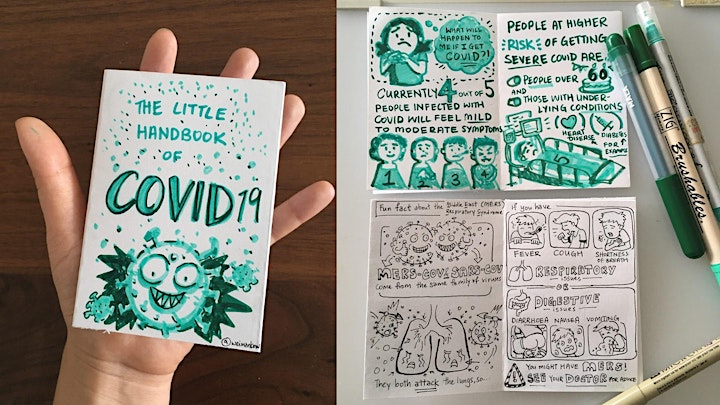 About the Artist
Kow Wei Man is a part-time freelance illustrator who has created educational comics to help the public understand medical and social issues. Her series of comics "How Coronavirus Spread" has reached millions of people worldwide, garnering a reach of 3 million on Facebook, and have been translated into 40 languages. After seeing the positive impact of comics to explain issues simply to the public, she founded Comics For Good, a social initiative that encourages others to create comics on social good topics. A former games artist and art teacher, she aims to make her comics easy to understand while bringing the delight and polish of game art into her comics.

About the Series
Zine Design is a series of workshops that highlights DIY culture and zines as a form of creative expression. Join us for a workshop or two and your zines might just be showcased!