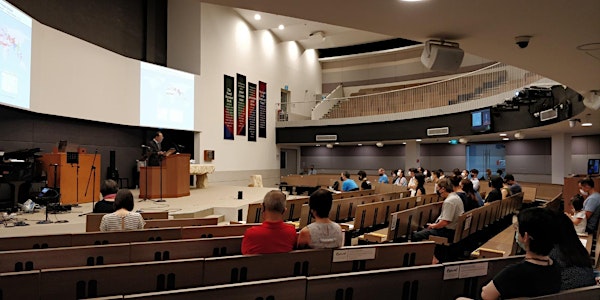 Zion Bishan English Worship Service for Faith/Patience Clusters on 15 Nov
Worship services on 15 Nov 2020 for Faith & Patience Cluster. Holy Communion will be served.
When and where
Location
Zion Bishan Bible-Presbyterian Church 4 Bishan Street 13 Singapore, 579792 Singapore
About this event
Worship services for Faith & Patience Clusters will be on 1st and 3rd week of the month. This Eventbrite listing is for the registration for the 3rd week of the month.
As up to 100 people are allowed to come for worship services, Zion Bishan is holding services for members to come twice a month in their AG Clusters.
Timings for services on 3rd week are:
10.30am - 11.30am
1.00pm - 2.00pm
Holy Communion will be served at these two services.
For families with infants: If you require the Crèche, please register for "Lower Sanctuary". The Crèche will be available to use as a changing or feeding room only. For safe distancing, only 2 pairs of parent and child will be allowed inside at one time. Kindly return to the main sanctuary once you are done to allow someone else to use the room.
---
If you are not in a Cluster or AG, do contact office@zionbishan.org.sg to find out how to join one.
To facilitate contact tracing and Holy Communion attendance, your details will be collected when you register your tickets. Information collected will only be for Zion Bishan BP Church purpose of our Sunday Worship Services in line with our PDPA policy as stated on our website at www.zionbishan.org.sg.