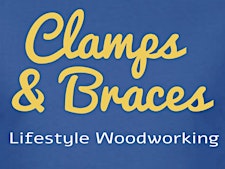 Clamps & Braces
Clamps & Braces was started by an occupational therapist and social worker who has experienced the value of woodworking and want to share it with the community.  We aim to use woodworking as a therapeutic medium to bring people together, raise their self esteem, self efficacy, and of course, achieved self actualisation. The professional staff supports each participant in the program, runs group work and provides meaningful interactions to revisit stories and experiences, engaging in therapeutic and meaningful conversations.
Clamps and Braces is committed to journey with people and the communities to provide support so that people can experience the joy and therapeutic benefits of woodworking for a long time come. The goal is to offer woodworking as a lifestyle hobby and to bring back the spirit of creativity, design and D-I-Y like our grandparents and parents do. 
​
Each piece of artwork that is either created in our studio or at our hands-on workshops tells the story and personality of both the creator and the art form. Through the use of wood and hand tools, Clamps & Braces bring people together, to celebrate life, reminisce about where they come from and look ahead to forged relationships and friendships with the goal of supporting each other. 
Sorry, there are no upcoming events