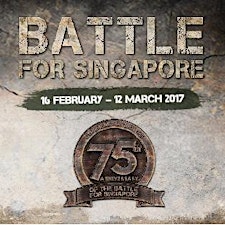 National Heritage Board
The National Heritage Board (NHB) commemorates the 75th Anniversary of the Fall of Singapore through the annual Battle for Singapore programme. Starting from 16 February to 12 March, NHB together with our community partners, will present a series of guided tours to WW II structures and sites, special programme at Museum Roundtable museums and a public talk. 
To contact us for the Battle for Singapore 2017 tours, please drop us an email at NHB-battle-sg@nhb.gov.sg. 
Sorry, there are no upcoming events