Learn How to Make Consistent Passive Income

Tuesday, August 23, 2016 from 6:30 PM to 9:30 PM (SGT)
Event Details
Enter or Exit Stock Market with S&P500 at Historical High Now?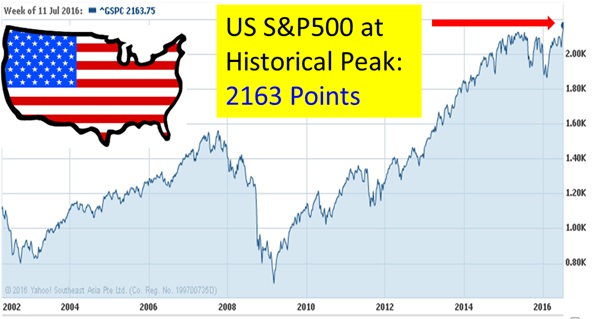 4hr Investment Course (FREE, worth $500) by Dr Tee:
Master Buy Low Sell High for Global Stock Market
(Stock, Property, Commodity, Forex, Bond)
Date:  23 August 2016 (Tuesday)

Time:  7pm-10pm (Stock diagnosis for early birds starts from 6:30pm)
Venue:  17, Phillip Street, #08-00 Grand Building, S(048695) (Raffles Place MRT Exit B)
After breaking the triple top resistance of 2100, short term S&P500 becomes very bullish, setting new record high each day. Current US stock market is only suitable for short term trader to apply breakout strategy, buy high sell higher with trailing support.
When S&P500 enters danger zone of >75% Optimism again, any future crisis could potentially become the next global financial crisis. Since global stock traders have not reached the euphoric stage yet, US stock market could remain bullish, sustainable if there are intermediate cooling measures, eg. news of US interest rate hike or another regional crisis, while the US economy is still growing.
Short term bullishness of S&P500 (another historical high at 2163), winning of Japan Prime Minister Abe (more QE is expected), lower fear factor (VIX is at low), have helped the global stock market to recover and achieve short term high. The trend is ideal for short to mid-term trading. Even Malaysia has lowered down the interest rate, this could be a gradual growing bull market.
For long term investors, it is important to learn to take profit at the right time, so that there is enough cash, which is king, to buy blue chip stocks at low price during the next global financial crisis.  For value investors, it is possible to hold the stocks without selling with condition that these are truly giant stocks, which the business can still be profitable even during economy recession.
The safest time to buy a stock is when everyone is afraid the sky will fall down while the business is still operating normally with consistent performance. This could be a rare opportunity to buy during a crisis, we should learn how to take this advantage to truly buy low sell high.
When Optimism Strategies are combined with Fundamental Analysis (value investing & growth investing), Technical Analysis (support / resistance / trends), and Personal Analysis (mind control of greed and fear), it is very powerful when one is able to take the right action (Buy, Hold, Sell, Wait or Short) at the right time aligning with own personality.
The unique Optimism Strategy developed by Dr Tee provides a special advantage to know which investment (stock, forex, property, commodity, bond, etc) to buy safely, when to buy, when to sell, including option of long term holding.  So far over 10,000 audience have benefited from Dr Tee high quality free courses to the public.  Take action now to invest in your financial knowledge, starting your journey towards financial freedom.
Brexit has created new stock trading and investing opportunities globally.  At the same time, British Pound is severely corrected, one could apply Forex Optimism to maximize the gains in stock market.   The fear factor has supported the bullish gold price and gold related stocks (eg. gold miners), analysis with Commodity Optimism is needed.  Every crisis is an opportunity, provided one knows how to position.
SPEAKER:   Dr Tee Tong Yan
 

Dr Tee holds a PhD specialized in computational simulation. He possesses 19 years of trading/investing experience with in-depth knowledge in stocks and various major investment markets. He was a corporate Vice President, now the founder of a consulting firm. He has achieved financial freedom, spending most of his free time in life mission to educate the public towards the right path of investing.

 He is the founder of Ein55 Styles of investing, sharing his experience extensively with over 800 investment articles, conducting over 200 trading/investing seminars using FA, TA and PA methods with unique Ein55 Optimism Strategy.  He is a well sought after speaker in major trading firms and various investing seminars.
3 BONUSES for Attendees:
1)    Free eBook by Dr Tee on Market Outlook 2016, complementing the program, suitable for offline reading.
2)    Freestock diagnosis by Dr Tee using FTP Analysis (FA, TA, PA) based on early birds' stock of interest.
3)    Freestock screener applying Dr Tee strategies to search for global stocks with strong fundamentals.

More Details
1) Dr Tee (Ein55) Graduates Video Testimonials 
https://youtu.be/GQS9iyQv3qo
2) Testimonial of Dr Tee Workshop Attendee who Made Money
"I attended your free seminar on 11 March 2015 and CWT was mentioned a couple of times. I entered CWT when it hit $1.50 support on 23 March 2015. I found CWT to have better FA while using the free stock screener shared. I have already recovered the 5-day course fees from CWT. Thanks!"
Robin (audience who attended free seminar, following by 5-day course in May 2015)
 Have you sign up for the course yet? Why so many people sign up to learn from Dr Tee?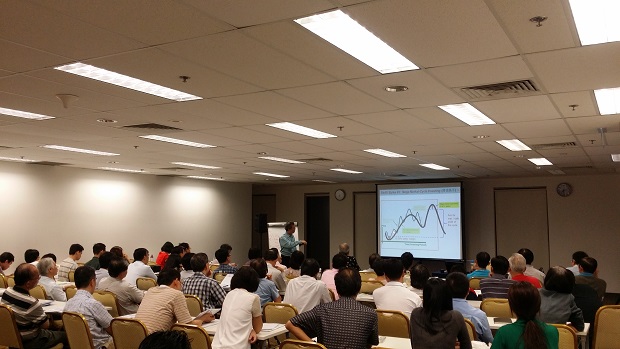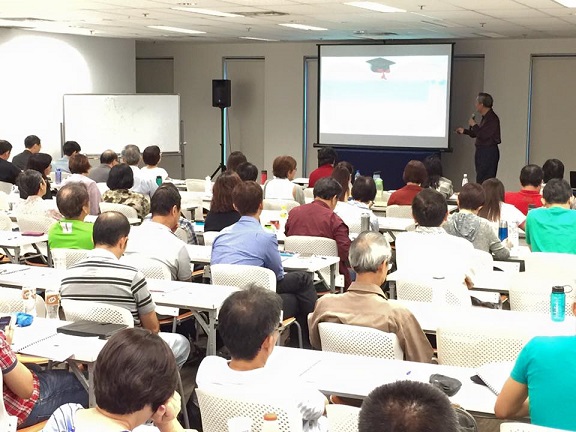 IMPORTANT NOTES FOR SEMINARS
Please note that under the Singapore Personal Data Protection Act (PDPA) 2012, CyberQuote Pte Ltd respect the privacy of all our customers and visitors, and are committed to safeguarding the personal information you provided to us.
For the event registrations, you will be requested to provide your personal particulars, which include but are not limited to the following:
 a)      Full Name
 b)      Contact details, including telephone number/s and/ or email addresses
Please note that CyberQuote Pte Ltd will send out "Email Confirmation", Short Message Service (SMS), events / seminars and marketing via email to all registrants for all CyberQuote Pte Ltd events.
Should you wish to withdraw your consent from receiving events information, please contact us at CQCourse@cyberquote.com.sg.  All personal data held by CyberQuote Pte Ltd will be kept confidential, will not use and disclose to third parties. 
Disclaimer
The contents of this document, including the terms and conditions, are subject to change and may be modified, deleted or replaced from time to time and at any time at the sole and absolute discretion of CyberQuote Pte Ltd ("CPL"). CPL accepts no responsibility for the results of any actions taken by students after attending our courses, nor for the accuracy or completeness of any material contained herein. Information on courses or any other arrangement for courses, including fees, staffing and class sizes are an expression of CPL's intentions only and do not constitute a firm offer or undertaking to you. CPL reserves the right to discontinue or vary courses without notice and to impose limitations on enrolment in any course. Opinions and projections reflect our opinion as of the date of the analysis and are subject to change without notice. Investors should make their own investment and trading decision based on their own final analysis. All forms of investments carry risks, including the risk of losing all of the invested amount. Such activities may not be suitable for everyone. Past performance is not indicative of future results.

Copyright © 2016 CyberQuote Pte Ltd. All rights reserved. No part of this publication may be reproduced, stored, transmitted in any form of by any means without CyberQuote Pte Ltd's prior written consent. 
Save This Event
When & Where

CyberQuote
17 Phillip Street, Grand Building #08-00
Singapore, 048695
Singapore

Tuesday, August 23, 2016 from 6:30 PM to 9:30 PM (SGT)
Add to my calendar
Organizer
CyberQuote Pte Ltd
CyberQuote Pte Ltd
With more than 16 years' track record in the financial industry, CyberQuote ("CQ") has built a reputable name among financial players as a quality training institution. CQ specialises in financial and trading courses for both professionals and novices, delivering knowledge through theory and practical teaching by experienced practitioners.
Teaching our participants how to fish without the tools is insufficient. To ensure that all our participants can apply their newly acquired knowledge and skills, CQ provides the following strategic trading tools for your immediate investment and trading needs:
·         MetaStock — the award-winning charting tool;

·         Data Feed — enables you to use end-of-day data or real-time data plotted into charts format to perform Technical Analysis;
·         Stock Alert — a service for all busy investors to monitor their stock prices activities.
Learn How to Make Consistent Passive Income