掌握您无穷的能量与直觉的潜力! 成为赋予美丽灵心的疗愈师,一同实现人生目标,迈向灵修之旅。
About this event
请登记免费1小时介绍课:5月30日,星期天, 下午1.13分
成为一名灵心疗愈师 (华语班)
探索传递爱与光明的潜能
强化美丽心灵、实现人生目标、共同迈向灵修之旅!
三个月课程包括:
⁃两堂净化身心疗愈
⁃一堂提升能量疗愈
-学习如何显现富裕
-练习如何正确地爱自己
⁃启发直觉写作/绘画
⁃启发内在天赋如:与宠物、水晶或植物沟通等
⁃十二小时训练与指导的灵心疗愈包括认识灵心与能量,练习声音和灵心能量治疗,启发个人潜能。
⁃静坐培训与指导
- 总共12堂课,每堂课平均2-3小时
⁃附送:课程结束后,有为期三个月的督导和学习行销技巧
⁃ 由灵心导师Bestarz亲自授课 (www.bestarz.sg)
评介:
"学习过程中,我已习惯每天生活里都运用得到能量疗愈,总觉得事事顺心。在工作上也加了最近所学的知识都可以配合得好的,但还需要多多练习。"~ Ms Penny
"练习直觉书写时,我与高我链接并告知:苦多思维苦谛,生老病死苦、爱别离,求不得。我攀缘太多,难放下会很苦。虽感受到长期之苦,更能体会、悲悯众生苦,生起出离心、菩提心、空正见。证得无上正等正觉,利益天下苍生,不急、一步一步来,指日可待,前途一片光明!" ~ Ms Saw
课程费用:
(1对1): $3k
4-8 人: 每人$1k 或 $1.2k (分期付款)
Bonus: Complimentary 1-year Blissful Soul Membership worth $68 on www.soulitaire.com.sg. T&C apply.
包括讲义与功课。
课程将以WhatsApp/Zoom/于大自然环境中进行。正式上课时间将配合各同学的时间表而定。
更多详情:https://mailchi.mp/soulitaire/chinesetherapists
About the Trainer:
Bestarz is a soul coach who has the ability to communicate with spiritual guides and divine beings. In addition, her sensitivity towards earthly energy and spirituality can help you in healingz while staying comfortable and calm. Hear her voice while channeling energy from the ocean: http://www.bestarz.sg/about.html
Because all souls are beautiful and deserved to be loved!
Know of anyone needed financial assistance? Feel free to email sea@soulitaire.com.sg to find out more! No soul is to be left behind. You can also contribute to our assistance fund to help low income families/individual to start taking care of themselves.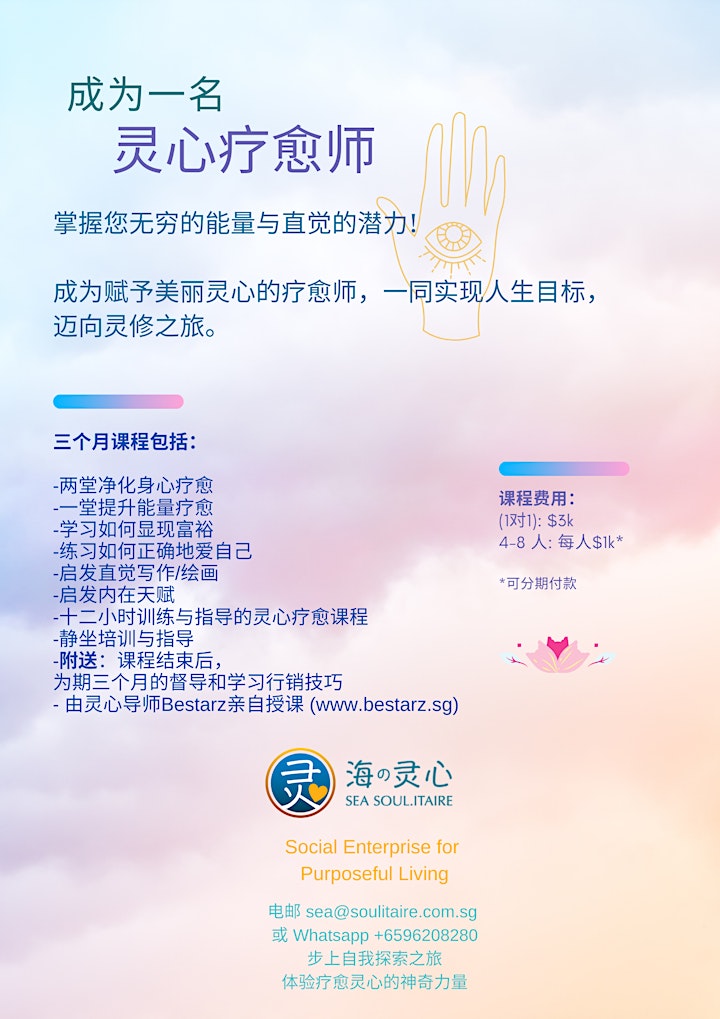 SEA Soul.itaire is a member of the Singapore Centre for Social Enterprise (raiSE):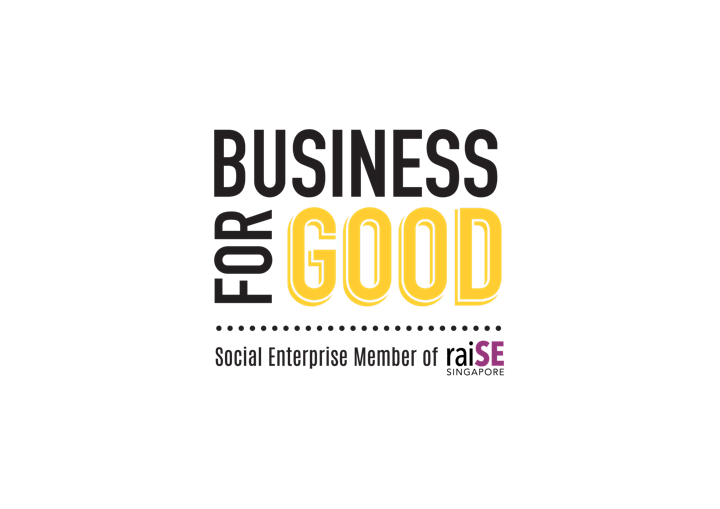 Organiser of 介绍课 - Soul Advance: 成为一名灵心疗愈师 (华语班)
Soul Empowerment Agency (SEA Soul.itaire 海の灵心) is a social enterprise (member of raiSE) for purposeful living provides holistic wellness program and services/products for self-love, empowering you to be the best version of your yourself!
We also building a community for soul workers to network, outreach and contribute to the society.
SEA Soul.itaire 海の灵心 believe all souls are beautiful. We devoted ourselves to improve the mental health & well-beings of individuals and supporting a team of single mums who are dedicated and passionate soul workers. 20% proceeds of income will be funding the Assistance Fund for low income, caregivers, stay at home mum and single-parent to receive quality services provided by the agency.
SEA Soul.itaire 海の灵心提供一系列疗愈身心灵的课程与活动,以协助人们学习关爱自己并达臻人生目标与使命。
此中心励志与各心灵连结。 在主办身心灵活动的同时,也提供一个平台让心灵导师互相交流。 心灵导师可以通过参与中心的课程和服务,提升技能及推广疗愈。
我们是一个社会企业,致力于改善人们心灵素质,并协助一群由单亲母亲组成的心灵治疗师。我们也为低收入家庭、护理者、家庭主妇、单亲家庭等提供救援津贴,为他们提供优质的身心灵服务。