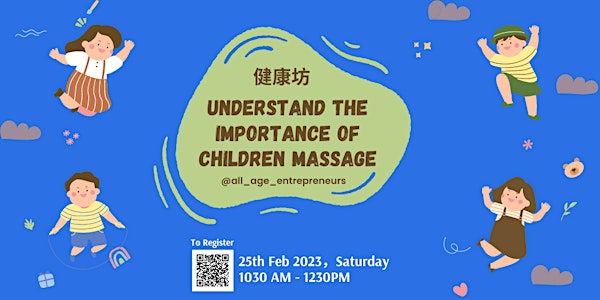 健康坊 - Understand the importance of children masaage
Giving your child a regular massage will improve the health condition. Let's us learn from Iris Sun sharing, what massage helps your child
When and where
Location
Singapore Singapore Singapore Singapore, Singapore 179100 Singapore
About this event
A healthy body comes from the smooth flow of qi and blood, the smooth flow of meridians and the balance of the organs.
If it is not properly maintained, the qi and blood will not flow through the channels and collaterals and the internal organs will be affected.
As our children grown up, there will be days when children not feeling well. Due to many reasons like fever, aching, stress, etc.
Giving your child a regular massage will improve the health condition.
Let's us learn from Iris Sun sharing, what massage maintains a healthy body for your children.
Friends who are interested, please sign up for it.
See you on Saturday