Description
00:00
/zerohundredhours/
from (a)basement theatre collective proudly presents a semi-devised documentary theatre show that incorporates a unique blend of physical theatre, fast-paced dialogue and virtual multimedia in an objective, engaging and thought-provoking discussion of tough social issues. Told through the perspective of four specialists employed with Network Rail and set on the railway tracks, this play aims to uncover hidden voices and experiences that have been neglected or suppressed by society.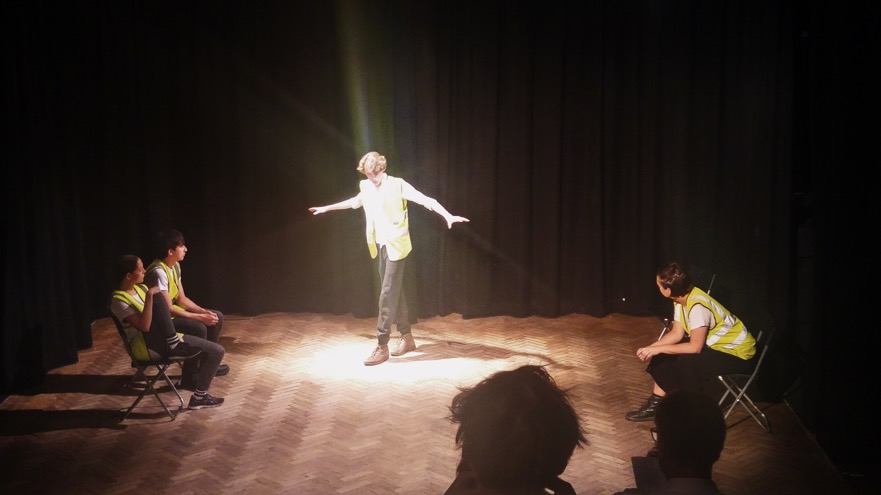 The show is a sensitive look at what goes on behind the scenes; the people who clean up, sanitise, disinfect, and come into existence after the world has gone to sleep.
Following the lives of workers employed with Network Rail, this production examines the collateral damage and impact of railway suicides. Based on real experiences and stories from train drivers to social media managers, from commuters to the decontamination crew, 00:00 will take the audience on a high-speed multi-faceted journey beneath the façades we wear; mental health, society, masculinity, and messy aftermaths in modern Britain.
Previously performed at The Old Court Theatre in Windsor to critical acclaim, 00:00 returns to Egham, much-improved and lengthened based on audience feedback, for a three-day run at The Packhorse, with evening performances on 7th, 8th and 9th December 2018. It aims to raise awareness of social issues such as toxic masculinity, the changing faces of human interaction, and perceptions of lesser-known mental health conditions. This production reanimates and restores hidden perspectives to the public consciousness, and to provide a glimpse into environments that remains inaccessible to the majority of society.
---
We don't believe in making you pay transaction fees so we are operating on a Pay-At-The-Door scheme; each ticket is £4.50 and 10% of all ticket proceeds will be donated to the Samaritans organisation. The remaining profit made will be evenly distributed amongst all cast and crew as payment for their time and effort. Please reserve a ticket for your chosen performance date online (via Eventbrite), and do remember to bring cash on the day of the performance!
Tickets are limited so please do reserve a ticket to secure your seat! We might have seats left at the door however as seating is on a first-come first-served basis, it is highly recommended to book your ticket online.
---
Please do note that this show features heavy discussions of topics such as suicide and mental health, and may contain infrequent single flashes of light and projection lighting. Helpline numbers and useful contacts will be distributed before and after the show. It is advised to wear comfortable and warm clothing (or bring blankets) during the show, as it is staged under a walled-up, sheltered pavilion at the entrance of the pub and although there are heaters, it might get a little chilly. Be rest assured that we will do our best to keep the performance space at a comfortable temperature.
On-site parking is available, and parking spaces are available on the university campus next door/along Harvest Road, 5 minutes away from the Packhorse pub.
If you are unfortunately not able to make it to a performance, please consider checking out our crowdfunder page below and with your contribution, help us make this performance as great as it can be!
https://www.indiegogo.com/projects/00-00/#/
Thank you, and we hope to see you there!


Cast and Creatives:
Performed by: Aaron Barrow, Kerryn Isobel Frean, Matteo Lewis, Elizabeth Lindsay
Director: Rebecca Goh
Stage Manager: Emily Wilkinson
Deputy Stage Manager: Niamh Kennedy
Publicity Officer: Cameron Cheung