Description
Day 1 Time: 10.00am to 6.00pm
Day 2 Time: 1.00pm to 6.00pm - you can choose to join 2 day Video Content Marketing Course if you would like to learn more video editing features available in iMovie ^_^

Small Class Training, Max. 6 participants.
This workshop is SkillsFuture Approved & Claimable.

How can you get more engagements on your marketing content?

How can you keep your customers and potential clients more informed of your products and services?
How can you increase your outreach online and on social media platforms?

Videos are predicted to drive 80% of website traffic by 2019! (Wow!)
Videos that we have edited with iMovie, more available on our YouTube Channel

https://youtu.be/1PBGfX-E0UI

(a) Learn to create a 45 to 60 second video by the end of the workshop, like the videos we have done below:

and...
(b) Learn to edit like all our videos above (especially the first video), add clips, graphics, masking (blue/green screen), music, and more!


This is a Certificate Workshop: Receive a Certificate of Completion upon successfully completing the workshop.
SkillsFuture Course Code: CRS-N-0043336

The most powerful and engaging content on Facebook and Instagram are Videos. If you have ideas to be translated to a Video Content as your Marketing Strategy, but do not know how to start, this is the workshop for you!
Our trainer will share with you the tools that will enable you to put together a Video Content Marketing Strategy, and a short 45 to 60 second video for social media, so come join us!


The difference between the 1-day and 2-day Video Content Marketing workshop is that you get to explore more iMovie tools, and develop 2 social media and/or corporate video by the end of the 2-day workshop!


Who is this workshop for?
• If you would like to learn how you can storyboard and plan a simple stop motion video clip for your business, come prepared for a workshop full of brainstorming and hands-on activity. 80% of the workshop consists of hands-on activities to help our participants learn better.
Learning Outcomes:
(a) Learn to create video contents for instagram / Facebook
(b) Brainstorm and Research content to translate into your video marketing strategy


Course Outline:

1. Introduction to the workshop
(a) Trainer's and Participants Introduction
(b) Workshop agenda and deliverables
(c) Workshop learning outcomes

2. Brainstorm and Learn about Storyboarding Content to animate as a still graphic video
(a) Example of Video Concepts to Storyboard : Stats, Quiz or Questions
(b) Brainstorm a Still Image Animation Storyboard of a 45 to 60 second video
(c) Sharing and Consultation

3. Learn to design in a FREE to use web-based design software
(a) Trainer demo on FREE to use web-based software
(b) Hands-on practice to create a graphic
(c) Research on graphics, and work on your own graphics

4. Hands-on Activity: Storyboarding and designing still images
(a) Hands on: Designing graphics of Storyboard a 45 to 60 second video
(b) Consultation with Trainer

5. Hands-on Activity: Learn how to edit your graphics into a simple animation in iMovie (Mac Software)
(a) Trainer Demo of iMovie
(b) Hands-on Activity to try editing in iMovie

6. Hands-on Activity: Editing your video, Exporting video, uploading it on Social Media (Facebook / Instagram)
(a) Editing and Exporting video, uploading it on Social Media
(b) Consultation, and Q&A with Trainer

7. Content Brainstorming Session: Brainstorm content for video recording. Learn how to record videos from your phone, and Mac Laptop.
(a) Research content online
(b) Learn how to story board your video content
(c) Consultation with Trainer

8. Hands-on: Storyboarding for Video Content
(a) Storyboard a 120 to 180 second video
(b) Learn how to record with SmartPhone
(c) Learn how to record with Quick Time

9. Hands-on Activity: Record with your smartphone, Mac Laptop (QuickTime- Screen Recording, Audio Recording, Self-Recording)
(a) Preparation of your content
(b) Record your storyboard content: SmartPhone / Quick Time
(c) Consultation with Trainer

10. Hands on activity: Video Editing, Compilation, Adding Text, Exporting Video
(a) Importing your videos from smartphone
(b) Saving your videos from QuickTime
(c) Editing in iMovie (Exploring Green Screens)

11. Consultation time with Trainer
(a) Consultation
(b) Question and Answer

Hardware & Software Requirements:
(a) Smart Phone (with high-definition video recording)
(b) Macbook Air / Pro
(c) Quick Time App - For Recording Video / Screen / Audio
(d) iMovie for editing your videos
(e) Tripod for your phone (provided during the workshop)

---

Singaporeans above 25 years old, workshop is SkillsFuture Approved & Claimable

No cash required. If you would like to pay for the workshop with your SkillsFuture Credits, please email us directly at skillsfuture@thegooddesigners.com and we will provide you with instructions on how you can register for the course directly with your SkillsFuture Credits.


---

About the Trainer
Charmaine is the Founder and Lead Trainer of Sky Digital Agency and The Good Designers.


Being a web designer by training, she was intrigue by many things when she started her agency back in 2010. From Facebook marketing to SEO & SEM, she has became a self-taught marketer and hands-on practitioner. This allow her agency to grow in their service offerings to their Clients.
She is generous in dishing out tips and tricks, and always excited to bounce ideas off participants. Charmaine makes learning interactive, candid and fun, helping learners to be excited about applying what they have learned in their work or business even after the workshop.

This video content marketing workshop was curated to help business owners, marketers be able to build video contents for their business, and increase their engagements with their fans and followers on social media like Facebook and Instagram.


She strongly believes that the training industry needs more small class workshops that are conducted in a small group setting of max. 6 participants, and that is what she has set herself out to do. This is to ensure that participants get more out of each training with Sky Digital Agency and The Good Designers.

Always looking for opportunities to pay it forward in the community, will her knowledge and skill sets. Charmaine also trains youth at risks (in collaboration with MSF) under her social enterprise called The Good Designers.
The Good Designers currently has 6 Workshops SkillsFuture Approved and Claimable. From Video Content Marketing, Design Ads that work on Social Media, Adobe Photoshop CS6, HTML and CSS Coding with Sublime Text to Infographics Marketing workshops.

Connect with us at The Good Designers
Facebook | Instagram | YouTube | Website
---
Here are some generous workshop reviews our participants have left us on Facebook on how our workshops have helped them be a better marketer for their work, business, and startups: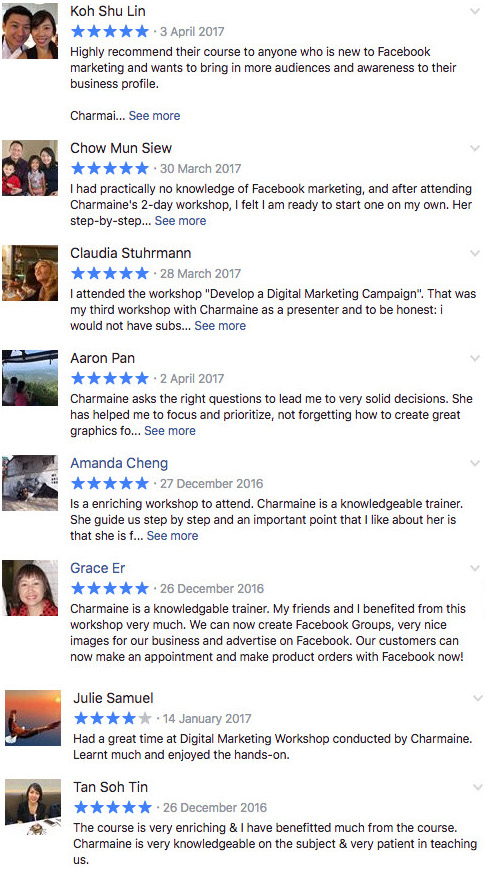 More testimonials of our workshop from our participants are available on Facebook Reviews


---
FAQs
1. Who can i contact should i have questions?
You may e-mail us at eventbrite@thegooddesigners.com

2. Is there a minimum class size to proceed?
Yes. We require a minimum class size of 3 people to proceed with the class.
In the event that there is insufficient participants, The Good Designers reserves the right to reschedule the class. Under such circumstances, we will inform you no later than 3 days before the event.
3. What are my transport options getting to the event?
6 Raffles Quay, #15-00, Singapore 048580
Nearest MRT: Raffles MRT, take exit "i" to Ascott at Raffles Place, 6 Raffles Quay is right after Ascott at Raffles Place.

P.S. Our venue is rain proof! 6 Raffles Quay is sheltered all the way from Raffles MRT.


4. I'm driving, where can I park?
There is parking space at the building 6 Raffles Quay itself at $2.50 per 30 min block.

For weekend classes, we recommend our participants to park at SGX Centre, at $3 per entry.
Charmaine conducting a 3 hour workshop with 40 training educators at Life Long Learning Centre under Institute of Adult Learning (IAL), on Ways to Effectively Retain Learning Through Better Visual Presentations.
Corporate Training with 15 Staff of Singapore University of Technology and Design.
Full Day Workshop Training: Infographics & Visual Content Marketing

Don't you just love the pantry. Makes learning more fun when you have different hot drinks to keep you awake! We mean... to help you focus!