Find out how your website can help you better convert visitors to customers or hit that Call-To-Actions buttons with just some simple steps!
About this event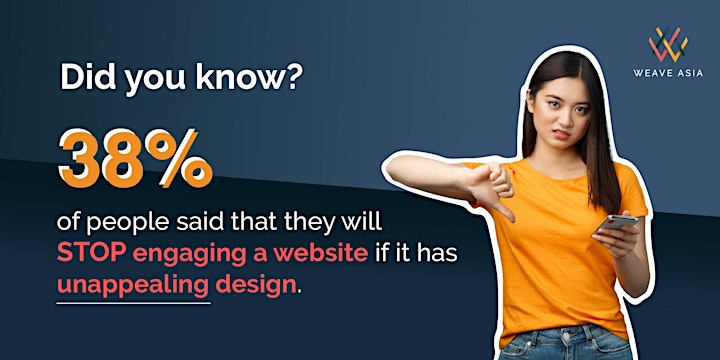 What does this mean for your business?
If you do not consider your website as part of your company branding & marketing strategy, you should start now. As 57% of internet users say they won't recommend a business with a poorly designed website on mobile.
To put things into context for you in 2020, around 88.5 percent of the Singapore population (5.8billion) used the internet and nearly 90% of them use the internet to find local businesses.
How does my website help with my business?
First, a website provides your business with an online presence. As previously mentioned, the vast majority of customers search online to find local businesses. Google and other search engines are an opt-in service, which means that unless you tell search engines your contact information, it will not be provided to people online.
A website works to tell search engines information about your business including your address, telephone number, service areas, and business hours. If your business isn't found on search engines, it essentially doesn't exist online.
If that's not enough to convince you, below are some other reasons:
Engagement
Competitive Advantage
Promotes your business 24/7 worldwide
Expanding your reach
If you are struggling to find out why your website is not generating engagement or conversion or if you are planning to start a website
Join us in this interactive webinar where our founder Wan Ting will be covering tangible tips for you to be able to improve your website just by applying a few simple strategies so that you can:
Increase conversion rate by engaging potential customers
Speed up your sales cycle
Be ahead of your competition
Now, you can learn how to show the world your brand and product efficiently
Register now as seats are limited!
Organiser of 10 DOs & DONTs To Generate New Leads & Maximise Conversion Via Your Website
Tan Wan Ting (Founder @Weave Asia)
Wan Ting has 10 years of experience in Digital Marketing, graduated from Nanyang Technology University. Wan Ting has a Bachelors's in Business, specialising in Marketing. She started running digital marketing campaigns for big brands like L'oreal Professional & Golden Village from a young age during her time in university.
She recently won Young Entrepreneur of the year at The Business Excellence Forum & Awards 2019.
Weave Asia has proven to be a fast-growing company consisting of a team of talents in specific fields. Weave Asia has blossomed to expand its offices in Singapore, Malaysia & Hong Kong. Whatever your digital marketing needs, Weave Asia has it woven for you.
We specialise in crafting a digital strategy for your business and we specialise in Search Engine Marketing & Search Engine Optimisation.