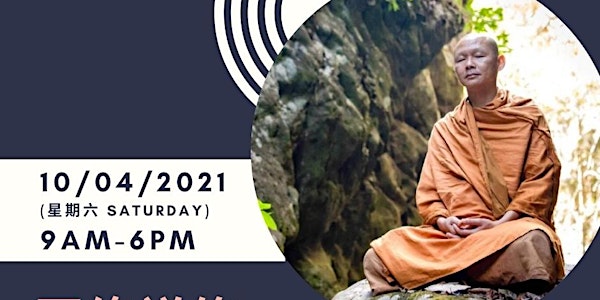 10/4 (六Sat) 永觉长老 Ajahn Cagino: 网络正念一日修 Online Mindfulness 1-day Retreat
10/4 (六 Sat) 网络正念一日修 Online Mindfulness 1-day Retreat
About this event
2021年月份 April 2021
Date: 10/04/2021 (六Sat)
Time : 9am-6pm (SG/MY time)
地点 Venue: 居家视频 或 护法苑公休 HOME ZOOM / NDR Center ZOOM
媒介Medium: 华语 Mandarin
截止 Closing :  额满为止 Till the full
营费Retreat Fee: 随缘 by Donation
询问 Enquiry :  仁桓 Rehuan 90054983, 玉云 Yuyun 96390867
电邮 Email: ndr.activity@gmail.com
【时间表Time Table】
08:00am - 08:30am 报到 Registration
08:30am - 08:45am 会所简报 Premises Briefing
08:45am - 09:00am 视频简报 ZOOM Briefing
09:00am - 09:30am 早课 Chanting
09:30am - 09:45am 求授三皈依 与五戒/八戒 Requesting Three refuges and Five/Eight precepts
09:45am - 11:30am 禅修指导 Meditation Instructions
11:30am - 01:30pm 午餐 Lunch
01:30pm - 02:15pm 禅修指导与问答 Meditation Instruction and Q&A
02:15pm - 05:00pm 共修 (坐禅、行禅) Group Meditation (Sitting/walking)
05:00pm - 06:00pm 禅修问答与回向 Meditation Q&A and Dedicate Merits
FQA
居家视频 HOME ZOOM
1. I am only using mobile phone for this retreat and I don't have a desktop / laptop. Can I still join the retreat?​
To access the retreat, you will be given a unique link to join via Zoom, participants may use any device that supports your access to the Zoom video conferencing platform.​
2. If I have trouble with Zoom, how do I get help?​
Please contact to htpps://wa.me/6596390867.
3. Have I received my registration? I cannot find the retreat confirmation email.​
Kindly check your email's junk / spam folder for the confirmation Eventbrite ticket. We will email you the meeting ID and password when nearer to the retreat date. Otherwise, please drop an email to ndr.activity@gmail.com for clarifications. ​
4. Can I join the retreat as a part-time participant?​
As this is a virtual retreat, participants are encouraged to follow the program to the best of their abilities. Participating part-time while engaging in personal activities may not be conducive to the practice.​
5. Is this a 5 or 8 precepts virtual retreat?​
To reap the most benefit from the retreat, participants are encouraged to take the 8 precepts. Phra Ajahn will formally give the 8 precepts to participant after the morning chanting.
护法苑共修 NDR Center ZOOM
营员需要全程戴口罩。All yogis are compulsory to wear masks the whole retreat.
营员需要全程出席。All yogis are compulsory to attend the whole retreat.
营队期间一律禁语。 Strictly Observe Noble Silence throughout the retreat.
营队期间不允许使用手机。No smart phone allowed during retreat.
营队期间将备有素食午餐以及早午茶水。 Vegetarian lunch, as well as morning and afternoon refreshments, will be provided.
禅修地点不允许泊车。No parking at retreat compound.