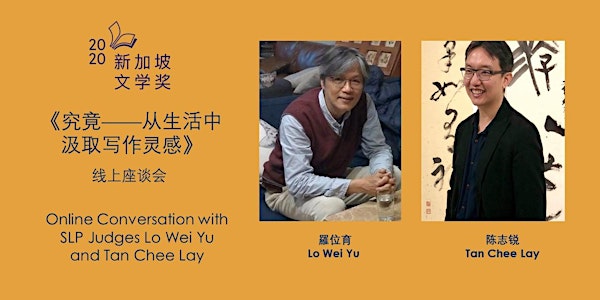 《究竟——从生活中汲取写作灵感》
两位新加坡文学奖评判,台湾小说家罗位育和本地诗人陈志鋭博士,一同以轻松交谈的方式和线上观众分享如何从日常生活中的点滴寻找和发挥写作灵感。
About this event
续上个月的新加坡文学奖线上典礼,我们邀请到两位评判,台湾小说家罗位育和本地诗人陈志鋭博士,一同和线上观众分享如何从日常生活中的点滴寻找和发挥写作灵感。在这两个小时的线上座谈会,他们将通过Zoom平台以轻松交谈的方式进行,观众也能在最后的一小时问答时间参与讨论。
如有查询,请发电子邮件至: programmes@bookcouncil.sg
Join us for an intimate conversation with two of Singapore Literature Prize 2020 judges - Taiwanese novelist Lo Wei Yu and Singaporean writer-artist Dr Tan Chee Lay – as they share about applying and drawing inspirations from daily life events to the writing process.
This programme will be conducted in Mandarin via the Zoom platform. Participants do not need a Zoom account to take part in the session.
For enquiries, please email programmes@bookcouncil.sg
演讲者
陈志锐
陈志锐博士,剑桥大学汉学博士,国立教育学院副教授。发起新加坡全国学生文学奖、新加坡诗歌节。曾获多项文学与美术奖。撰写并主编华文创作、中英文学术论著逾20种,《狮城地标诗学》获2018新加坡文学奖。
罗位育
台湾小说家,曾任多项文学奖评审,获多项小说及散文奖,已出版中篇小说《不歇止的美丽时光》、短篇小说集《我不是第一个知道的》、《热闹的事》、《食妻时代》等与散文集《各就各位》等多本。
Speakers:
Tan Chee Lay
Writer-artist Dr Tan Chee Lay is an Associate Professor at the National Institute of Education, Nanyang Technological University. He has a PhD in Oriental Studies (Chinese Literature) from Cambridge University. He won the Golden Point Award, Young Artist Award, Singapore Youth Award, and Dr Tan Tsze Chor Art Award. He has published over 20 creative writing and academic books, including Landmark Poetics of the Lion City, which clinched the 2018 Singapore Literature Prize.
Lo Wei Yu
Lo Wei Yu is a Taiwanese novelist who is a veteran literary awards judge and winner of numerous prizes for his fiction works and essays. His works include Restless Memories, I Was Not the First to Know, and To Each His Own.
Cancellation:
The workshop can be cancelled or postponed two weeks before the workshop date if the minimum number of participants is not met. Participants will be fully refunded for workshops cancelled by us.
Participants who are unable to attend a workshop they have registered for are to inform us of the reason two weeks before the workshop date. They will be fully refunded in the event of extenuating and mitigating circumstances (E.g. illness, bereavement, accidents) . Those who inform us up to 5 working days before the workshop date will receive a 50% refund. Those who did not turn up at the workshop will not receive a refund.
Upon registration, you are deemed to have read and understood the cancellation and withdrawal policy and accept the terms contained therein.