Description
IT WAS A SPECTACULAR WEEK!
$14,200 Profits On The Table!
http://www.alphaplay.com.sg/14200-profits-table-dont-say-bo-jio/
A total of 1,420 pips were left on the table last week. That is $14,200 profits if you traded on a lot size. This is aside from the most recent post we did on another currency, where we saw price made a nice rally of $234 in price from the low at $559. That's a 48.86% return in profits.
If you have joined us for our free weekly profitable trades sharing session and traded on a lot size together with us, you could have pocketed a cool $14,200, and made a 48.86% return on a single trade with Ethereum. There is absolutely nothing for us to complain about.
Join us this coming Monday, 12th February, from 7.30pm to 9.30pm to find out how you can start profiting from the market with a proper strategy, and at the same time protecting your capital.
Don't miss this opportunity!
This is a free weekly meet-up where Alpha Play coaches share our outlook on the current market trends for currencies and how current affairs will affect the financial markets over the short and medium terms.
This information is useful to Forex traders and even non traders curious about currencies trading.
*** There are only limited seats available so be sure to book yours fast!
---
What To Expect From Our Meetup
This is a FREE information-packed 2 hour session.
We will begin with a summary of events that happened the previous week which rocked the financial markets and the currencies that were affected.

Following that, we will discuss our outlook on these currencies over the short and medium terms.

Finally, we will share potentially profitable trading setups we can take for these currencies.

The session will also be useful for those totally new to trading or wanting to learn more!


---
What We Achieved From Last Week Meetup
As Alpha Play continues to grow this community of traders, we have, together as a community, captured some pretty impressive moves, here are a couple we caught recently.
1,420 Pips Profit Last Week
http://www.alphaplay.com.sg/14200-profits-table-dont-say-bo-jio/
These profits were presented on the table last week. The question is did you take it, or you just left it there?
We didn't manage to catch 'em all, but we got a nice 470 pips profit. Some of our traders and participants managed to catch some very good profits too!
A shoutout to Jovan for sharing your success with us! It's our pleasure and honour to be able to share and profit together in the market with you.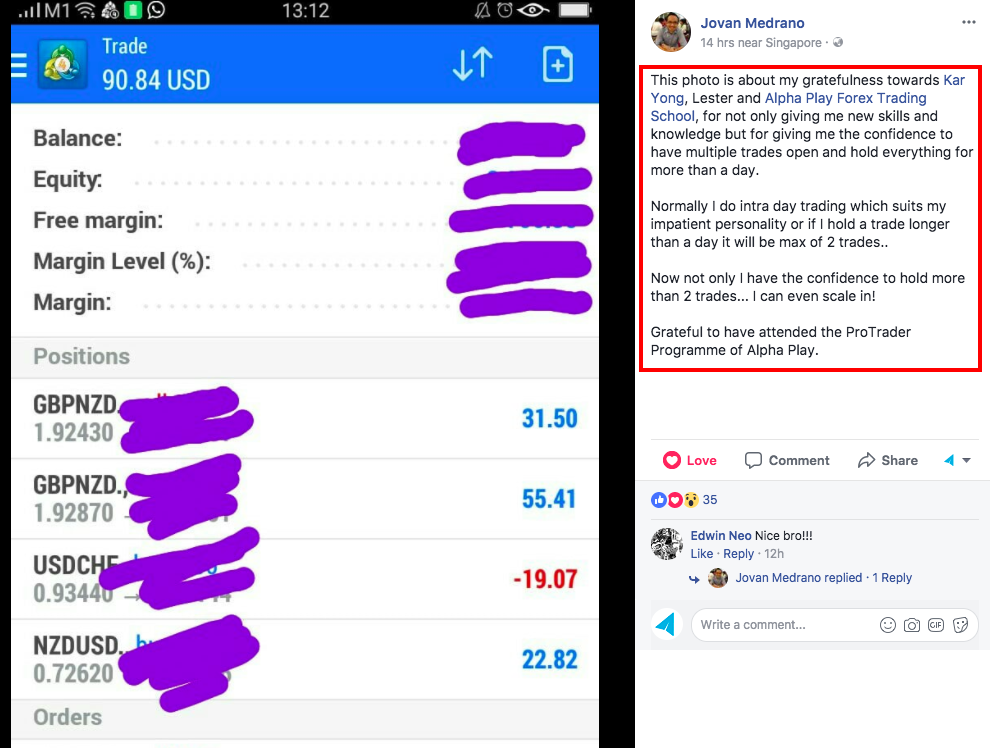 Come join us and see Alpha Play community in action!
---

About Alpha Play
We believe in providing good value-for-money to people who believe in us enough to invest in our programs. Albeit they are very reasonably priced, we cannot discount the trust our students put in us. Hence, we make sure that all our Forex courses are choked full of actionable and useful information. Our beginner classes will help you get started confidently in Forex trading while our advanced masterclasses will propel you to the next level.
For those who are ready to properly engage the market with us, come join us and be part of the Alpha Play ProTrader Programme today!
http://www.alphaplay.com.sg/protraderprogramme

If you are a beginner and looking to gain a good foundation on Forex trading, do yourself a favour and join our popular and comprehensive Forex Trading For Beginners Course!