This virtual event is part of SAW Dialogues 2022, organised by NAC in partnership with A&M, as part of Singapore Art Week.
About this event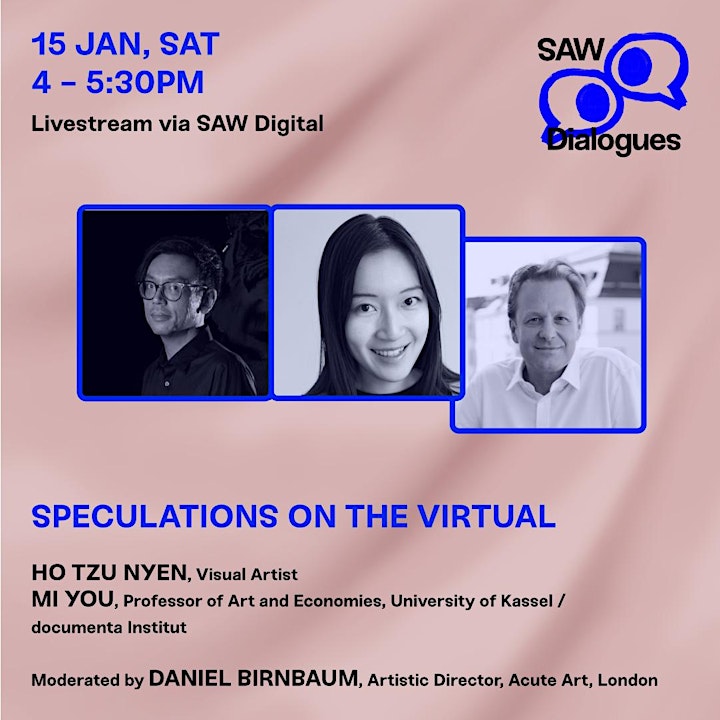 The emergence of a new medium always gives rise to new possibilities for art, and each epoch seems to have key artists whose works signal novel encounters between technology and artistic creativity. What are the philosophical implications of this turn towards the virtual? Join Acute Art's Daniel Birnbaum, Singaporean artist Ho Tzu Nyen, as well as guest speaker Mi You in this panel discussion about the philosophical implications of the virtual turn.
Speakers
HO TZU NYEN, Visual Artist
MI YOU, Professor of Art and Economies, University of Kassel / documenta Institut
Moderated by DANIEL BIRNBAUM, Artistic Director, Acute Art, London.
This virtual event will be livestreamed on SAW Digital. Register to secure your online spot!
This panel is co-presented by National Gallery Singapore. More information here.

Organiser of 15 Jan | Speculations On The Virtual
Join us as a we take stock of current practices and gain insights from networks across local and regional art communities.
The year 2022 sees us at an inflection point, made plain in part by the effects of the pandemic. It has hurled us into a technologically sophisticated, hyper-connected future brimming with anticipation and opportunities, yet we cannot deny the dichotomies that have surfaced alongside. Responding to this overarching theme of retrofuturism, we look back while looking forward, ruminating on past lessons learned to make smarter plans for the future.
Streaming live on SAW Digital with selected physical talks at Gillman Barracks, Block 47. More information on www.artandmarket.net/saw-dialogues-2022.
SAW Dialogues 2022 features a series of talks and panels organised by National Arts Council, in partnership with Art & Market and in coordination with our stakeholders, as part of Singapore Art Week.