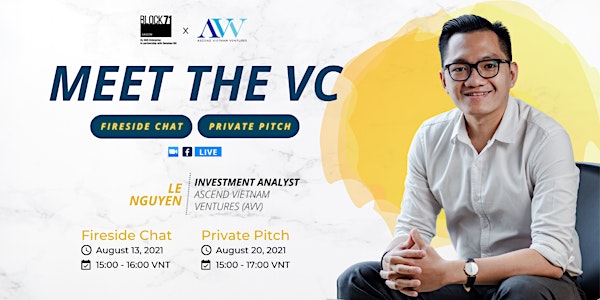 Meet the VCs feat. Ascend Vietnam Ventures
A chance to meet with top-tier VCs from the BLOCK71 Global Community!
About this event
AUGUST 20 : PITCH TO ASEND VIETNAM VENTURES & BLOCK71 SAIGON
Apply by AGUST 15th to pitch to Ascend Vietnam Ventures (AVV)! BLOCK71 Saigon is hosting a live session on August 20 with Le Nguyen from AVV to evaluate a shortlist of Vietnamese startups on the hunt for funds, mentorship and business support! Apply in the registration form as Startup Founder and we'll reach out to successful applicants arrange for a meeting.
If we think you're really great - we may also invite up to 3 founders to pitch LIVE to our VC and Angel networks over Facebook!
But first, tune in to the livestream to get to know Le Nguyen and AVV's investment philosophy better!
AUGUST 13: MEET ASCEND VIETNAM VENTURES- A FIRESIDE CHAT
In our sixth session of Meet the VC in Vietnam, we catch up with Le Nguyen - at Ascend Vietnam Ventures, the newest venture firm started by two 500 Startups partners- Eddie Thai and Binh Tran. Le is an Investment Analyst at Ascend Vietnam Ventures where he helps source and qualify investments in fintech, logistics, and blockchain. Prior to Ascend Vietnam, Le worked at 500 Startups Vietnam where he was the lead on 5 deals, Fram's Venture Builder, and Leads Advisory at EY Vietnam.
Ascend Vietnam Ventures, a new venture firm started by two 500 Startups partner focusing on early-stage startups venture capital, aim to invest in 25 companies in the Southeast Asian country. The early-stage investments will range from $500,000 to $2 million for tech startups in sectors including finance, education, health care, productivity and future of work over three years.
They are looking to expand their portfolio within Vietnam and are actively looking for Vietnamese startups to invest in! So what are you waiting for? Sign up now!
Learn more: https://ascendvietnam.com/
---------------
About BLOCK71 Saigon
Tech Ecosystem Builder and Global Connector
BLOCK71 in Saigon is a partnership between NUS Enterprise, the entrepreneurship arm of the National University of Singapore, a leading university in Asia and Vietnam's leading Developer, Becamex IDC.
Together, we serve as the epicentre for early stage tech innovators in Vietnam.
Learn more at saigon.block71.co