This hybrid event is part of SAW Dialogues 2022, organised by NAC in partnership with A&M, as part of Singapore Art Week.
About this event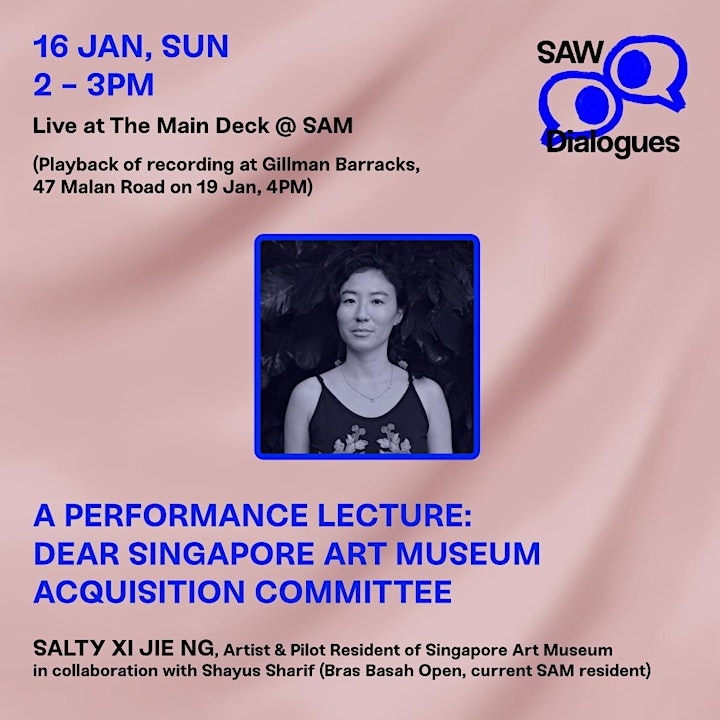 Do social forms of art inherently resist collection by institutions? How are these process-oriented and ephemeral works defined, conserved and valued within the contemporary art institution? In collaboration with Shayus Sharif (Bras Basah Open, current SAM resident), Salty Xi Jie Ng presents her ongoing research, based on interviews with SAM directors, curators, and fellow artists. She will ask how SAM can acquire and re-activate artist ila's work on sexual assault 'There can be no touching here', as well as propose that SAM acquires artist Zarina Muhammad's recently formalised work on the spiritual and energetic lives of art spaces, titled '9 Questions as Instructions to Construct Pragmatic Prayers for Peculiar Habitats'. The SAM Acquisition Committee is cordially invited to attend.
'Dear Singapore Art Museum Acquisition Committee' is a public programme in support of 'Present Realms', on view from 14 to 23 January 2022 at Tanjong Pagar Distripark. More details here.
Speaker
SALTY XI JIE NG, Artist & Pilot Resident of Singapore Art Museum
This performance lecture will take place live on 16 Jan, 2pm at The Main Deck @ SAM. Register here.
A recording of the performance will be screened on 19 Jan, 4pm at Gillman Barracks, 47 Malan Road and livestreamed on SAW Digital. Register on Eventbrite to secure your on-site and online spot for the playback!
This panel is co-presented by Singapore Art Museum. More information here.

Organiser of 19 Jan | Performance Lecture by Salty Xi Jie Ng (Playback)
Join us as a we take stock of current practices and gain insights from networks across local and regional art communities.
The year 2022 sees us at an inflection point, made plain in part by the effects of the pandemic. It has hurled us into a technologically sophisticated, hyper-connected future brimming with anticipation and opportunities, yet we cannot deny the dichotomies that have surfaced alongside. Responding to this overarching theme of retrofuturism, we look back while looking forward, ruminating on past lessons learned to make smarter plans for the future.
Streaming live on SAW Digital with selected physical talks at Gillman Barracks, Block 47. More information on www.artandmarket.net/saw-dialogues-2022.
SAW Dialogues 2022 features a series of talks and panels organised by National Arts Council, in partnership with Art & Market and in coordination with our stakeholders, as part of Singapore Art Week.