How to Create a Mobile App Without Coding? Grow your business or passive income by using our made to easy CMS mobile app platform.
About this Event
How to Create a Mobile App Without Coding?
HOW A COMPLETE NEWBIE CAN CREATE THEIR OWN MOBILE APPS IN RECORD TIME
Entrepreneurs, mobile app enthusiasts, and those who are simply looking to earn a passive income will benefit greatly from our online CMS mobile app program—no coding required.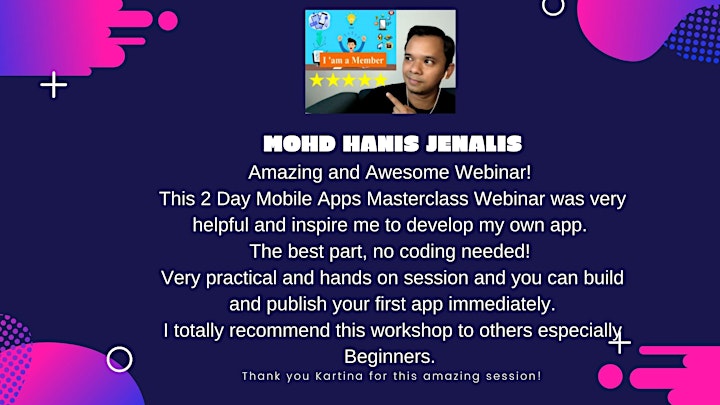 Create an App Without Coding: Drag-and-Drop Mobile App Builder
There's no question mobile apps are trendy—but hiring a programmer to create these apps can be expensive. Launching a complex app for a new idea like Uber will cost USD 1.5 million.
Enter Apps Master Builder. Our system is designed to help new entrepreneurs and business owners create code-free apps using our seamless system. They can test out which options work best for their needs, build simplified versions, gain feedback, and make adjustments later.
The earning potential is immense. Apps can easily earn entrepreneurs USD 0.50-1.00 per day—and by launching multiple drag-and-drop apps, passive income enthusiasts can increase their earnings over time.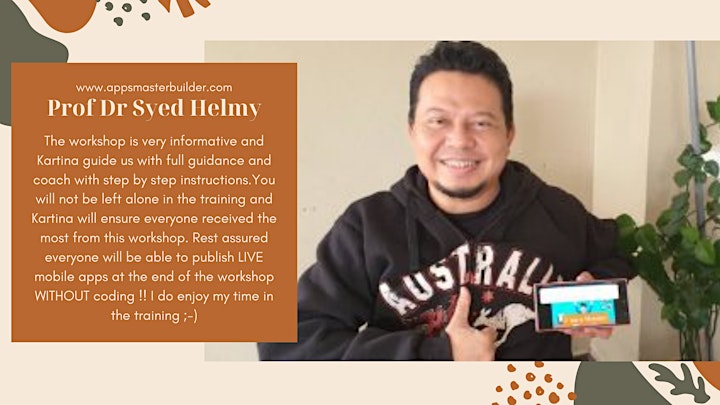 Many of our users earn USD 2,000-4,000 per month by building apps. Even free apps feature generous advertising revenue.
Are you looking to build iOS and Android apps from the ground up—with no coding required?
This program will teach you to do just that. For just RM497 (USD120), you can join our webinar and create your own mobile apps without the need to learn any coding. You will learn everything there is to know about building applications your customers love without the need to code, all while earning another segment of your business market or as a passive income.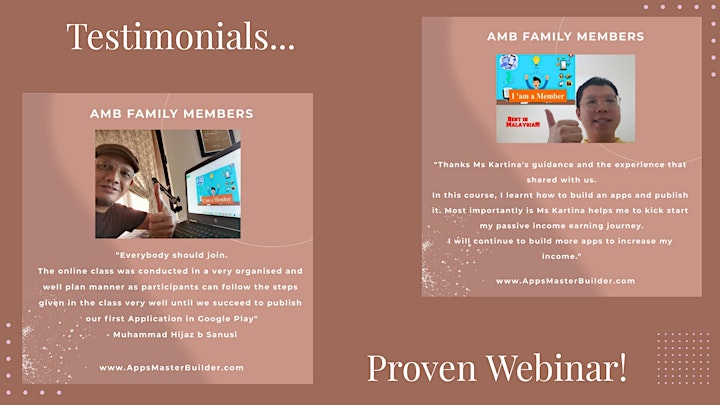 The program offers versatile drag-and-drop solutions tailored to your business model.
CMS System: Drag-and-Drop App Builder
You don't need to be a software developer to build an iOS or Android application.
Simply select a template and start adding content. There's no need to worry about coding, algorithms, compatibility, or data structures.
Source Code from Developers
Ready-made solutions offer unprecedented convenience. We will assist you with our source code for iOS and Android.
We have been managing White Label programs for more than 6 years—and we can help you market and sell mobile applications with your own private label.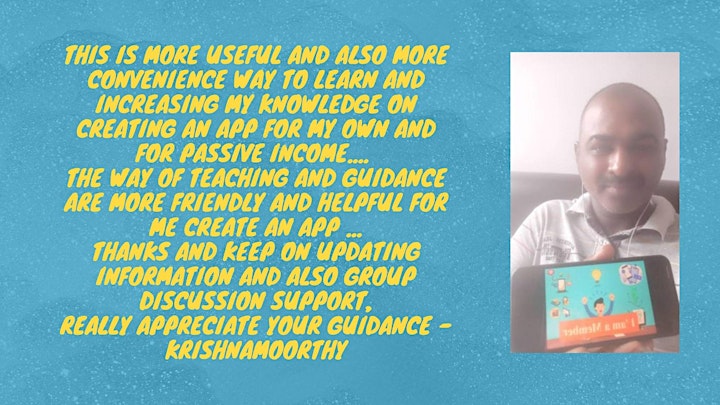 Update Your Code-Free, Drag-and-Drop App Online with Ease
Instantly push updates to your user devices.
Sync new content to your app each time the user goes online.
Send notifications with the press of a button.
Access updates on user activity directly in the app.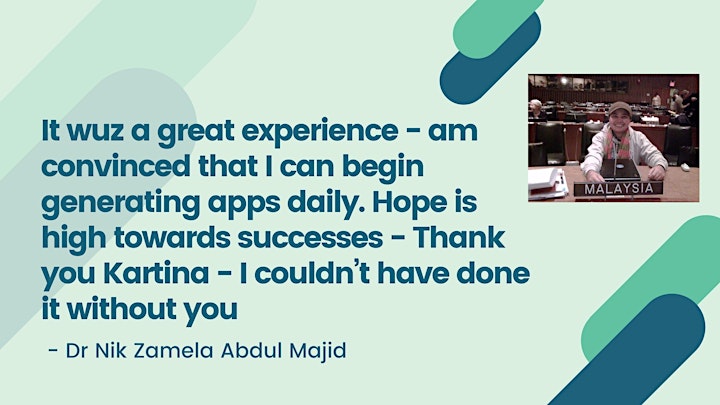 Basic Drag-and-Drop Features
Our basic features are extremely easy to integrate. Ideal for beginners, they represent a seamless addition to your business arsenal. Think coding-free app creation unlike ever before.
• Video• Twitter• WordPress• Facebook• Audio• Jobs• Images• Folders• Appointments• Catalogs• Menus• Custom Pages• QR Codes• Social Walls• Contact Pages• Calendars• Loyalty Cards • Places Discounts• Contests• Push Notifications• In-App Messages• Weather• RSS Feed• Tip Calculators• PDF Links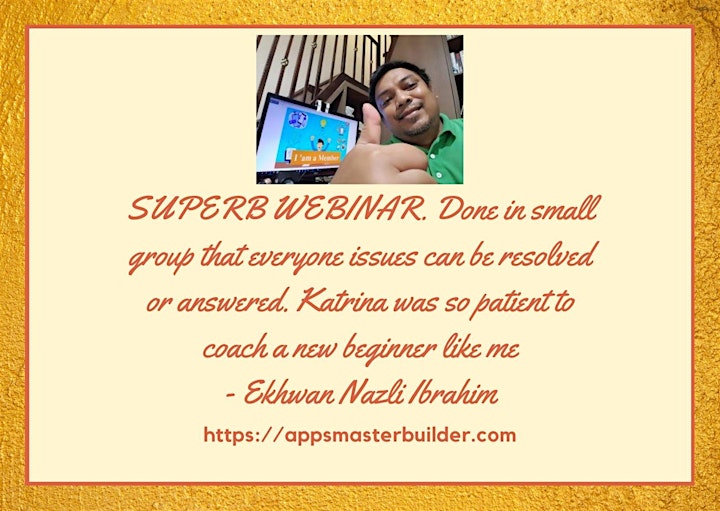 Advanced App Creation Features
Our advanced features are designed to elevate your current app. Easy to implement, they will give you the competitive advantage you need to blow your competition out of the water.
• Rich Inbox• Progressive Loyalty Cards• Invite a Friend • Woo Commerce Native• Padlock Pro• Mailchimp• Surveys• Quizzes• Games• Reviews• Profiles• OpenCart• Premium Appointments• Real-Time Chat• Push Notifications• Nearby Places • Ebok• Smart Ads• Club Cards• Scratch Cards• Classifieds • Donations• Property Listings• Pay In App• Restaurant and Delivery Services• Expedia• Cab Ride Ehailing• EMenu• EWallet• Commerce Pro with Delivery• MarketPlace• Social Network• Events • And many more as we have more than 100 features
📋 WEBINAR CONTENT:
✔Intro to Mobile Apps
✔Mobile Apps Trends & How To Generate Income From Mobile Apps
✔Overview of our AMB Mobile Apps CMS Development Platform
✔Start Building Your First App
✔Basic to Intermediate Graphics for Apps Publishing
✔Copyright & Trademarks
✔Open ADMOB Monetization Account
✔Open PayPal Account
✔Publish Google Playstore & Can publish to Apple Upon Improvements to App
✔Marketing techniques for Apps Published
Hands-On Webinar Workshops: Create Mobile Apps Without Coding – Exclusive Offer
Look no further for a premium, exclusive take on mobile app creation.
Held weekly, Apps Master Builder hosts 2 Days hands-on webinars—designed to lay the foundation for entrepreneurs and app enthusiasts to earn income from mobile apps by building drag-and-drop customizable apps.
The workshops are facilitated in English, and there's no coding required.
WHY OUR PROGRAMS?
We have been teaching Create Mobile App Development Without Coding since 2013 and with our experience we know issues and problems faced by our members and ensure our webinar participants be able to follow our program even online. Look at our testimonials to show proof of this.
We provide uncut video to all participants to ensure they able to review back any time in future.
We provides continuous support to all members after webinar .
Free 2 hours webinar (organized bi-weekly).
Free WhatsApp support (via group WhatsApp).
Facebook Group Support.
Our webinar will be conducted 100 percent in English when we have international participants hence we do have sign ups from Singaporean, Bruneian, Australian, Spanish and English users.
We are the most sought after Create Mobile Apps Without Coding Program in the market.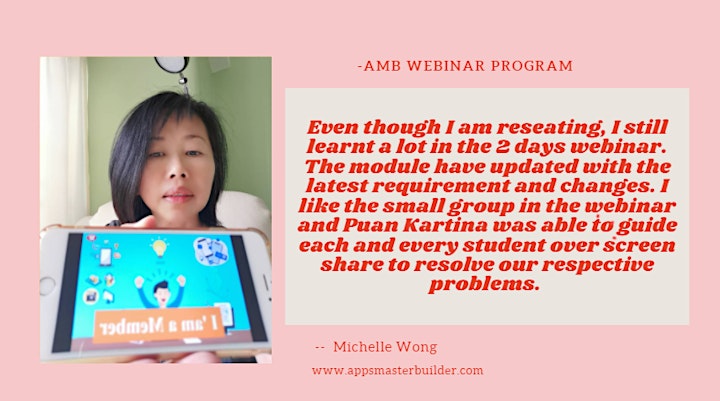 VISION: Building Mobile Apps WITHOUT the need to learn coding at all.
MISSION :
✔Each workshop members successfully CREATE one Mobile Apps in class and PUBLISH to Google PlayStore.
✔Save time and high cost of engaging a team of programmers.
✔Able to build more Mobile Apps after the workshop.
✔Knowledge that has been shared has the potential to be used to generate income either business income or as a passive income.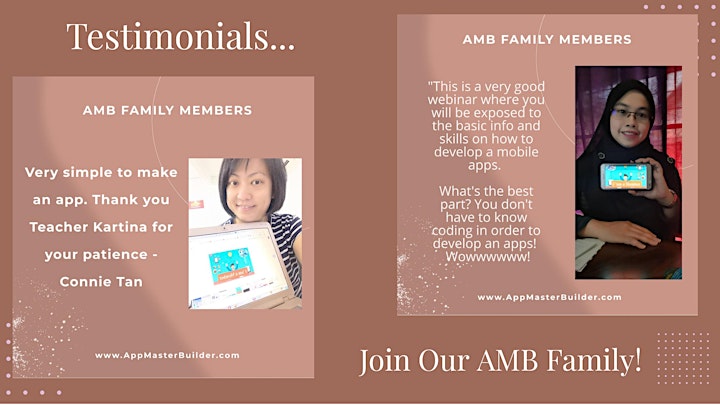 Who Should Attend:
Workshop is done via online webinar & anywhere you are, you will be able to attend our workshop. We welcome overseas participants as workshop will be conducted in English when we have overseas participants.
Those who work fulltime and want to start a business Mobile Apps from home part time .
Housewives who want to start a side business from home .
Tertiary students who wants exposure to the trade in " Google Android Playstore " and IOS Apple itunes Store "
Retirees who want to learn the business of Mobile Apps for passive income.
Graduates who are still unemployed and want to make Mobile Apps as a source of income .
Business owners who want to expand their business in " Google Android Play store " and IOS Apple iTunes Store " .
Professionals who wants to know how mobile apps can expand their profession.
Those who have tried business on the Internet but did not do as well as expected.
Those who want the freedom of working at home with family …
Latest Testimonials On Our Webinars Webinar On 29&31Oct 2020:
💯Amazing and Awesome Webinar! This 2 Day Mobile Apps Masterclass Webinar was very helpful and inspire me to develop my own app. The best part, no coding needed! Very practical and hands on session and you can build and publish your first app immediately.I totally recommend this workshop to others especially Beginners. Thank you Kartina for this amazing session! - Mohd Hanis Jenalis
💯The class is very practical and I have generated and built 3 various mobile apps -HASRUL NIZAR BIN ABDULLAH
💯Very very helpful for newbies and professionals - James Oluwaseyi Wusu
Webinar On 7 & 8 November 2020:
💯It's one of the easiest way to create passive income - Clara Pat Ro
💯This is more useful and also more convenience way to learn and increasing my knowledge on creating an app for my own and for passive income.... The way of teaching and guidance are more friendly and helpful for me create an app ...thanks and keep on updating information and also group discussion support, Really appreciate your guidance – KrishMoorthy
💯Even though I am reseating for this travel app module, I still learnt a lot in the 2 days webinar. The module have updated with the latest requirement and changes. I like the small group in the webinar and Puan Kartina was able to guide each and every student over screen share to resolve our respective problems. - Michelle Wong
💯It wuz a great experience - am convinced that I can begin generating apps daily. Hope is high towards successes - Thank you Kartina - I couldn't have done it without you . - Dr Nik Zamela Abdul Majid
💯Great full 2 days travel app class - Shermaine K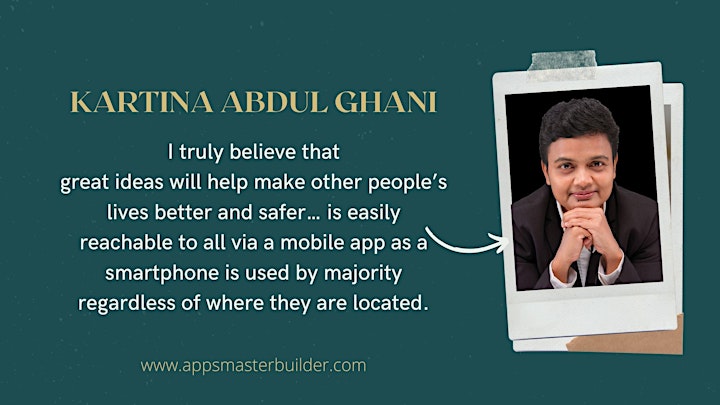 About Apps Master Builder Founder Kartina Abdul Ghani
Kartina Abdul Ghani launched Apps Master Builder to fill a gap in the market: that is, to help entrepreneurs create mobile apps and generate a passive income without the need to code. A registered HRDF trainer since 2014, she has trained more than 800 full-time mobile apprenuers to date—and more than 10,000 people have completed her FREE Intro to Mobile Apps Workshop.
She has published more than 500 apps on the Google Play Store and the Apple iTunes Store. In addition to creating her own mobile apps, Kartina trains entrepreneurs online and onsite at her training center in Desa Melawati, Kuala Lumpur. Previously, Kartina served as Chief Executive Officer and Lead Trainer at the ar-Raudhah Training Centre. She also worked with the Kauthar Sdn Bhd Group, where she was involved in Construction, Property Management, and Tourism, working on projects worth more than RM 800 million. During this time, she helped to launch the bio-tech agriculture company ar-Raudhah Bio-tech Sdn Bhd, which was later deemed a Bio-Nexus and Pioneer Status Company.
Kartina holds a BBA, UiTM, Executive Diploma in Engineering Business Management (Project Management), UTM & Professional Diploma in Internet Business & Social Media, OUM. She is a Certified Professional Intellectual Property Manager, MIM, and an ex-Army Officer with the rank of Captain in the Rejimen Askar Wataniah, where she served from 1988 until 2012.
Mobile apps, spending quality time with her 5 sons, and mountain climbing are her current passions. For more information, please visit kartinaabdulghani.com and appsmasterbuilder.com.
For More Info:
https://wasap.my/60192186767/2DaysWebinarMobileAppsEventbrite
Website : https://appsmasterbuilder.com
On Payment:
1. Registration links for webinars will be given to all paid members .
2. Email Preparations will be send to all members.
3. Members will be added into a WhatsApp group for easy coordination & support.
Time & Training Method:
⏰: 10.00am - 6.00pm
1. Download application "ZOOM Cloud Meetings"
2. Sign Up "ZOOM Cloud Meetings".
3. Verified "ZOOM Cloud Meetings" using email.
4. We shall share the invitation to the zoom webinar details after payment has been made