This virtual event is part of SAW Dialogues 2022, organised by NAC in partnership with A&M, as part of Singapore Art Week.
About this event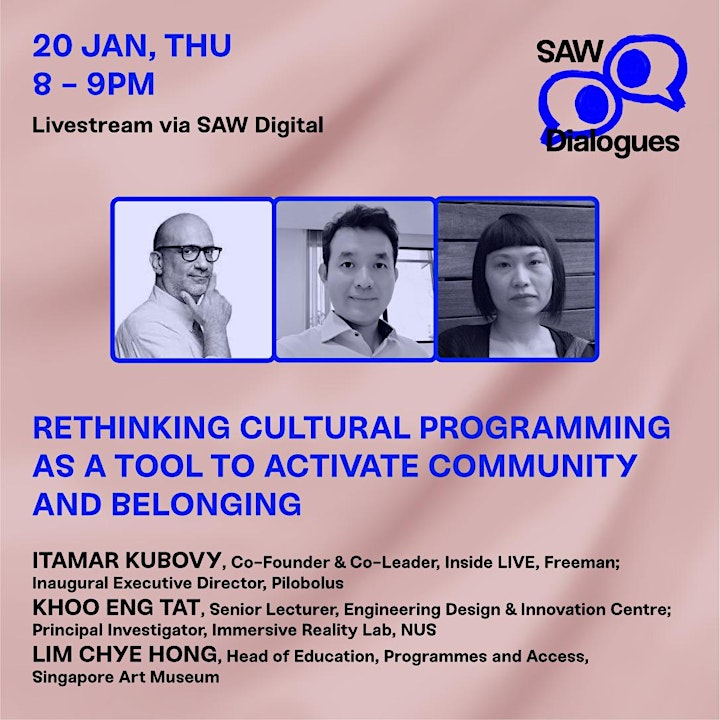 The pandemic has forced a quantum leap experiment on the world leaving us with much to process about humanity in the digital age. Physical isolation forced relationships into a virtual medium. In this moment of The Great Pivot, we have the opportunity to design the future of culture and community in a way that serves the human being holistically, taking into account that we are social animals that can only function when our emotional needs are met as we communicate. How do we design for the most productive and innovative future that addresses the needs of our society as it is today, not what it used to be?
Join Itamar Kubovy, Khoo Eng Tat, and Lim Chye Hong as they share their experiences in navigating the digital realms to optimize live, five-senses, and in-person experience. The key focus being, how to rethink cultural programming as a primary tool to activate a sense of community, trust, and belonging.
Speakers
ITAMAR KUBOVY, Co-Founder & Co-Leader, Inside LIVE, Freeman; Inaugural Executive Director, Pilobolus
KHOO ENG TAT, Senior Lecturer, Engineering Design & Innovation Centre; Principal Investigator, Immersive Reality Lab, NUS
LIM CHYE HONG, Head of Education, Programmes?and Access, Singapore Art Museum
This virtual event will be livestreamed on SAW Digital. Register to secure your online spot!
This panel is co-presented by Singapore Art Museum. More information here.

Organiser of 20 Jan | Rethinking Cultural Programming as A Tool
Join us as a we take stock of current practices and gain insights from networks across local and regional art communities.
The year 2022 sees us at an inflection point, made plain in part by the effects of the pandemic. It has hurled us into a technologically sophisticated, hyper-connected future brimming with anticipation and opportunities, yet we cannot deny the dichotomies that have surfaced alongside. Responding to this overarching theme of retrofuturism, we look back while looking forward, ruminating on past lessons learned to make smarter plans for the future.
Streaming live on SAW Digital with selected physical talks at Gillman Barracks, Block 47. More information on www.artandmarket.net/saw-dialogues-2022.
SAW Dialogues 2022 features a series of talks and panels organised by National Arts Council, in partnership with Art & Market and in coordination with our stakeholders, as part of Singapore Art Week.