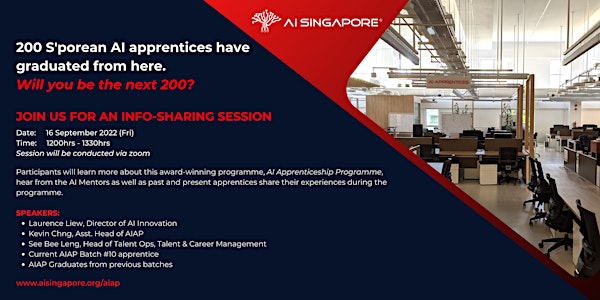 200 S'porean AI apprentices have graduated from AI
200 S'porean AI apprentices have graduated from the AI Apprenticeship Programme. Will you be the next 200?
About this event
You started your self-directed Artificial Intelligence (AI) & Machine Learning (ML) learning journey but feel there is still something missing.
You are a fresh graduate who understands how LSTM works but have not deployed one into production.
Or
You have completed many online and classroom AI & ML courses but have not been successful in landing any AI or ML roles….
What you probably lack is real-world AI deployment experience!
Back by popular demand, join us for this 2nd webinar on the AIAP!
Participants will learn more about this award-winning programme, hear from the AI Mentors as well as past and present apprentices share their experiences during the programme.
SPEAKERS:
Laurence Liew, Director of AI Innovation
Kevin Chng, Asst. Head of AIAP
See Bee Leng, Head of Talent Ops, Talent & Career Management
Current AIAP Batch #10 apprentice
AIAP Graduates from previous batches
Application for AIAP Batch #12 intake is NOW OPEN till 25 September 2022.